Thalaivar Never Prepares For His Stage Speeches Like Others !! Here's The Proof
Ponniyin Selvan
rajinikanth
Speech
Superstar
CM / Updated: 2022-09-10
13:31 IST
By Dhiwaharan
Unlike others, Supertar Rajinikanth who requires to be mindful while delivering his stage speeches due to his stature, is not really preparing and it got evidently proved as a video of the actor narrating the ordeal he went through during the shoot of "Thalapathy" in 2014 got resurfaced in the internet platforms. In "Ponniyin Selvan" audio launch which took place recently, Rajinikanth explained about the same in the same way. The video is trending with the fans of actor lauding him for his honesty and outspoken attitude.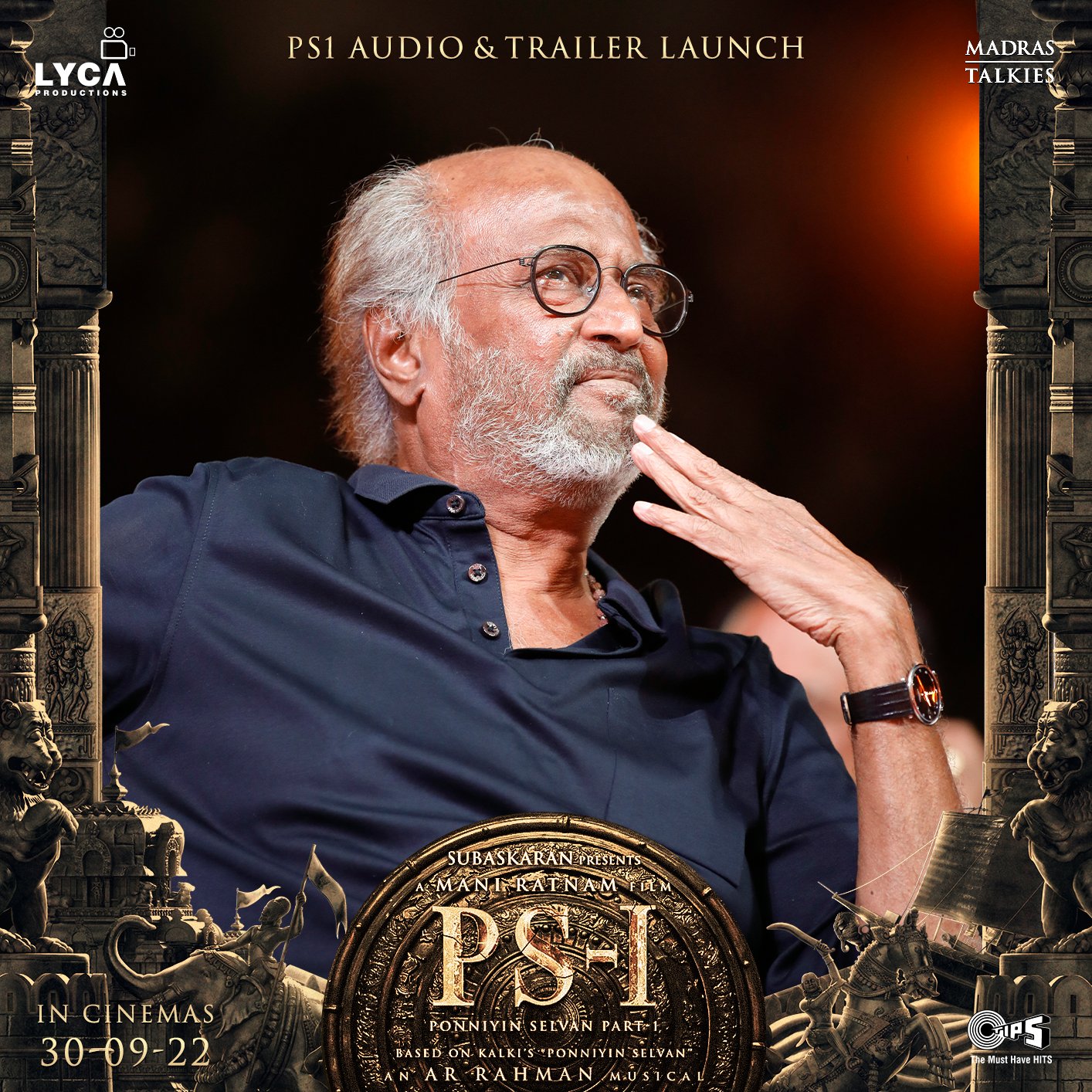 Superstar Rajinikanth won the hearts of audience at the "Ponniyin Selvan" audio launch as the top actor made the crowd erupt in laughter through his speech. Known for being transparent during his stage speeches, Superstar Rajinikanth, this time, revealed how himself and Kamal Haasan used to cheat Manirathnam during the shooting of their respective films with the filmmaker. The actor said that he struggled a lot to act in "Thalapathy" and even called Kamal Haasan to get help.
"I used to have stock expressions like how they have stock shots. I will apply them in my movies and it would work well" Rajinikanth said while talking about his experience on working with Manirathnam in Thalapathy. "For fear, love, shock, doubt and other emotions, I had stock expressions but Manirathnam would reject them" he said.
"He (Manirathnam) was asking for "feel" and don't know what's it about. In my films, the dialogues would be like "Edraa Vandiyaa" kind. But Mani was asking for "feel". I was struggling a lot and decided to call Kamal Haasan" Rajinikanth said in the audio and trailer launch of Ponniyin Selvan.
"I called Kamal Haasan. I told him I was struggling a lot in the sets of "Thalapathy". Each shots are taking 10-12 takes. Kamal laughed hearing my agony. He said that he too struggled in a similar way while acting in "Naayagan" of Manirathnam. He suggested me to make Mani act and pretend like I observed his acting. I did the same and copied the acting of Manirathnam, shots started getting OK" said Rajinikanth and thanked Kamal Haasan on stage.
"We used to cheat Manirathnam in such ways" Rajinikanth said. Watch the video below :
#Superstar @rajinikanth sharing the difficulty of working with #ManiRatnam in #Thalapathy movie and advice from #KamalHaasan to deal with… As usual #Rajinikanth rocks!!🔥🔥#Jailer #PonniyinSelvan pic.twitter.com/K6WZ3ELolZ

— Manick Baasha (@ManickkBaasha) September 6, 2022
Nearly 8 years ago, the actor spoke about the same in an interview with actor Vivekh. The Supestar actor didn't change a word and said the same which made his fans to laud him as a man who speaks his heart irrespective of the stage he is in.
Watch the video below :
#தளபதி திரைப்படத்தில் நடித்த அனுபவம் குறித்து #தலைவர் 2014ல் கூறியது… pic.twitter.com/VEXaolvWEK

— Ram Swaminathan (@cheframu) September 7, 2022
Check out some of the reactions the video received below :
Thalaivar never lies.. another proof.. https://t.co/EYvAyKHLO2

— Issac Asimov (@prabhakarang100) September 9, 2022
How can a man be so down to earth #Jailer https://t.co/yikZkKdRk5

— Jijesh_RJ 🇮🇳 🤘ⒿⒶⒾⓁⒺⓇ🤘 (@jijesh_rj) September 9, 2022
8 வருஷம் ஆச்சு, மாத்தி பேசல, அதே பேச்சு, அதான் #Thalaivar ❤️ #Jailer https://t.co/o9VGhhaIpR

— Matthew Sivakumar (@mattskumar) September 8, 2022
Stage ka pesravar illada💖😇 Eppavumae ipdi thaan.
Thalaivar narrates same #Thalapathi incidents in a simple manner which he elaborated at audio launch!#Thalaivar #SuperstarRajinikanth #Jailer #PS1 #PS1Trailer #PonniyinSelvan #PS1AudioLaunch #Rajinikanth https://t.co/Gq6EJDkP5s

— Vijay Andrews (@vijayandrewsj) September 8, 2022
அன்றைக்கு சொன்னது தான் இன்றைக்கும்.. இன்றைக்கு சொன்னது தான் என்றைக்கும்.. ❤️❤️❤️#Thalaivar #Rajinikanth #Jailer https://t.co/NxPyQL0eMc

— SuseeMaha❤️‍🔥 (@SuseeMaha16) September 8, 2022
He speaks thro heart and truth ,so he never need to take a note or keep on remembering what he tells or what to talk……just pure and neat it keeps flowing#Thalaivar https://t.co/pchNICF6rL

— s-IaM (@s7IaM) September 8, 2022
அன்றைக்கு ஒரு பேச்சு,
இன்றைக்கு ஒரு பேச்சு கிடையாது,
என்றைக்கும் ஒரே பேச்சு ❤️#ThalaivarRajinikanth 🔥🔥 https://t.co/LV8VnyDiJy

— R 🅰️ J (@baba_rajkumar) September 8, 2022