Telugu Fans Got Extremely Angry On Deepika For Mentioning Tamil First !!
Deepika
Deepika Padukone
Prabhas
3 years ago
By Dhiwaharan
Identifying an untitled film with a star hero's name became common nowadays. To avoid getting confused with the untitled projects of top heroes who are committed in multiple projects simultaneously, fans and trackers started mentioning them with the numbers. Now, one of a media portal termed the new multilingual project of Deepika Padukone and Prabhas as "Prabhas 21" which made the actress to correct them.
[wp_ad_camp_1]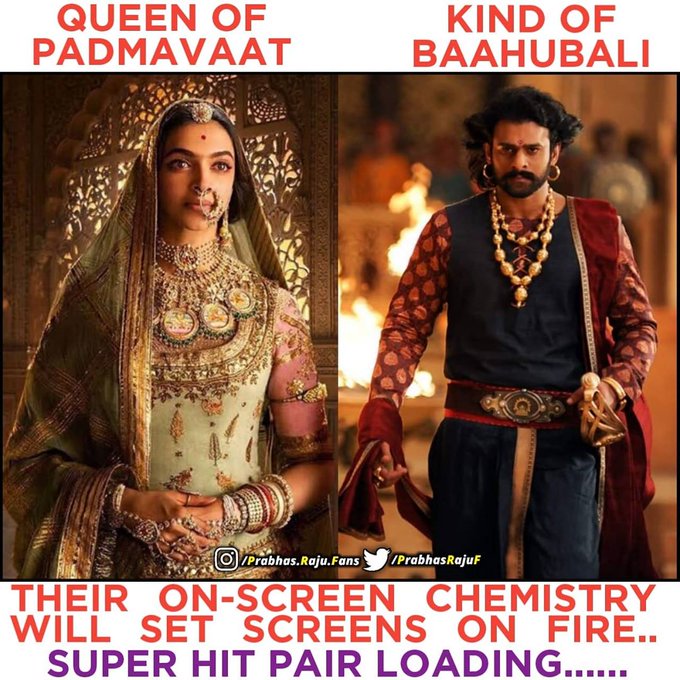 For the very first time, Bollywood actress Deepika Padukone is going to share screen space with the Bahubali star Prabhas. The project which is going to be directed by Nag Ashwin of "Mahanadhi" fame, is going to be bankrolled by Vyjayanthi movies. "Beyond Thrilled!Cannot wait for what we believe is going to be an incredible journey ahead…" wrote the production house while mentioning about the project.
As promised, here it is – our next big announcement! WELCOMING THE SUPERSTAR ♥️https://t.co/QqWERCVywC#Prabhas @deepikapadukone @nagashwin7 @vyjayanthifilms #Prabhas21 #DeepikaPrabhas

— Vyjayanthi Movies (@VyjayanthiFilms) July 19, 2020
As soon as the announcement surfaced, fans who were eagerly waiting for the official confirmation, celebrated it by trending several hashtags in the micro blogging social media platforms. "Beyond Thrilled!Cannot wait for what we believe is going to be an incredible journey ahead…❤️❤️❤️" wrote Deepika Padukone while sharing the special video made by the production house made for her.
Prabhas also shared the same and welcomed Deepika, one of the most paid actors of Indian film industry on board.
[wp_ad_camp_1]
Followed by the production house, a media portal named as Variety termed the project as "Prabhas 21" it seems as it is yet to be titled. On seeing their post, Deepika Padukone who enjoys more than 2 crore followers in twitter, posted a tweet asking them not to mention the project as "Prabhas 21". "The film is not titled #Prabhas21.It only happens to be Prabhas's 21st film." the actress wrote in her tweet and informed them that is going to be a multilingual film which is planned to be made in Hindi, Tamil and Telugu.
Check out her tweets here :
Hey @Variety …

Thank you for reporting.However,

a)The film is not titled #Prabhas21.It only happens to be Prabhas's 21st film.

b)It is a trilingual film:Hindi,Tamil & Telugu

Kindly make note.

Thank You… https://t.co/WCYmPAzLBx

— Deepika Padukone (@deepikapadukone) July 19, 2020
The media portal seems to have edited it after the actress's tweet. However, the production house didn't change it yet in their tweet. This tweet made the fans of Telugu cinema for two reasons. They got deeply disappointed as the actress mentioned Telugu in the last place after Hindi and Tamil. They also asked her to question her production house before questioning media and public.
Check out some of their reactions below :
Hi Deepika, good that you're voicing out against the media who are trying to further the Male dominance in Indian Cinema Industry. But voice out against your production house too. That creates a bigger impact.. https://t.co/79Y09xFGXT pic.twitter.com/BJHTSpy5Rh

— Scribbler (@antimitr) July 19, 2020
[wp_ad_camp_1]
🙄🙄🙄 y cant you put telugu first bez its a telugu film which is Going to release in all languages. So called pan india film..

The director is telugu film director
The hero is telugu film hero

Definitely not a hindi film🤦‍♀️

Its high time Yarr 🙌😎
Tollywood >>>>> Bollywood

— 𝙎𝙖𝙞𝙡𝙪💫𝙎𝙖𝙢 (@SailuSam20) July 19, 2020
TELUGU, Hindi and Tamil

— Princy (@girl_nonchalant) July 19, 2020
It's Telugu , Hindi & Tamil. 🙂

— Prashu (@OhMyKalyan) July 19, 2020
This is insane and utter disgrace ma'am that being someone who's so immensely talented and experienced is showing such ignorance towards the region offering her the chance..

It's being made in Telugu originally right so it's Telugu first then Hindi and then watever next !

— RoyalMegaFan (@ForeverTolly) July 20, 2020
It is being produced by telugu producer and directed by telugu director and the star hero(ofcourse he is international figure) is telugu https://t.co/2LWCU7PC7B is primarily a telugu filim dubbed to remaing languages and plz make a note it is prabhas21

— nanda.gali (@nandagali) July 20, 2020
Comment your views on these reactions Deepika is receiving !!