Telugu Fans Demeaning PS 1 Teaser & Comparing It To "Bahubali" !! Here's How Tamil Fans Countered
Written by Dhiwaharan Published on Jul 08, 2022 | 16:13 PM IST | 102
Follow Us
Comments: 0
Hashtag "Bahubali" is trending in the micro blogging social media site ever since the teaser of "Ponniyin Selvan 1" of Mani ratnam got released. The hashtag is filled with tweets from the fans of Telugu cinema demeaning the teaser of "PS -1" which is expected to be Tamil cinema's next big thing. They were seen comparing Rajamouli's "Bahubali" series to make fun of the Manirathnam directorial.
#PonniyinSelvan Pride of #KollywoodCinema 😎🔥 Goosebumps Teaser 💯 Hello #Tollywood this is Tamil Cinema 😈 You will see #Kollywood raze 💪🔥 pic.twitter.com/a8v1yjOom6

— 👑THALA SMOKIEE❤️😈 (@SuryaPr49667459) July 8, 2022
While South industries are making films that do wonders at the box office, Tamil cinema fans are desperate for a 1000 crore box office hit. While Bahubali 2 and RRR made the feat from Telugu film industry, Kannada came up with KGF 2. Though Vikram became the most profitable film of Tamil cinema, it didn't reach the 1000 C mark and Ponniyin Selvan is the next hope for the Tamil audience.
The most awaited "Ponniyin Selvan" teaser released in the evening of Friday with much expectations from fans and followers of Tamil cinema. The one minute twenty seconds long teaser of the magnum opus showed Jayam Ravi, Karthi, Vikram, Sarath kumar, Parthiban, Jayaram, Trisha, Aishwarya Rai and others in action. With A.R Rahman's musical, Mani Ratnam seemingly pulled off a film that could make the entire Indian film industry to turn at Kollywood. In the meantime, a tweet uploaded by Rajamouli 10 plus years ago about "Ponniyin Selvan" novel is trending in the micro blogging social media site.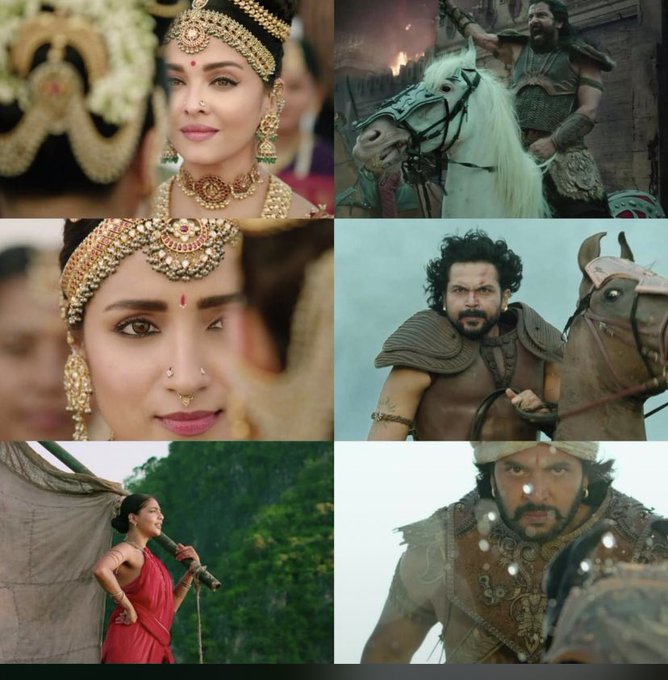 The teaser of the historical drama was launched at a grand event in Chennai today along with the star cast and the team. The teaser was unveiled digitally by legendary actors superstar Amitabh Bhachchan, Mahesh babu, Suriya, Mohan lal and Rakshith Shetty in Hindi, Telugu, Tamil, Malayalam and Kannada respectively.
The teaser video revolves around the power struggle of the Chola empire during the 10th century and will hit the screens in two installments. Helmed by Mani Ratnam, is going to have Aishwarya Rai as Nandhini, Vikram as Adithya Karikalan, Karthi as Vandhiyathevan, Trisha as Kudhavai and Jayamravi as Arulmozhi Varman.
Watch the teaser below :
Ever since the teaser got released, hashtag "Bahubali" started trending in the internet with tweets from telugu audience demeaning the multi starrer. "Just a routine attempt to match Bahubali standards" a twitter user said whereas another one wrote "Nothing comes close to Bahubali in terms of grandeur!"

Check out some of the reactions below :
Just a routine attempt to match Bahubali standards https://t.co/yDe7FsP7H4

— Saikrishna.#IndiaLovesMajor🇮🇳 (@Saikrishna_SSMB) July 8, 2022
These two movies Reach>>>>>
>>>>>>>>>Total Kollywood Reach#Pushpa #Bahubali pic.twitter.com/97i6FHrkuB

— . (@FLAASH_44) July 6, 2022
Dear kollywood fans, don't blindly support everything cause of Tamil affection

Demand for the best

This is 👇 #Bahubali 1 teaser

Nearly 8 years back with not even half the budget of #PonniyinSelvan#PonniyinSelvanTeaser is a very average one…. https://t.co/8hzeRyAMSD

— HEISENBERG 🇮🇳 🚩 (@techieeboi) July 8, 2022
Forget about Bahubali. Sye raa had best visual than #PonniyinSelvan and it's a 500 cr project ….

SSR or Shankar could have done better justice to the great Kalki's novel on big screen. It's a complete garbage considering the budget.

— Thor (@HemsworthStarc) July 8, 2022
Before making such movies think that there is a movie called Bahubali released. Such a crap trailer #PonniyinSelvanTeaser

— AK D (@A7_D9V) July 8, 2022
Let it 100 or 1000 years or more , a film cannot be made like #Bahubali and can't even touch the essence of it .. aa taking, aa visuals , aa making, aa grandeur.. it's just once a life time picture.. dear @ssrajamouli we can just bow down to your creation 🔥😍.. #Prabhas ❤️ pic.twitter.com/Qd2nBw8moQ

— Movies For You 🇮🇳 (@Movies4u_Officl) July 8, 2022
I had to revisit Bahubali trailer after watching this shit 😭. Can't even be compared to Bahubali . Could have been made with Telugu heroes. Heroes looks are bad,music,bgm, vfx 🤮 #PonniyinSelvanTeaser

— IronMan (@MegaSuperStar8) July 8, 2022
Here's how Tamil fans countered :
Today sambavam :
" Bahubali copy vro🤣🤣🤣😭😭😭 "#PonniyinSelvan
This project was supposed to happen in MGR NTR era. Before 60 years dear telungans

— 🤜ᵛᶦᵏʳᵃᵐ🤛 (@ak_ttb) July 8, 2022
Before anyone going to open their stank a$$ mouth. I just wanna remind you that Bahubali movie highly inspired by Ponniyin selvan novel. So just enjoy the teaser… #PonniyinSelvanTeaser #PonniyinSelvan #பொன்னியின்செல்வன்

— Muthu㋛︎ (@Muthug4l) July 8, 2022
This scene in bahubali was completely inspired from ponniyinselvan… Ponniyinselvan was written in 1950 by kalki same scene where described in d book as it was shown in bahubali… "Mandhagini will save Raja Raja cholan from cauvery in same way"#PS1#PonniyinSelvanTeaser pic.twitter.com/UoNUXhtyAz

— 𝚜𝚒𝚟𝚊 𝕤𝕜💞🎭 (@iamshiva1710) July 8, 2022
PS 1 is based on history. Not like circus movie BB with people flying using coconut trees

— D Jegadeesan (@jegaded) July 8, 2022
Bro No one can't beat Bahubali because athu rajamouli own making kikibiki🤣🤣
"Enda lion king storylineuh, Lord of the rings vfx typeuh, Spartans war sceneuh ithellam copy aduchitu own making ah" pic.twitter.com/IuueUkmkYs

— justcringe__ (@comedy_club__) July 8, 2022
Don't tell it's like bahubali… It's an myth.. But #PonniyinSelvan is real.. From now world is going witness about our culture,pride etc.. I'm so proud and looking forward for this.. Just look at this visuals literally 🔥🔥ans everyone nailed this.. #PS1 Pride of KW cinema💪💪 pic.twitter.com/7Wa0RxWx2M

— 👑Thala rasigan Satheesh👑 (@SatheeshSmart6) July 8, 2022
Comment your views on the comparison that is being made between both the films !!