Team India Getting Trolled For Taking A Knee On "Black Lives Matter" Issue !!
Written by Dhiwaharan Published on Oct 25, 2021 | 17:55 PM IST | 153
Follow Us
Comments: 0
A number of Internet users are trolling team India for "taking a knee" addressing the "Black lives matters" issue before the start of the match that took place between India and Pakistan. When the Indian players took the knee in solidarity with the BLM movement, Players of Pakistan stood with their hands in hearts.
[wp_ad_camp_1]
The demise of George Floyd in United states made people to raise voice against racism. Enormous number of people protested against the discrimination despite of the spread of Coronavirus. George Floyd, a black man was died after four police officers handcuffed him and pinned him to the ground with their knees. A video of the arrest surfaced online where he can be seen pleading the officers to let him breathe. George was pinned down by the neck by a Minneapolis police officer and died. He laid there, fighting for his life, struggling to breathe, and other officers just stood there and watched.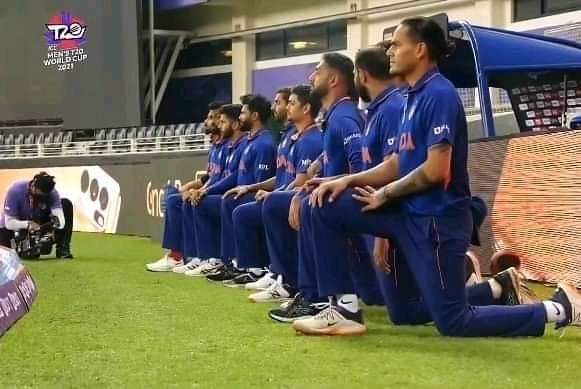 This incident created huge outrage across the world where people started raising voicing supporting black people. An hashtag saying "Black lives matter" trended in Internet to prevent racism in future. Now, keeping the fact on India and Pakistan match will be watched by maximum number of cricket fans across the world, the Kohli-led team took a knee to support "BLM" matter.
[wp_ad_camp_1]
However, the team is getting severely criticized for involving in such act as farmers protested for more than a year in their own country and they never raised their voice for them. Posts trolling Jadeja who likes to flaunt his "Rajput" boy nickname is also getting trolled. The contradiction between Kohli advertising for fairness cream and raising voice for Black lives matter also being pointed out.
Check out some of the reactions below :
(1) Kneeling down because black lives matter.
(2) Doing advertisement for a fairness cream. pic.twitter.com/uIdI0hrLfg

— Are sun na yar (@AreSunNaYar) October 25, 2021
Colin Kaepernick started this protest to bring attention to police brutality against minorities in the US. In doing so, he took a huge professional risk and was exiled from his field. He continued being a champion of the cause. That was brave.

This is pretentious. And safe. https://t.co/WikTa4gs8T

— Sameera Khan (@Sameera22) October 24, 2021
Imagine thinking this is some great gesture from a team that can't stand up for the atrocities against minorities or their own former teammates back home 🤦🏾‍♂️ https://t.co/XJPpoeDEb6

— Stop the Gaustapo (@atlasdanced) October 24, 2021
Also, irony committed suicide after watching Jadeja take the knee.#FarmersProtest #indiaVsPakistan pic.twitter.com/QCODZ9Q1DZ

— Elina (@LawyerInBaking) October 24, 2021
Jadeja glorifies Rajput caste,
Raina glorifies Brahmin caste,
Sachin glorifies Janeu pride,
….equally apply to all others.

These cricketers are players of their caste, not India. So relax & take it easy. #CrushTheCaste

— Suraj Kumar Bauddh (@SurajKrBauddh) October 25, 2021
the very same team india where one player had an fir against him for saying casteist slur against his own teammate literally a few days ago, the same team india when people outraged over casteism Jadeja came online to show his rajput pride https://t.co/wIZO4hMXZ9

— s (@yoongienthusias) October 24, 2021
[wp_ad_camp_1]
Indian team, especially our 'Rajput boy' Jadeja taking a knee is hypocrisy max pro. None of these players have ever been vocal about racism and casteism in their country. Some of them even flexing their caste. #T20WorldCup #indiaVsPakistan #IndiaVsPak https://t.co/lVD1xyS3dg

— ClapTrap (@nuke_amar) October 24, 2021
Today it was embarrassing to watch Team India. Not the loss to Pakistan. That's part of the Game. Pakistan played better and won. Embarrassing was watching them take the knee for BLM. That was peak of hypocrisy and embarrassing to watch

— Joy (@Joydas) October 24, 2021
The people who have never opened their mouths about violent religious majoritarianism and caste atrocities in India. pic.twitter.com/pZ60v74yNK

— Nissim Mannathukkaren (@nmannathukkaren) October 24, 2021
Ravindra Jadeja taking a knee for BLM is the peak irony moment of the century pic.twitter.com/UQ4HR6ziTg

— Puncturewala (@mallucomrade) October 24, 2021
Jadeja standing on knees against racism 🤣🤣🤣🤣🤣🤣🤣🤣🤣🤣🤣🤣🤣🤣🤣🤣🤣🤣🤣🤣🤣🤣🤣 https://t.co/ucuqY5C67u

— soona paana (@kavinsharath) October 24, 2021