Team Bangladesh Getting Brutally Trolled After Getting Out Of Asia Cup !!
By Dhiwaharan
Team Bangladesh became a victim of severe online troll after getting out of the Asia cup tournament. Members of the team which is known for it's wide celebration prior win in a match against India in a previous Asia cup tournament, were making statement about how weak Srilanka is as a team before the start of the match. Now, after losing the close match and getting out of the tournament, the Shakib Al Haasan led team came under scanner.
Winning moment for Sri Lanka 👏👏

Well done Sri Lanka, you deserved this.

😂👉 Bangladesh 🐍🐍🐍#BANVSSL#AsiaCupT20 #BANvSL pic.twitter.com/5fbgV1lcmN pic.twitter.com/yA338v0E78

— ALERT NEWS (@AlertNewsBreak) September 1, 2022
Prior the match, captain of team Srilanka Dasun Sanaka came up with a statement saying that Bangladesh is an easier opponents comparing to Afghanistan. "Afghanistan has a world-class bowling attack. We know Fizz is a good bowler. Shakib [al Hasan] is a world-class bowler. But apart from them, there is no world-class bowler in the side. So if we compare with Afghanistan, Bangladesh is an easier opponent," Dasun said after SL's defeat at the hands of Afghanistan in the opening fixture.
Khaled Mahmud, coach of the Bangladesh team countered his statement saying that Srilanka doesn't even have one world class bowler. "I don't know why Dasun made that comment. Definitely Afghanistan has a better squad. He said we have only two bowlers in our line-up, but I don't see any bowlers in Sri Lanka. At least Bangladesh has world-class bowlers like Mustafiz and Shakib. They don't even have that. It is not about the words. It is about how you play the game," the coach said.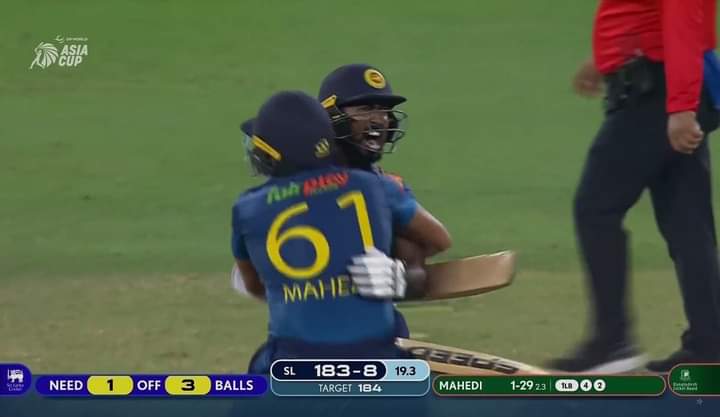 Now, the green team lost the match which was supposed to be their successful venture. Sri lanka lost 8 wickets and still needed 13 runs to win in 7 balls. They won the match with 4 balls to spare. After the victory, team Bangladesh is being trolled in the social media platforms for losing a close opportunity to enter the next level of the tournament. Players of Srilanka, particularly Chamika Karunaratne delivered a Naagin step to troll the team back.
Check out some of the reactions below :
2018 – Nagin Celebration by Bangladesh after knocking out Sri Lanka from Nidahas Trophy.

2022 – Nagin Celebration by Chamika Karunaratne after knocking Bangladesh out of Asia Cup. pic.twitter.com/Po7yhyeAb5

— Mufaddal Vohra (@mufaddal_vohra) September 1, 2022
Haha Bangladesh got what they deserve..#BANVSSL pic.twitter.com/Jg2JNHXrLx

— T.A. #RamSetu (@TA_AKfanatic) September 1, 2022
Let's laugh at Bangladesh 😂😂 #Asiacup2022 #AsiaCupT20 #BANVSSL #slvsban pic.twitter.com/ZyzauV79jY

— Amittt Moreee (@amitmore1000) September 1, 2022
Sri Lanka win a thriller.

Bangladesh bow out of Asia Cup 2022

📸: Disney+Hotstar pic.twitter.com/4YQpfH9zSV

— CricTracker (@Cricketracker) September 1, 2022
Nothing gives more happiness than this @BCBtigers #AsiaCupT20 🤡🤡 pic.twitter.com/LB218ihVcn

— Pratik Maheshwari (@baagad_billla) September 1, 2022
The reason of Bangladesh cricket downfall….you sleep better 1 day.
we sleep always better… pic.twitter.com/weKnbK4pdT

— Manish Ojha (@manchik_83) September 1, 2022
dont be shy, cry some more @bcbtigers #slvban pic.twitter.com/U0nRkQO4u5

— 𝐓 𝐇 𝐀 𝐋 𝐀 𝐈 𝐕 𝐀 𝐀 (@_xziya) September 1, 2022
Sri Lankan players and Sri Lankan fans all doing Naagin dance celebration when Sri Lanka won the match against Bangladesh. pic.twitter.com/W6VW8yNWdr

— CricketMAN2 (@ImTanujSingh) September 1, 2022
This says it all. What a match and what a celebration! #Bangladesh gets their arrogance delivered back to them. 😂 pic.twitter.com/9XGH6U3HH5

— Che0w Me0w (@deshbhkt_) September 1, 2022
It is high time for Bangladesh vs Sri Lanka to start the Naagin T20 cup : pic.twitter.com/fTWdHVJCYI

— Sai (@akakrcb6) September 1, 2022
Well done #SriLanka pic.twitter.com/3xfFA9SdXI

— vardaan ag 🇮🇳 (@VardaanAg) September 1, 2022
Bangladesh Cricket Team is best Example for "Premature Ejaculation"…. 😂😂#BANvSL pic.twitter.com/fwdGgHumuB

— Cricpedia (@_Cricpedia) September 1, 2022
IT HAPPENED AGAIN!

Bangladesh fans were doing the nagin dance after Mushfiqur took the catch of Mendis. It turned out to be a no ball. Sri Lanka went on to win the match!

Bangladesh's premature celebrations backfired again! #AsiaCup2022 #BANvSL #SLvBAN pic.twitter.com/T7Sd0qI3nG

— Sakun (@Sakun_SD) September 1, 2022
#AsiaCupT20#Bangladesh
What a match…
Sri Lanka qualify super 4
Gandhi Baat …… pic.twitter.com/I9KlIQ29Po

— Amir Awan (@Amirawan000) September 1, 2022