On Saturday, Tamilnadu recorded 49 new cases, increasing the total number positive cases in Tamilnadu to 1372. Among the 49 new cases, 28 people from Tirupur got affected due to their direct contact to the attendees of a single event. Meanwhile State Health Minister Vijaya bhaskar had revealed that the rapid testing kits were introduced in Salem. He said that 5,363 samples were tested on the same day. It is notable that 82 patients were discharged on Saturday whereas no deaths has been reported in the last 24 hours.
Vijay Bhaskar said that Tamilnadu has more test labs comparing to anywhere in India. Tamilnadu continues to stay at 1.01% according to the morality rate for coronavirus is concerned. The Minister said that it is a positive sign to see more number of patients are getting discharged than the number of patients tested positive.
Tamilnadu currently has 31 testing labs, including 10 private labs. While answering to the question regarding the cost of rapid tests kits, Dr. Umanath, Managing director of The Tamilnadu Medical Services Corporation said that the state is placing orders with the same company as the same government. When reporters forced him to tell the exact price, he showed documents to the reporters, revealing that the state government has bought rapid test kits at Rs. 600 per kit.
Here' s the document shown by Umanath :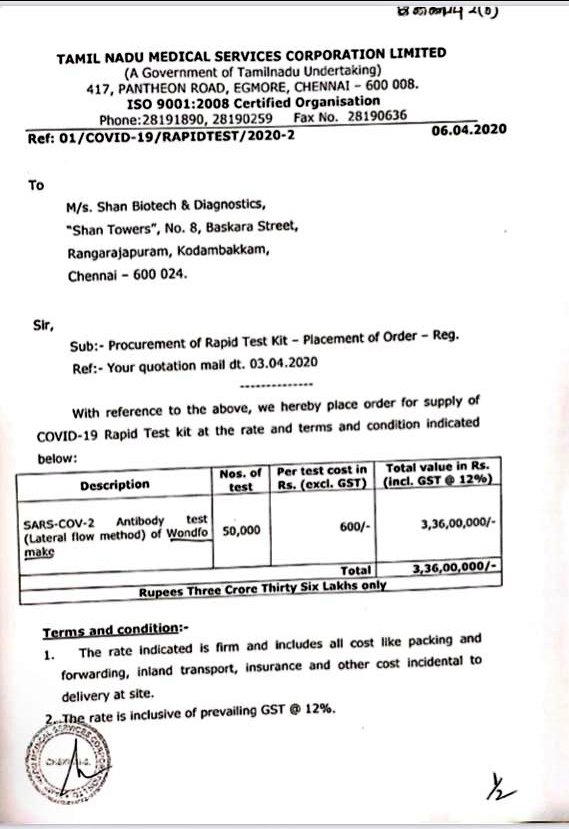 Minister further added that the government has improved the capacity of testing. He said that 1000 samples can be tested at a time by using automated RNA extraction at the Rajiv Gandhi Government General Hospital. However this revelation of the cost of per rapid kid test has made people to react in various ways.
It's confirmed : TN govt purchased #RapidTestKits for ₹600 rupees

The document was shown to us by TNMSC MD Umanath.

AP govt purchased #RapidTestKits for more than ₹700 rupees.

— Shabbir Ahmed (@Ahmedshabbir20) April 18, 2020
As far as District wise positive cases are concerned, Chennai has reported 7 positive cases. In Tiruppur, 28 cases has been reported. One case in Coimbatore, Four cases in Tenkasi, Perambalur and Dindigul reported 3 cases each. With today's 28 cases, positive corona cases in Tirupur has crossed 100 mark and the total number cases in the district is 108 which makes it the district with third highest number corona cases.