Tamil nadu finance minister Dr. P. Thiaga Rajan intervened and director the collector of Madurai to take appropriate action regarding a complaint that emerged in social media against a private hospital that is located in Chinnachokkikulam, Madurai which charged Rs. 1 Lakh for one day of COVID 19 treatment. After Mr. Rajan retweeted a picture of the bill in Twitter by urging Madurai collector Aneesh Sekar to take action, the hospital refunded the excess amount to the patient.
[wp_ad_camp_1]
However, the hospital had still charged around Rs. 20,000 in excess as per the rules laid down by the Government order. As a result of it, Mr. PTR, in his latest tweet, has said that he has decided to emphasise the private hospitals to charge the amount announced by Chief minister MK Stalin.
The patient who is 49 years old was admitted at the hospital on 12th of May and was discharged on 14 of the same month. The bill amount for the treatment he was provided at the hospital for two days showed Rs. 1, 00, 356. It included Visiting consulting charges – Rs 15,000, Room rent charges – Rs 15,000, Nursing charges – Rs 13,500, Doctor Fee – Rs 25,000, Disposable charges – Rs 13,000, Pharmacy – Rs 10,856, Lab – Rs 4,500, Food – Rs 3,500. The bill also mentioned the patient Kanimatchi as male.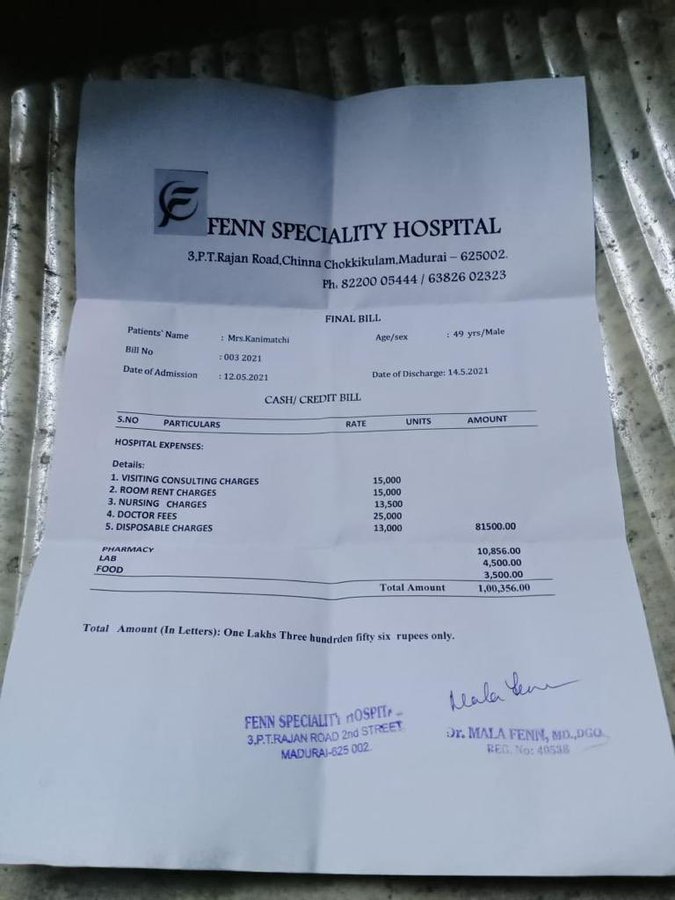 Reports suggests that the patient was tested positive and had lung involvement as per the CT reports. She was given oxygen support during the two days of her stay in the hospital. The hospital asked the family members of the patient to purchase the antiviral drug Remdesivir from outside as they didn't have the stock. The family members decided to get the patient discharged angrily, according to sources.
"We are not charging exorbitantly and have proper records for all the drugs and medications administered on her during the treatment." the hospital management said. They also mentioned that the mention of sex as male is a typographical error. Sharing the picture of the bill, active social media user and journalist Sonia Arunkumar uploaded a tweet in her twitter timeline.
[wp_ad_camp_1]
கொரோனா சிகிச்சைக்காக சேர்ந்தாங்க!

— Sonia Arunkumar (@rajakumaari) May 29, 2021
TN finance minister shared the tweet and urged Madurai collector to take appropriate action initially.
மதுரை கலெக்டர் இதைக் கவனித்து தகுந்த நடவடிக்கை எடுக்க கோரியுள்ளேன் https://t.co/YwrVFDDDMr

— Dr P Thiaga Rajan (PTR) (@ptrmadurai) May 29, 2021
Collector Aneesh Shekar, after conducting an inquiry, said that the hospital had refunded Rs. 46,000 to the patient on 26th of May. "However, the hospital had still charged around Rs. 20,000 in excess as per the rules laid down by the Government order. Hence, the hospital was ordered to repay the excess money and they followed the order" Collector Aneesh Shekar said.
[wp_ad_camp_1]
Sharing the news, Mr. PTR, in his tweet said "Thanks to the collector who took immediate action regarding the complaint that emerged in social media. We have decided to conduct a meeting with the private hospitals of Madurai again to emphasize on charging the amount announced by Chief minister MK Stalin"
Here's his tweet :
கொரோனா சிகிச்சைக்கு கூடுதல் கட்டணம் வசூலிப்பதாக சமூக வலைதளத்தில் வந்த புகாரையடுத்து விரைந்து நடவடிக்கை எடுத்த ஆட்சியருக்கு நன்றி. மதுரையில் மீண்டும் ஒருமுறை தனியார் மருத்துவர்கள் கூட்டத்தை கூட்டி முதல்வர் @mkstalin அறிவித்த கட்டணத்தை மட்டுமே வசூலிக்க வேண்டுமென வலியுறுத்த உள்ளோம் pic.twitter.com/Y9eXLhDXEV

— Dr P Thiaga Rajan (PTR) (@ptrmadurai) May 31, 2021