On Wednesday, a video of a Dalit youth getting brutally assaulted by a gang of six men went viral in social media. After the victim tried to end his life by committing suicide, he was saved and is currently undergoing treatment at the Thanjavur hospital. Speaking to media, Rahul, the victim said that the gang which attacked him ruthlessly, mentioned his caste while hurting him. Four men has been arrested by the Ammapettai police on Thursday and are being questioned, according to reports.
[wp_ad_camp_1]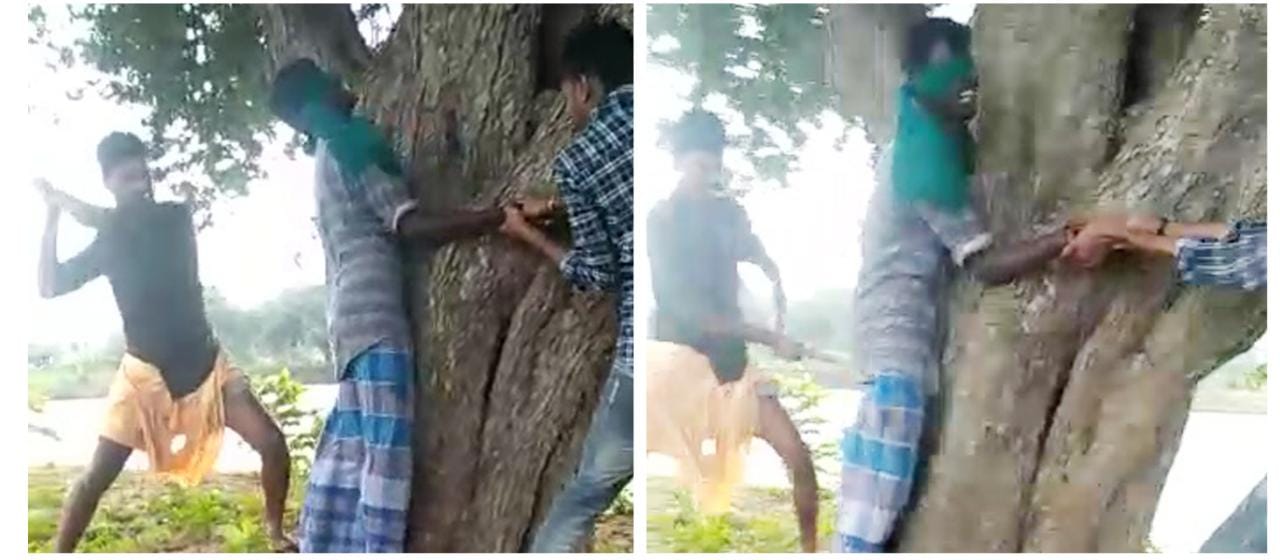 Rahul was reportedly working for Karnan in the sand transportation business. Karnan is also said to belong to a Dalit community. On January 31, police said that Rs 30,000 in cash went missing from Karnan's house. Karnan suspected Rahul and informed the matter to his son Lakshmanan.
Following this, Lakshmanan, accompanied by friends, including some employed by Karnan, allegedly took Rahul to a farm field, restrained him by force and brutally assaulted him with a wooden stick. The victim sustained internal injuries in the attack and informed his family members about the attack.
A 24-year-old dalit daily wage labourer was blindfolded and canned by a group of caste Hindus accusing him of stealing money near Ammapettai in Thanjavur. One detained. Investigations are on. pic.twitter.com/KOyIK8ChAh

— Prabhakar Tamilarasu || பிரபாகர் தமிழரசு (@pkr_madras) February 4, 2021
Thanjavur brutality: FIR filed against four accused. Six sections invoked including atrocities against sc st act for assaulting dalit man. Accused are from a dominant caste. The victim allegedly stole money from one of the accused's houses. @thenewsminute pic.twitter.com/TJsg7qLGlP

— priyankathirumurthy (@priyankathiru) February 4, 2021
[wp_ad_camp_1]
Caste Hindus beating up a Dalit youth suspecting him of stealing money in Thanjavur, Tamil Nadu, probe on say police @tnpoliceoffl @CMOTamilNadu #dalitlivesmatters pic.twitter.com/PskmtMqp1A

— Raghu VP (@Raghuvp99) February 4, 2021
CAUTION : VIOLENCE

UPDATE : Ammapettai Police are investigating the case. Sources say the 23 yr-old is a #dalit .

Investigation is ongoing. #TNCrime #Thanjavur #CasteCrime #dalitlivesmatters https://t.co/1ghykw8XkO pic.twitter.com/esibD9tWQ0

— Apoorva Jayachandran (@Jay_Apoorva18) February 4, 2021
Distressed by the video going viral, Rahul consumed poison and tried to end his life. He was rushed to the Thanjavur Medical college hospital where he is being treated.
Now, a video of the victim revealing what happened in the farm is doing rounds in the social media platforms. "I asked the money for transforming the sand. They said that they are providing me alcohol and food instead. Then they said that the people who belong to my caste are his slaves. After that they accused me of stealing money and beaten me with bare hands" Rahul said to the media.
[wp_ad_camp_1]
Rahul further reveals how the gang blindfolded him and beaten him with weapons. He said that they repeatedly mentioned his caste name while beating him. "They repeatedly cursed me to die while beating. I tried killing myself as my video went viral through my friend. I want those who beaten to me to get arrested" Rahul said.
#BIGNEWS | "சாதி பெயரை கூறி என்னை அடித்தனர்"- தலித் இளைஞர் வாக்குமூலம்#Meiarivu | #Thanjavur | @thirumaofficial | @CMOTamilNadu pic.twitter.com/rlAr98NXRy

— Mei Arivu (@meiarivu) February 5, 2021
Police who got a written complaint from Rahul in hospital, arrested all the accused under the relevant sections of the Indian Penal Code and the SC/ST (Prevention of atrocities act). Further investigation into the case in underway.