Celebrities Admired Suriya For Entering Oscars For The 2nd Consecutive Time !!
By Dhiwaharan
After streaming a series of clips from the most talked about 2021 Tamil film "Jai bhim" in their youtube channel, Oscar added the film as one of the 276 films that got selected for the best picture for the Oscar this year. Apart from the Suriya starrer, Mohan lal's "Marakkar Arabikadalininte Simham" has also been nominated to the academy awards list.
Here's the official announcement :
The 276 feature films in contention for the 94th Academy Awards. #Oscars https://t.co/ae6SRmjoG1

— The Academy (@TheAcademy) January 20, 2022
Announcing about the same, Suriya's 2D entertainments, came up with a post writing "Into the #Oscars race! #JaiBhim makes it into the 276 films shortlisted by @TheAcademy for the 94th Academy Award nominations" in their official twitter handle.
Into the #Oscars race!#JaiBhim makes it into the 276 films shortlisted by @TheAcademy for the 94th Academy Award nominations 💪

Read the full list here ➡️ https://t.co/M70mKOzmpe@Suriya_offl #Jyotika @tjgnan @rajsekarpandian @PrimeVideoIN

— 2D Entertainment (@2D_ENTPVTLTD) January 21, 2022
The voting for the nominated movies for the 94th Academy awards will take place from 27th of January, according to reports. The voting will end on 1st February and the announcement about the final list of the nominated movies will be announced on 8th of February.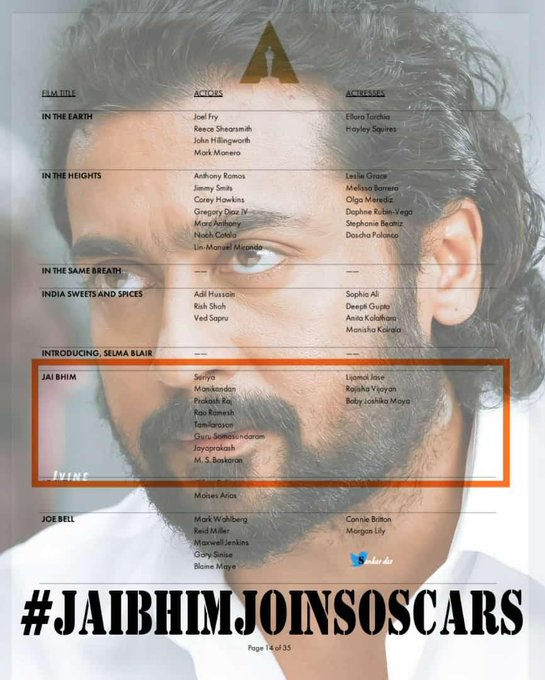 A couple of days ago, official youtube channel of Oscars uploaded a 12 minute video clip from the widely watched, critically acclaimed Tamil film "Jai bhim" of Suriya. The clip included director T.G. Gnanavel talking about how harmful casteism is and about how his period film deals with the issue. As soon as the video got uploaded in the youtube space of Oscars which enjoys 2 million plus subscribers, fans of Tamil cinema got overwhelmed and has been expressing their excitement by dropping comments and sharing the information.
"Jai Bhim weaves in real case studies helmed by Activist-Lawyer Chandru, who brought justice to indigenous tribes in Tamilnadu through his relentless efforts. Writer-director TJ Gnanavel reveals how the story narrative was formed and executed" description of Oscars for the video of Jai Bhim read.
Important scenes such as Police forcefully arresting the innocent tribes to solve crimes, Rajakannu and his family facing Police brutality, Lawyer Chandru seeking justice for Rajakannu and his wife were featured in the youtube channel of Oscars. Director T.G Gnanavel could be seen depicting how casteism is much more dangerous than racism in the video as well.
as soon as the announcement was made, along with the fans, celebrities of Tamil cinema started wishing Suriya to clinch the globally recognized award. Sunaina, Yashika, Soundara Rajan are some of the many celebrities who tweeted regarding the same.
Check out some of the posts of Tamil celebrities and fans below :
#Oscars Congratulations @Suriya_offl sir and team #JaiBhim 🙏🏽

— SUNAINAA (@TheSunainaa) January 21, 2022
So proud of u 🥰❤️ #Suriya sir 🥰 #Oscars #JaiBhim #SooraraiPottru and team 🙏🙏🤭👍🏻

— Yashika Anand (@iamyashikaanand) January 21, 2022
Congratzz @Suriya_offl sir & #Jaibhim Team ! You are making us proud .. #Oscars #JaiBhimjoinsOSCARS

— Sakshi Agarwal (@ssakshiagarwal) January 21, 2022
Wow 🤝👌👌👌👌 congratulations @Suriya_offl Anna , @rajsekarpandian Anna and entire #Jaibhim team 👍🤝 https://t.co/goUDABwO7G

— Soundararaja Actor (@soundar4uall) January 21, 2022
Phenomenal already .. @Suriya_offl @tjgnan @2D_ENTPVTLTD @rajsekarpandian #jyothika #Suriya @TheAcademy #Oscars #JaiBhim go for it! https://t.co/CljUCdX1Fv

— SujathaNarayanan (@N_sujatha08) January 21, 2022
#JaiBhim the power of well written story 💥 combined with @Suriya_offl stardom 👌 https://t.co/Dko3JnXnxQ

— Sridhar (@Batwaynne) January 21, 2022
#JaiBhim in contention for the 94th academy awards! The fire rages on 🔥 @TheAcademy #Oscars2022 @Suriya_offl @tjgnan @jose_lijomol @PrimeVideoIN @SonyMusicSouth @srkathiir @philoedit @2D_ENTPVTLTD @rajsekarpandian https://t.co/H7QuIDLAxN

— Sean Roldan (@RSeanRoldan) January 21, 2022
#JaiBhim – makes it into the 276 films shortlisted by @TheAcademy for the 94th Academy Award nominations.. 💥 #Suriya – Nambi irukom.. jeichrunga maara.. 🤝🔥#OSCARS @Suriya_offl @tjgnan pic.twitter.com/sh9bgE02lM

— Laxmi Kanth (@iammoviebuff007) January 21, 2022
Good movie deserves Oscar 🧡 @Suriya_offl anna🧡#JaiBhimJoinsOscars #Jaibhim pic.twitter.com/ueDsMkjhD5

— Balaji Tarakian 🌊 (@Tarak9_Cult) January 21, 2022
#JaiBhim also makes it to the list. @Suriya_offl take a bow https://t.co/jfhotq8nA6

— Stacy Pereira (@StacyPereira89) January 21, 2022