Foodtech platform Swiggy has been facing protest from delivery personnel in Chennai, one of its hot market in India. As usual, the unhappiness is over the payment structure including incentives, per-order pay, and regularisation of per mile compensation.
Protestors gathered in several parts of the city like Vadapalani, Mylapore and Porur also threatened that the strike would continue indefinitely if the management doesn't fulfill their demand. They are even planning for a city-wide protest if the matter fails to settle down by the Naspers-backed foodtech major.
On Wednesday, Swiggy affiliated restaurants in these areas confirmed that they had not been receiving orders via the aggregator app.
[wp_ad_camp_1]
A message saying 'Temporarily unavailable or We're sorry, delivery is not possible at the moment due to unforeseen circumstances appeared on the app.
Defending itself, Swiggy, on the other hand, promised to resume the service and it is also considering a revised salary structure for the delivery executives.
In a statement to ET, Swiggy explained that the revised payout scheme is in the process and it will consider various parameters including peak hours and distance.
Apart from Chennai, several customers from Bengaluru and Coimbatore also tweeted over disruption in services, however, Swiggy denied such reports and claimed that service is normal across the country.
[wp_ad_camp_1]
Numbering between 20-50 in several spots in the city like Vadapalani, Mylapore and Porur, they urged the company to increase the per-order pay and "restore the incentive amounts that had been reduced recently".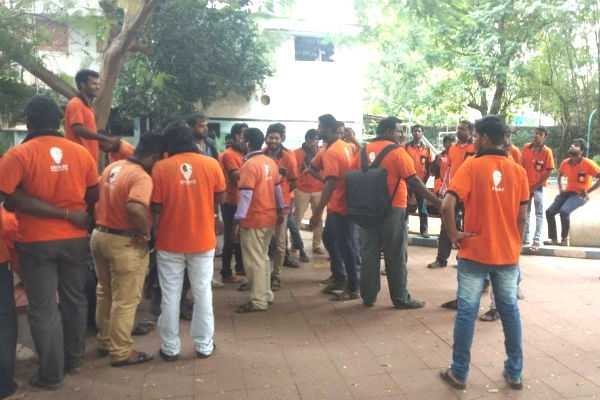 Other demands included the regularisation of per mile compensation, more avenues to communicate with the organisation on delivery related problems, and ensuring that personnel do not face "police harassment late in the night" when they carry out deliveries.
Speaking with ET, deliveryman Surendhira Kumar said that the organisation had not properly addressed employee concerns on the "recent reduction of per order compensation". A larger protest is being planned with the participation of service personnel from across Chennai, he said representing delivery persons from one pocket of the city.
Swiggy affiliated restaurants in high demand areas, like 'Sangeetha' on GN Chetty Road and 'Vrindavan' in Mylapore among others confirmed that they had not been receiving food pick-up and delivery requests through the day on Wednesday.
In a response to a query on the disruption, Swiggy said in a statement, "We remain committed to serving the city of Chennai, while ensuring that our delivery partners have access to additional earning opportunities, incentives and benefits. We regret the inconvenience to our users in Chennai and are working hard to resume services in these areas at the earliest."
The statement also added "It is our constant endeavour to provide our delivery partners with industry-best payouts. The revised payout scheme is in alignment with the efforts of our partners on-ground, and takes various parameters including peak hours and distance into consideration."
The company noted that every delivery partner is engaged with Swiggy on a principal to principal basis and that Swiggy services in a "handful of areas" had been disrupted.
In recent months in the city, other aggregation services like Ola and Uber have also witnessed frequent protests by cab drivers and fleet operators over better pay and incentive requests.
This is not the first case for Swiggy. Last year, almost 500 delivery executives had gone on strike, halting service in most part of Pune.
Of late, foodtech platforms including Swiggy, Zomato and UberEats have been facing wrath in Kerala as the Kerala Hotels and Restaurants Association (KHRA) has decided to distance itself from these platforms. They are also considering creating a parallel app showing anger over existing arrangement and service charges issue.
[wp_ad_camp_1]
Not only food tech, customers and business partners of cab-hailing majors Ola, Uber and online hotel booking platforms such as Oyo, Go-MMT have also protested over incentives and protested over incentives and commission structure in the past months.