Sweet Revenge Of Rishab Pant Goes Viral !! Gives Back In A Style !!
By Dhiwaharan
Australian captain Tim Paine continued his chatter with Indian batsmen from behind the wickets and this time it was Rishabh Pant who heard continues chirping. In the 26th over of India's second innings, Paine came up with an interesting topic as he reminded Rishabh that he has been dropped from the ODI team, also suggesting that he should come and join Hobart Hurricanes for the Big Bash League. "Big MS Dhoni is back in the one-day squad. We might this bloke down at the @BBLHurricanes," he said.
[wp_ad_camp_1]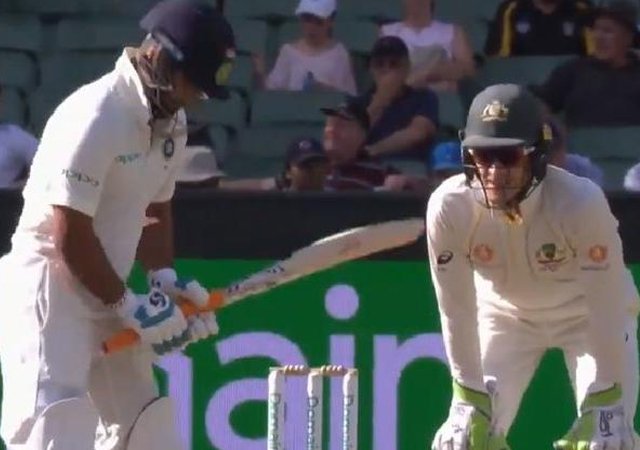 Rishabh didn't respond to Paine but he was surely distracted with it as after playing a defensive shot, he went for a big heave that fell way short of the long-on fielder. Here is the video of the incident –
Tim Paine doing some recruiting for the @HurricanesBBL out in the middle of the 'G… 😂 #AUSvIND pic.twitter.com/6btRZA3KI7

— cricket.com.au (@cricketcomau) December 28, 2018
Now the young lad got one back at Tim Paine for the banter he was subjected to while he was batting as the Australian captain came to the crease to bat on Day 4 of the Boxing Day Test in Melbourne on Saturday. Pant was teased by Paine over MS Dhoni's inclusion back in the T20I side and his exclusion, telling him they could use him at Hobart Hurricanes in the Big Bash League.
[wp_ad_camp_1]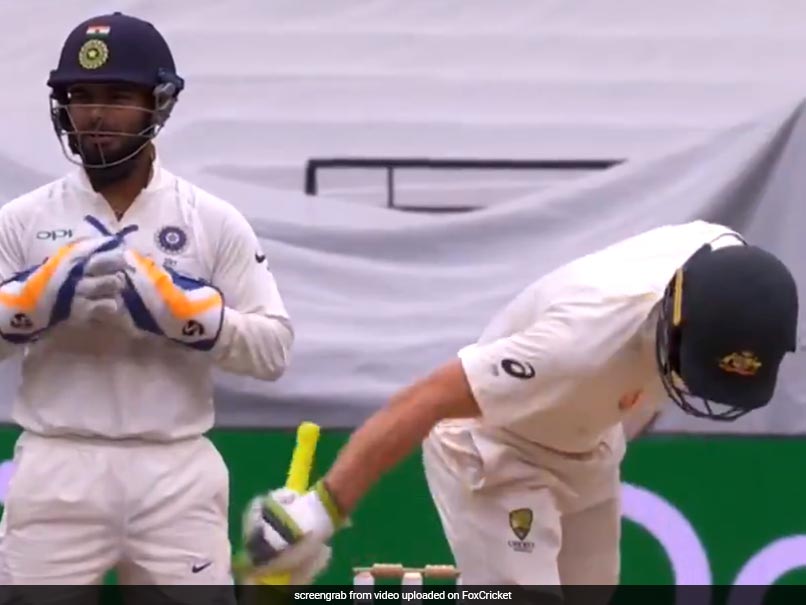 On Saturday, Pant welcomed Paine to the crease with some banter of his own calling him a "temporary captain" and telling Ravindra Jadeja that Paine only knows how to talk.
"We have got a special guest here. Have you heard the word temporary captain ever. You [Jadeja] don't need anything to get him out. Come on lads.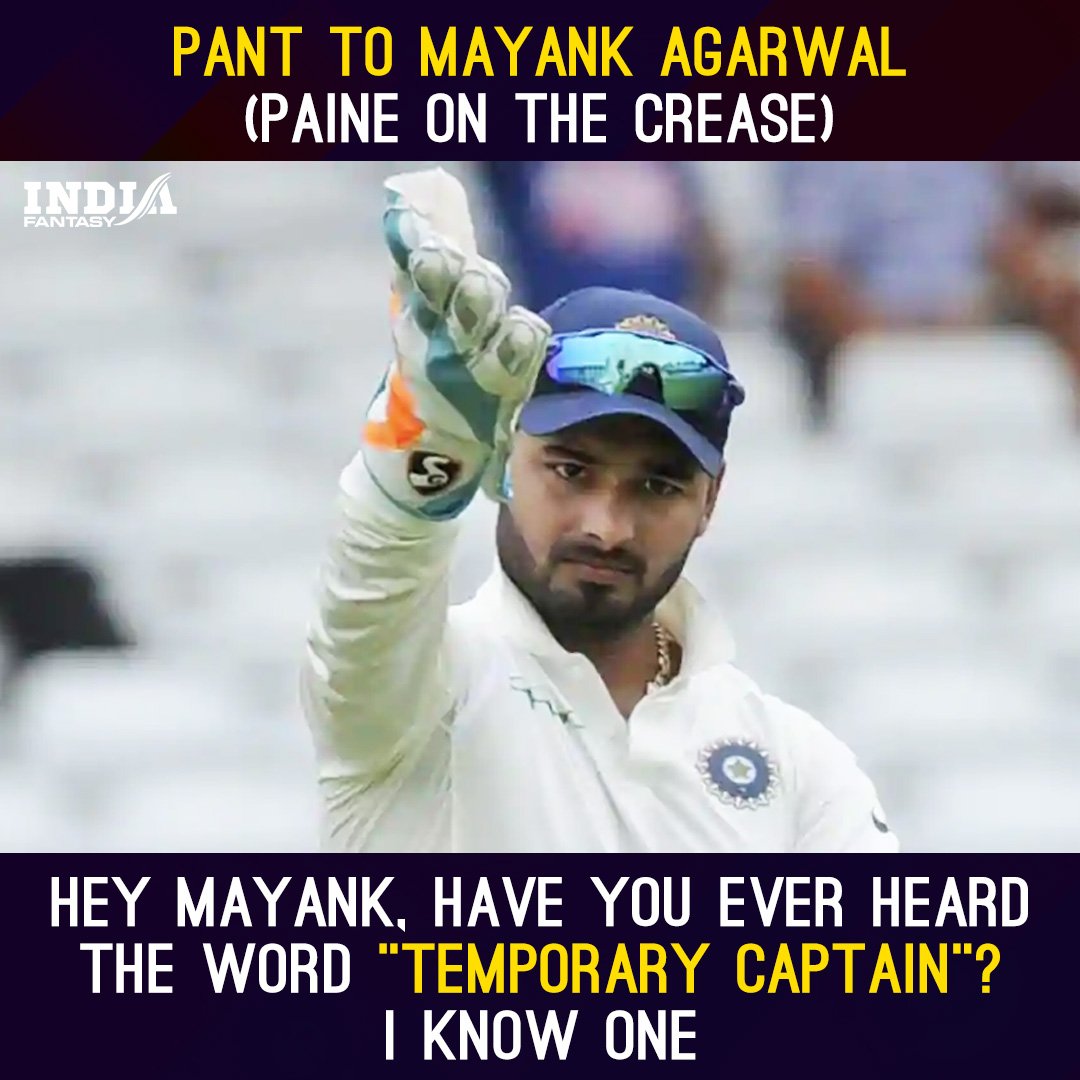 "He loves to talk, that's the only thing he can do. Only talking talking," Pant sledged from behind the stumps which was picked up by the stump mic :
It was Rishabh Pant's turn for some fun on the stump mic today… #AUSvIND pic.twitter.com/RS8I6kI55f

— cricket.com.au (@cricketcomau) December 29, 2018
The behind-the-stumps banter has been a regular feature of the last two Tests matches between India and Australia.
As soon as this happened in the field the video went viral on the internet. Received hilarious reactions : Check out some of them :
Giving it back in Aussie style….😂😂 #australiavsindia #RishabhPant https://t.co/kgZJZrXFDh

— Mugilan Chandrakumar (@Mugilan__C) December 29, 2018
#RishabhPant showing the World you can sledge without being nasty!

What a legend!!!! 🤣#AUSvIND

— Rohit TK (@Teekkayy) December 29, 2018
#INDvsAUS #rishabhpant
Everything you do comes back to you.. @RishabPant777 you are a genius kid.. pic.twitter.com/UYlimTCyUy

— Murali Vijayakumar (@MuraliVjy) December 29, 2018
#RishabhPant's style of giving back 😂👌 Take it Aussies 👊#INDvsAUS pic.twitter.com/ACaOtvaniL

— Rajĸυмaя ♥️ (@Rajj8990) December 29, 2018
Temporary captain 😂😂@RishabPant777 you beauty.#AUSvIND #rishabhpant

— Atharva (@FinancialEngg) December 29, 2018
I'm all for chirpy keepers & banter on field but #RishabhPant should show #timpaine some respect as #Australian captain & given Tim's out kept #pant comprehensively all series he'd want to shut his mouth coz embarrassing himself. @abcgrandstand #AUSvsIND @BCCI @7Cricket

— BenW (@veritas909) December 29, 2018
#INDvAUS #RishabhPant #Paine #RohitSharma man this was funny but has deep meaning lol pic.twitter.com/TVDyYqDEbD

— sai ram murthy (@sairammurthy6) December 29, 2018
This is pretty rough by #RishabhPant, but #TimPaine deserved this for his banter through out the series.

Great catch there, @RishabPant777 today! You made the #AUSvIND series fun like never before. 😂😂😂 https://t.co/84jenmoBPj

— Aravind Khasibhatla (@khasibhatla) December 29, 2018
Rishab Pant GIVING INSTANT KARMA to Tim Paine & the Aussies 😂😂 🤣🤣#RishabhPant #TimPaine #INDvAUS #INDvsAUS #AUSvIND #AUSvsIND pic.twitter.com/dH2J1AkE1x

— Rosy (@rose_k01) December 29, 2018
Aussies can't handle back . They themselves can say whatever offensive they want but when it's time of giving back it gets childish .

Why so much hypocrisy ?? 😒#AUSvIND #RishabhPant

— Reema (@deepikareema) December 29, 2018
On Friday, Pant used Dhoni's reference to sledge Pant and asked him if he could babysit for him.
Kohli was rumoured to have said to Paine that he was the best player in the world while Paine was just a stand-in captain. However, BCCI negated the rumors saying Kohli had said nothing of that sort.
"If he messes it up, it's 2-0," Kohli was heard saying, which was picked up by the microphone after he and his teammates made a loud caught-behind appeal for Paine in the final over of the day.
[wp_ad_camp_1]
Paine did not hold himself back and replied "You've got to bat first, big head".
On Day 4, Kohli even almost ran into Paine  while fielding with Paine saying, "You're the one that lost it yesterday. Why are you trying to be cool today?"
After the incident, on-field umpire Chris Gaffaney had to intervene and tell them to behave like captains.