Suruthi's "Goddess Lakshmi" Photo Goes Viral In Internet After She Shared About Her Dark Past !!
CM / Updated: 2021-10-07
10:10 IST
By Dhiwaharan
A picture of model Suruthi posing as "Goddess" Lakshmi is going viral in social media platforms with people expressing their admiration over her achievement after she shared about the dark past she went through in the fourth episode of Bigg Boss season 5. Suruthi won hearts of Bigg Boss viewers after opening her heart out in the task where contestants were asked to tell about their story to get votes from their co-contestants. She who found it hard to talk about her personal life initially, managed to tell her con-contestants and the millions of Bigg Boss viewers about her past.
[wp_ad_camp_1]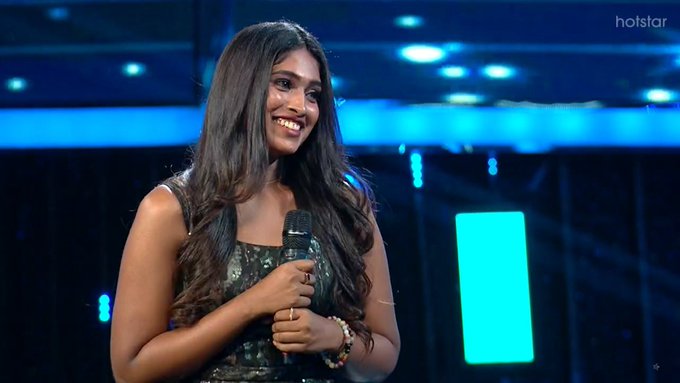 Suruthi started her story revealing that her mother was the second wife of her father whose first wife died. "Age of my father and my mother's father is same. She was 18 years old when she got married. At that time, my father went past 50 years of his lifetime. My grandfather and my father are cousins. When my grandfather was struggling financially, my father helped him. In return, to show their gratitude, when my father was struggling in his life without a wife, they decided to marry my mother to him" Suruthi said in the show with tears rolling down.
"My father had five children with his first wife and four of them were elder than my mother when the marriage took place. The last son is four years younger than my mother. She got married in such situation" Suruthi said. "When my mother got pregnant, my father told her that he doesn't want a child as he already had five children. So, according to my father, I am an unwanted child" she went on.
[wp_ad_camp_1]
"Till I was 11, my father was alive and we were living in a same house. I never called my father as "dad", not even one time. I don't even have a clue about how a father and daughter relationship would be. In my school, my classmates would talk highly about their fathers but I never experienced. I longed for a proper family. When they said that my father died, I felt extremely happy. It was like I got freedom. He would always feel insecure about my mother as she would look beautiful" Suruthi said.
"He used to lock us in a room and leave to my brother's place for one week. He also push us out of the home and won't feed us. As he didn't like me, he also threw my foods away at times. I was happy throughout the funeral process which took place for 15 long days" she further said and shatred about the financial struggles she faced after her father's demise.
Suruthi said that she managed to join B.tech through sports quota after her schooling and passed out with distinction. "I selected in campus interview for 6 companies and chose the best one to work. After two years, I found that I couldn't grow professionally in that company. When I left the company and reached Chennai to find job, I managed to get work in a corporate company in a marketing department. Modelling happened there accidentally. A model backed out in my friend's show and he asked me whether I could walk." Suruthi said and shared about her first viral photo shoot for the subject "Dark in divine" in which she posed as Goddess Laksmi Devi.
[wp_ad_camp_1]
Photos of Suruthi posing as Goddess Lakshmi is going viral social media platforms with people lauding her for achieving in her life, despite of her dark past and financial struggles. Check out some of the post below :
Sruthi – As model for tamil goddess lakshmi. #BigBossTamil5 pic.twitter.com/6BY5icvFkV

— Prashanth Rangaswamy (@itisprashanth) October 6, 2021
#BiggBossTamil5 #SuruthiPeriyasamy steals hearts with her story! Now the audience is on her side, will she make the most of it? #BiggBoss5Tamil #bigboss5 #suruthiarmy #SuruthiJayadevan #Suruthi pic.twitter.com/Nqj1py3k9M

— #biggboss5tamil #biggboss15 #biggboss5telugu (@thenewscrunch1) October 6, 2021
Suruthi's story 🙁💔 So heartbreaking. Nevertheless she came through till here against all odds 👏🏾👏🏾

— Priangka Elizabeth (@priangkaea) October 6, 2021
Suruthi's story is heart touching😫 #BiggBoss5Tamil #Suruthi#BiggBossTamil5 #BiggBossTamil pic.twitter.com/v4feD7vXVd

— குருநாதா⚡⚡ (@gurunathaa4) October 6, 2021
#Suruthi 's story was hard. So painful to even hear it, I can't imagine what her mom went thru as a young bride to a thatha like guy. S's mom if you are reading this, my hugs and ❤️ to you. You should be proud for raising a daughter on your own!#BiggBossTamil5 #BiggBossTamil

— kay (@kflyyt) October 6, 2021
#BiggBossTamil5

In Tamil 5 seasons one contestant story touch the soul and conscience was #Suruthi's…

At that age a 11 year old girl get happiness of her father's demise means what that girl went through can able to felt it…

After that all her achievements… Wishes…👏 pic.twitter.com/7bIPd3fwxk

— michael arun (@arunjeba) October 6, 2021
#Suruthi – An inspirational story, She fought against odds and made it this far. #BiggBossTamil5#BiggBoss #BiggBossTamil

— Steven Raj C (@stevenrajc) October 6, 2021
#BiggBossTamil5 – #Suruthi's life story 💔💔💔

Never heard such 😱

Evalo pain irundha Ipdi varthai varum 💔

'Unwanted Child'
'Appa Setha Apo Santhosapattan'

— Happy Sharing By Dks (@Dksview) October 6, 2021
Neraya society imposed issues were discussed in the show.
Elder male marrying a young woman
Hatred towards girl child
Female widower problems

Ipadi idhellam pesina than awareness varum. Well done Suruthi

Learn to say no 👍
Think we'll before you decide 👏👏#BiggBossTamil5 pic.twitter.com/rbc68L4al5

— Ravanan (@_raja) October 6, 2021