Suriya's Responds To All The Memes & Celebrations That Surfaced For "The Rolex" !!
Written by Dhiwaharan Published on Jun 04, 2022 | 18:20 PM IST | 111
Follow Us
Comments: 0
Suriya responded to all the memes and posts that surfaced celebrating the cameo he played for the film "Vikram" directed by Lokesh Kanagaraj. The 5 minutes appearance of the actor made huge impact in the film that lasted nearly 3 hours. Many memes, posts and write ups flooded the internet celebrating Suriya for what he pulled off in the minimum screen space he had. Now, the actor came up with a tweet expressing his emotion for all the response he received for "Rolex".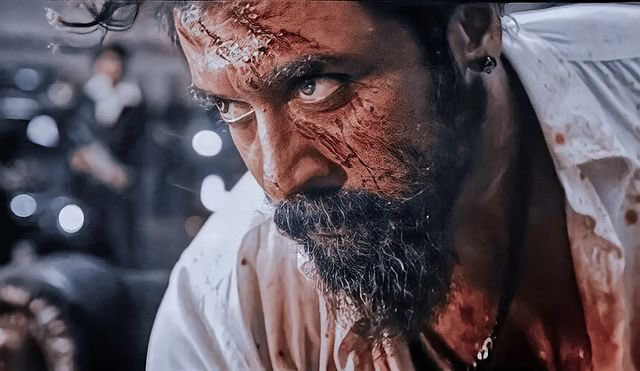 Director Lokesh Kanagaraj tried his best not to reveal the inclusion of Suriya in "Vikram" prior the release of the film. However, pictures and videos of the actor entering the sets of Vikram and posing for pictures with the actors of the film were leaked in the internet.
Without having much choice, the production house had to make it official and a poster was made for Suriya was release exclusively. In interviews, Lokesh Kanagaraj said that he was planning to give audience the surprise while watching in screens but people are leaking videos. Kamal Haasan, during his cannes visit, said that they had to put their hands up and admit Suriya's participation in the film as the pictures were leaked already.
However, the makers were keen on hiding the looks and character Suriya was going to play in the film as they only showed his eyes in the official posters. Now, after the film's release, fans can't keep calm as Suriya elevated the film's range to another level through his presence.
Appearing as "Rolex", a ruthless kingpin of the mafia world, Suriya orders his men to kill Vikram, Dilli and Amar and offers "lifetime settlement" for the one who brings their heads. The actor, as a complete contrast to the image he has build in Tamil cinema over the years, was seen brutal, savage and stylish with his coolers, stud and Marshal speakers he carried on his shoulder.
Check out some of the reactions surfaced for Rolex in the internet below :
In #Vikram, we only subtly felt the presence of @Karthi_Offl (Dilli) but the whole theatre went crazy for that Dilli reference! Wish to see Dilli, Rolex and #Vikram in one frame 🔥

— Rajasekar (@sekartweets) June 4, 2022
#Rolex Boooom Blast 🔥@Suriya_offl #Vikram #VaadiVaasal #Suriya41 pic.twitter.com/wkRzJWoGb1

— Suriya Mumbai Fans Club™ (@SMFC_offl) June 3, 2022
It's Happening Ra Eleiii 😈😎@Suriya_offl × @Karthi_Offl

ROLEX 😈 × DILLI 💥 × VIKRAM 🔥

• #VaadiVaasal • #Suriya pic.twitter.com/exUuNBUCsO

— ℂℓ𝔦ᶰ𝕋ᵒ𝐍 😇 (@Clinton2k1SFC) June 3, 2022
Give me Amar + Dhilli + Vikram v/s Rolex ASAP. pic.twitter.com/wZL8igDYlh

— 球子 Hara ✨ (@Mystic_riverrr) June 4, 2022
Kamal morattu energy on screen 🙏 Fafa was good 🔥🔥 . VJS Not bad range .

Suriya as Rolex 🥵🥵🔥🔥🔥🔥🔥 literally brought down the floor 💥. Kodura Maxx response in theatre 🙏#Vikram pic.twitter.com/jHcZAz82Xn

— விக்னேஷ் villain™ (since 1997) (@Vigneshcdm1) June 3, 2022
Witnessing two favvssssss in a single movie , no best thing for a mutual than this ♥️🔥 #Vikram #Rolex @Suriya_offl🔥@ikamalhaasan pic.twitter.com/XbbdZSmj8a

— 𝗥 𝗢 𝗟 𝗘 𝗫 𝗕 𝗨 𝗧 𝗧 𝗢 𝗪 𝗦 𝗞 𝗜 👓 (@Kb_tweets_) June 3, 2022
Thanks #LokeshKanagaraj for ROLEX 🔥

Suriya Mass everywhere 🔥

Adopted son of telugu States @Suriya_offl 🔥🔥❤️

Goosebumps for all the #Suriya fans 💥💥💥 #Vikram #VikramInAction pic.twitter.com/zWeHTLejJ8

— Saisravan🚩🏹 (@Saisravan_s) June 3, 2022
Talk of the town : #Rolex . pic.twitter.com/hm0J7jU3M0

— மாறா 🖤 (@a__tweets2) June 3, 2022
#Rolex That's the Tweet 🔥@Suriya_offl pic.twitter.com/w1b5NvqrFM

— Pawankalyan (@DBoss__Team) June 3, 2022
Now, breaking the silence, Suriya came up with a tweet thanking Lokesh Kanagaraj for making the collaboration happen. The actor said that it is a dream come true moment for him to play a role in his idol Kamal Haasan's film.
"Dearest @ikamalhaasan Anna எப்படி சொல்றது…!? This is a dream come true to be on screen with you..! Thank you for making this happen! @Dir_Lokesh Overwhelmed to see all the love!! #Rolex #Vikram" The actor said through his tweet.
Check out his tweet below :
Dearest @ikamalhaasan Anna எப்படி சொல்றது…!?
This is a dream come true to be on screen with you..!
Thank you for making this happen! @Dir_Lokesh Overwhelmed to see all the love!! #Rolex #Vikram

— Suriya Sivakumar (@Suriya_offl) June 4, 2022