Suriya In Trouble Again ?? Police Complaint Filed Against "ET" Team !!
Written by Dhiwaharan Published on Mar 12, 2022 | 08:38 AM IST | 57
Follow Us
Comments: 0
After going through a lot of trouble for acting in the widely watched court room drama "Jai bhim", actor Suriya landed in trouble again for a song that took place in his recently released commercial film "Etharkkum Thuninthavan". Despite the letters and press notes of PMK members and leaders, the film released in theatres across the state. However, a set of people found problem in the "Ullam Uruguthayya" song that took place in the Pandiraj directorial.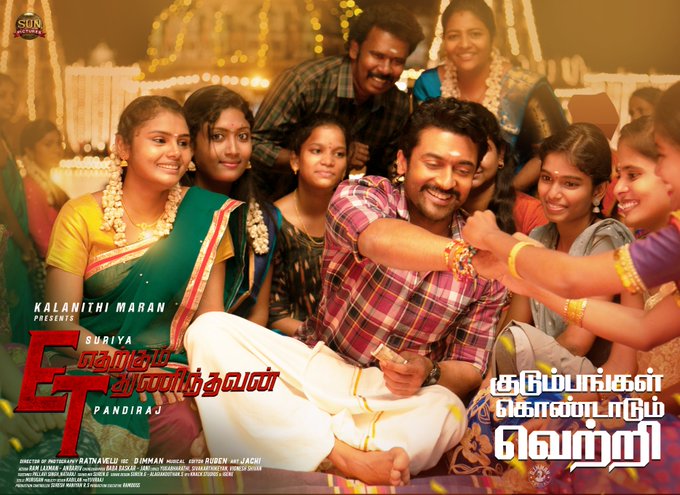 The All India Netaji party has lodged a complaint with the Coimbatore police commissioner demanding that the "Ullam Urugathayya" song from "Etharkum Thuninthavan" be seen as an insult to the Tamil Lord Murugan and asked for the removal of the song from the film immediately.
Though the song released several days before the release, the All India National Party members say that they came to know about the scenes in the song that insulted god Murugan only recently. Rahul Gandhi who heads the party, wanted the song to be removed from the film immediately.
He also demanded legal actions against actor Suriya, director Pandiraj, composer D Imman and lyricist Yuga Bharathi. Rahul Gandhi has decided to sue in court on the issue and opts to teach a lesson to those who despise Hindu Gods and beliefs, according to reports.
The film which was released in theatres on 10th of March, had an ensemble cast that includes Priyanka Mohan, Sathyaraj, Saranya, Vinay, Soori along with Suriya. The film released with much expectations and has been receiving mixed reviews from the fans.
Watch the song below :
Plot of the film revolves around Kannapiran played by Suriya who is a lawyer by profession. He who belongs to a rural part of Tamil nadu, gets married to the love of his life Aathini. Villain Vinay runs a heinous gang that lures women in the pretext of love and earns money by selling them to influential business men. He also threatens the girls and earns money.
The protagonist who comes to know about the harm the gang causes to women, removes his lawyer coat and wears Vetti that is seeking justice to the criminals in an illegal way. The film is said to be made by having the Pollachi issue that grabbed the entire country's attention as an inspiration.