Having an experience in film industry for more than 23 years, Suriya is being considered as one of the finest actors in Tamil cinema right now, thanks to filmmakers such as Bala, Vasanth, A.R Murugadoss. The actor who was last seen in KV Anand's "Kaappaan", is currently basking in the success of Sudha Kongara's "Soorarai Pottru". Recently it was reported that Surya will be joining hands with acclaimed national award winning director Vettri Maaran soon.
[wp_ad_camp_1]
Though Suriya looks seasoned now, he struggled a lot during the initial period of his career when it came to acting. He who was planning to do garments business initially, acted in Vasanth kumar's "Neruku Ner". He found it very difficult to deliver acting performances at that time.
In the audio launch of Suriya's "Kaappaan", Superstar Rajinikanth said "In the movie Neruku Ner, Surya doesn't know how to act or walk or even utter a dialogue. I firmly thought that he could not make it. After that Suriya, carved himself to become a better actor. Through his determination and hard work, Suriya became what he is today. Director Bala has a big part in it as his collaboration with Suriya in films like Nandha, Pitha Magan made him a better actor. After that he gave excellent performances in films like Ghajini, Kaaka Kaaka, Ayan, Singam series etc. No one could replace him in the characters he did." said Rajinikanth in the audio launch.
Years ago, In a function conducted by Vikatan, Suriya himself admitted that director Vasanth made him cry during "Nerukku Ner" shooting due to his lack of acting skill. The poor performance of Suriya in the shooting spot made the entire unit of "Nerukku Ner" to get upset. At that time, Suriya, after eating Biriyani in the lunch break, said "Kolkata Biriyani tastes good" to director Vasanth only to get a humiliating reply from the filmmaker. Vasanth replied "Really ??, eat well" to Suriya in a distressful tone.
[wp_ad_camp_1]
"I felt ashamed of myself after hearing that from him. I cried a lot at that day to an extent my pillow go wet." said Suriya in that stage. Now, after watching "Soorarai Pottru" film, director Vasanth came up with a note appreciating Suriya for his level of dedication in delivering "Nerumaaran Rajangam".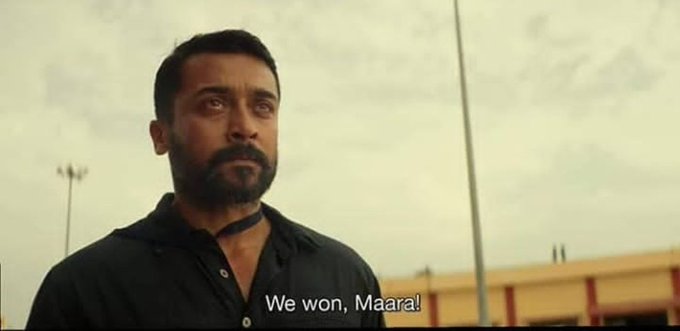 "You have invested your soul for every frame and for every scene. Though you have tried hard and delivered good acting in many films so far, this is your best. You never acted as "Nedumaaran Rajangam" but lived like him. In the final scene, even after winning, there was no smile in your face. That determination to achieve more was evident. Every time Nerumaaran lost, your acting won. You have delivered a natural performance without an ounce of exaggeration. Hats off to you my dear Suriya. You are my seed and my tree. I can't write how much proud I am now" Vasanth said in his note to Suriya.
[wp_ad_camp_1]
#SooraraiPottruOnPrime, now on @PrimeVideoIN@Suriya_offl#SudhaKongara@rajsekarpandian @gvprakash pic.twitter.com/3QTyTWv7GH

— Vasanth S Sai (@itsme_vasanth) November 18, 2020
Replying to this note, Suriya came up with a reply tweet saying that Vasanth's appreciation making him so happy. "I will forever be a seed you sown. Thank you so much" the actor wrote in his tweet.
உங்க பாராட்டு அவ்ளோ சந்தோஷம் தருது சார்..!!!
நான் என்றுமே நீங்கள் விதைத்த விதை தான்..! ரொம்ப ரொம்ப நன்றி சார் 🙏 @itsme_vasanth https://t.co/IRRJHPgqdZ

— Suriya Sivakumar (@Suriya_offl) November 19, 2020