SURAT EXPRESS : Woman Got Se*ually Assaulted & Thrown Away From Running Train !!
Written by gokul krishnan Published on Jun 23, 2023 | 02:30 AM IST | 102
Follow Us
Comments: 0
Surat Express witnessed the horbific incident, a 32-year-old woman hailing from Palamu district in Jharkhand, along with her 23-year-old relative, was allegedly sexually harassed and thrown from a moving train in the Gwalior district of Madhya Pradesh. The incident took place on the Surat Express train, and the victims were discovered unconscious near the railway track on the Badori railway line between Gwalior and Guna. The local police have initiated an investigation to identify the culprits and bring them to justice.
The victims, who worked as laborers in Lucknow, were traveling on the Surat Express in search of employment opportunities in Surat. According to the Superintendent of Police (SP) Rajesh Chandel, the woman stated that the incident occurred on Monday night within the general coach of the train. She recounted that while she was sitting with her relative, a group of five individuals began taking photographs of her without her consent.
also read: Chennai : Video Of Car Ramming On A Bike Due To Verbal Spat Goes Viral!!
Feeling uncomfortable and violated, the woman objected to their behavior and falsely claimed that she was traveling with her husband who would not tolerate such actions. Unfortunately, her pleas fell on deaf ears as the group persisted. In an attempt to evade further harassment, the woman stood up and approached the train's gate, with her relative following closely behind. Shockingly, the perpetrators pursued them, and in a horrifying turn of events, forcibly pushed both the woman and her relative off the moving train.
Thankfully, the victims were swiftly transported to a nearby district hospital, where they received medical attention. As per the latest update from SP Rajesh Chandel, their conditions are stable. The authorities are determined to ensure the victims' well-being and support them through this traumatic ordeal.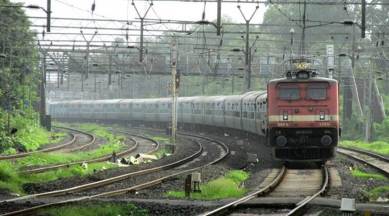 Ramesh Shakya, the in-charge of Bilaua police station, confirmed that the incident occurred within the general coach of the Surat Express (train number 19054), which runs between Muzaffarpur and Surat via Lucknow, Gwalior, Guna, and Ratlam. Shakya further added that the police have initiated a search for the accused individuals and are actively seeking CCTV footage from Muzaffarpur railway station and Lucknow to aid in the identification process.
also read: BJP Leader Molested Teen Girl At Public?? Video Out
The alleged assault on the woman and her relative highlights the urgent need to address the pervasive issue of sexual harassment and assault in public spaces. Such incidents not only jeopardize the physical and psychological well-being of the victims but also challenge the safety and security of individuals utilizing public transportation.
Also read: "லியோ" LCU கீழ் வருவதை மறைமுகமா உறுதி செய்த லோகேஷ் கனகராஜ் !! வீடியோ இதோ !!
The authorities must leave no stone unturned in their investigation to identify and apprehend the perpetrators responsible for this heinous act. Additionally, it is crucial to provide necessary support and counseling services to the victims, enabling them to recover from this traumatic experience and regain a sense of security.
This incident serves as a reminder that concerted efforts are required to promote gender sensitivity, raise awareness about consent, and foster a culture of respect and dignity for all individuals. It is imperative for society to come together to condemn such acts of violence and work collectively towards creating an environment where every person feels safe, regardless of their gender or background.
In response to this incident, law enforcement agencies, railway authorities, and other stakeholders should collaborate to enhance security measures on trains and railway platforms. This includes the installation of surveillance cameras, the presence of security personnel, and the establishment of mechanisms to swiftly respond to distress calls and ensure the safety of passengers.
Moreover, initiatives must be undertaken to educate the public about bystander intervention, empowering individuals to intervene and prevent such incidents from escalating. It is crucial for communities to actively promote a culture of solidarity and empathy, encouraging people to stand up against harassment and provide support to those in need.
Lastly, the judicial system must swiftly and decisively address cases of sexual assault, ensuring that justice is served and providing a strong deterrent against such crimes. Public trust in the legal process can be reinforced by expediting trials, sensitizing judicial personnel, and fostering an environment where survivors are encouraged to come forward without fear of stigmatization or retribution.
also read: Leo Comes Under LCU Cofirmed!! Proof Leaked
In conclusion, the alleged sexual harassment and assault of a woman from Jharkhand and her relative on the Surat Express is a distressing incident that demands immediate action. The authorities must intensify their efforts to identify and apprehend the culprits, while providing support and care for the victims. Concurrently, society as a whole must actively work towards creating a safer and more inclusive environment, one that prioritizes respect, equality, and the well-being of all individuals. Only through collective action can we strive for a society free from such abhorrent acts of violence.
Here is the tweet below:
— RVCJ Media (@RVCJ_FB) June 22, 2023