WATCH : Superstar's Speech At Ponniyin Selvan Audio Launch Won Hearts !!
Kamal Haasan
Ponniyin Selvan
rajinikanth
7 months ago
By Dhiwaharan
Superstar Rajinikanth's speech at "Ponniyin Selvan" audio launch won the hearts of audience as the top actor made the crowd erupt in laughter through his speech. Known for being transparent during his stage speeches, Superstar Rajinikanth, this time, revealed how himself and Kamal Haasan used to cheat Manirathnam during the shooting of their respective films. The actor said that he struggled a lot to act in "Thalapathy" and even called Kamal Haasan to get help.
Honoured to have our THALAIVAR 😎 @rajinikanth at the #PS1 🗡️ Music & Trailer Launch Event ✨#PonniyinSelvan 🗡️ #PS1AudioLaunch #PS1Trailer#ManiRatnam @MadrasTalkies_ @LycaProductions @arrahman @tipsofficial @tipsmusicsouth pic.twitter.com/6R8btglKWz

— Lyca Productions (@LycaProductions) September 6, 2022
"I used to have stock expressions like how they have stock shots. I will apply them in my movies and it would work well" Rajinikanth said while talking about his experience on working with Manirathnam in Thalapathy. "For fear, love, shock, doubt and other emotions, I had stock expressions but Manirathnam would reject them" he said.
"He (Manirathnam) was asking for "feel" and don't know what's it about. In my films, the dialogues would be like "Edraa Vandiyaa" kind. But Mani was asking for "feel". I was struggling a lot and decided to call Kamal Haasan" Rajinikanth said in the audio and trailer launch of Ponniyin Selvan.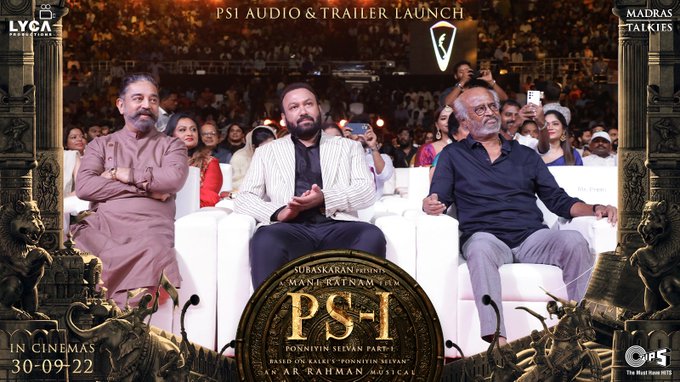 "I called Kamal Haasan. I told him I was struggling a lot in the sets of "Thalapathy". Each shots are taking 10-12 takes. Kamal laughed hearing my agony. He said that he too struggled in a similar way while acting in "Naayagan" of Manirathnam. He suggested me to make Mani act and pretend like I observed his acting. I did the same and copied the acting of Manirathnam, shots started getting OK" said Rajinikanth and thanked Kamal Haasan on stage.
"We used to cheat Manirathnam in such ways" Rajinikanth said. Watch the video below :
#Superstar @rajinikanth sharing the difficulty of working with #ManiRatnam in #Thalapathy movie and advice from #KamalHaasan to deal with… As usual #Rajinikanth rocks!!🔥🔥#Jailer #PonniyinSelvan pic.twitter.com/K6WZ3ELolZ

— Manick Baasha (@ManickkBaasha) September 6, 2022
The speech won the hearts of many fans as they could be seen expressing their admiration towards the humour sense of the Superstar actor. Check out some of the reactions below :
#Superstar @rajinikanth Stealing the show by his Speech. #PS1AudioLaunch

— Parisal Krishna (@iParisal) September 6, 2022
Apparently, @rajinikanth becomes the talking point of #PonniyinSelvanAudioLaunch

Entertainer na summa va 👏

— S Abishek Raaja (@cinemapayyan) September 7, 2022
Looks like Thalaivar #Rajinikanth is stealing the show with his trademark kutti story!

Show stealer he is 💥💥💥#PS1AudioLaunch

— Parthiban (@parthispeaks) September 6, 2022
This MAN!! No one 'll ever come close to his stage-speech skills!! Kind of funny, motivational, mass, simple and he 'll keep the audience completely engaged. Excellent orator.. Praises all with open heart and such a EGO-LESS n warm person to have in any function.#Rajinikanth ❤ pic.twitter.com/YeM5KBPpvl

— Sowmiya (@Sowmi_here) September 7, 2022
Superstar #Rajinikanth Speech 💥🔥

Whole Nehuru Stadium 🏟️ Like a World Cup Final 🔥#PS1AudioLaunch

— Premkumar Pro (@Pro_Premkumar) September 6, 2022