The makers of "Comali" movie managed to grab the headlines in Tamilnadu amidst the waves that are being created by the Bigg Boss show and Kashmir issue. But the reason behind the attention they are getting is not for so right reasons.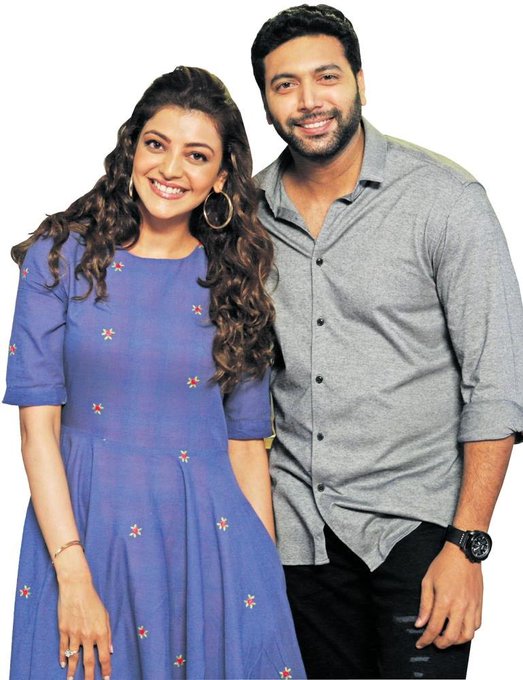 [wp_ad_camp_1]
The trailer of Jayam Ravi starrer "Comali" released few days before and went viral across the Internet despite of having a mediocre plot line which is evident through the trailer cuts. Towards the end, the makers decided to take a sly dig at the political entry of Superstar Rajinikanth. To prove that they are living in 2016, Yogi Babu switches on the TV in which we can see Rajinikanth announcing his political arrival. Jayam Ravi who denies to believe it says that it is 1996.
This irked many Rajinikanth fans who considered it as a severe mocking. Many started trending hashtags such as #BoycottComali, #நாளைய_தமிழகம்_ரஜினி etc. Few stated the fact that the day Rajinikanth announced his political entry is December 31, 2017 not 2016. Fans also said that Rajinikanth has never officially announced his political entry before 2017.
Watch the trailer here :
After the director and producer of the movie accepted to remove the scene from the movie, Jayam Ravi released a press release to express his regret over the issue. The surprising fact about the press release is that the actor mentioned about Rajinkanth's response to the trailer after watching it.
Check out his full statement here :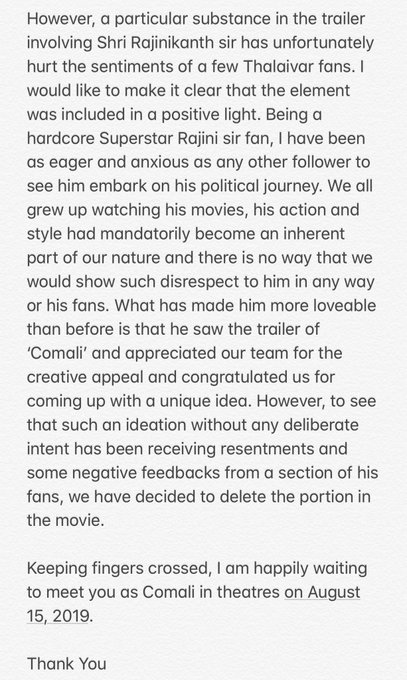 [wp_ad_camp_1]
The "Thano Oruvan" actor has revealed that Rajinikanth himself saw the trailer and appreciated the team. "What has made him more lovable than before is that he saw the trailer of Comali and appreciated our team for the creative appeal and congratulated us for coming up with a unique idea. However, to see that such ideation without any deliberate intent has been receiving resentments and some negative feedback from a section of his fans, we have decided to delete the portion in the movie", said the statement which was released by the actor in his official twitter account.
Check out his tweet here :
— Jayam Ravi (@actor_jayamravi) August 5, 2019
Check out some of the reactions from the fans of Superstar after seeing this statement :
அது தங்க தலைவரோட மனசு ரவி.. இனி இப்படி பண்ணிராத….

— பாட்ஷா (@darbar97) August 5, 2019
"On seeing the Trailer Rajini sir appreciated our Team for the creative appeal and congratulated u"
– Actor Jayam Ravi

அந்த மனசு தான் sir கடவுள்!!#Thalaivar #SuperStarRajinikanth #ThalaivarForever @rajinikanth

— Darbar Official™©️ (@Darbar_Off) August 5, 2019
தலைவர் குணம் உலகறிந்த ஒன்று.தலைவர் பாராட்டியுள்ளார்.💙👌சினிமா பிம்பத்தை உடைத்து நல்ல மனிதராக ஞானியாக தான் எங்களை அன்பால் அணைத்து உள்ளார்.சமுகவலைதளம் இல்லையெனில் ரசிகர்கள் டீல் செய்யும் முறை தனி ரகம்👆உண்மை வைத்து கேலி செய்வது நகைச்சுவை எனலாம்.பொய் ஏற்கமாட்டோம்.விளக்கம் நன்றி 👌

— Dr.Bohra 2.0 🌟 (@Puvi0309) August 5, 2019
#Thalaivar @rajinikanth appreciated them even after they trolled him with a false fact..

Thalaivaaa proud to be your fan as always💯😎❤️

— உத்தம வில்லன் (@Devill_sri) August 5, 2019
[wp_ad_camp_1]
Antha manushan intha trailer ah pathu unga la encourage panirukaru antha manasu tha sir kadavul😍😪💛

— ANIRUTHAN (@ANIRUTHAN8) August 5, 2019
What do you think on this statement of Jayam Ravi ?? Let us know your views !!