Superstar Rajinikanth Ignored Udhayanithi Stalin In Chess Olympiad 2022 Event ?? WATCH
Chess
Olympiad
rajinikanth
Udhayanithi Stalin
8 months ago
By Dhiwaharan
A video that shows Superstar Rajinikanth refusing to greet or shake hands with actor cum MLA Udhayanithi Stalin surfaced in Internet and is going viral among the users of it. Causing various kind of reactions among the netizens, the video also sparked a speculation about the possible rifts between the active film distributor and the actor who has been ruling the industry for the past 40 years as Superstar.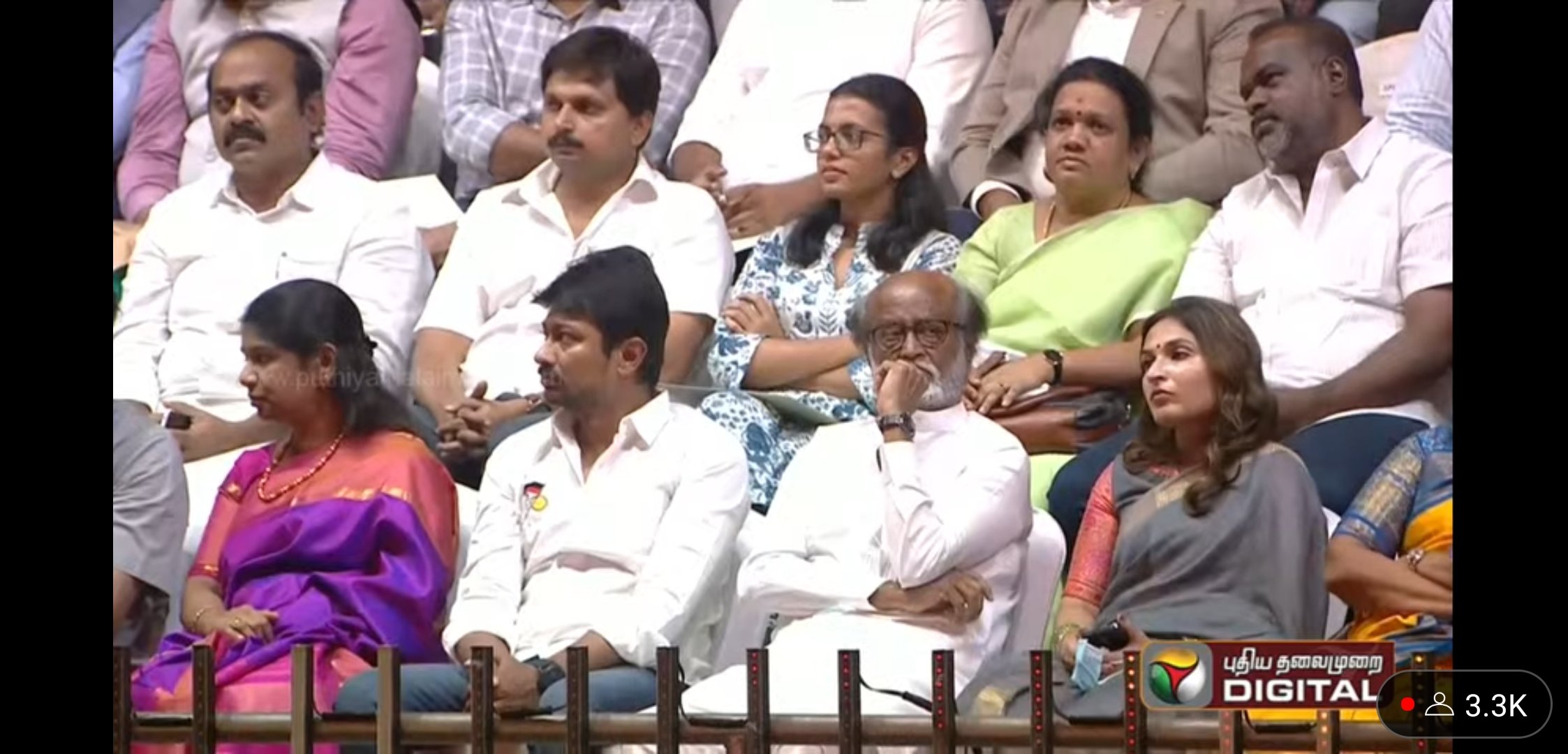 Several celebrated personalities from various notable industries such as cinema, politics, sports took part in the inaugural event of Chess Olympiad 2022 which is taking place in Chennai. From Prime Minister Narendra Modi to Tamil Superstar Rajinikanth, many iconic personalities attended the event through which state government of Tamil nadu is going to host International chess players from 187 countries.
Videos of Chief Minister MK Stalin and Prime minister Narendra Modi exchanging thoughts and sharing a happy moment, Child Prodigy Lydian Nadhaswaram playing piano blind folded in front of the guests, a video explaining about Tamil history through the background voice of Kamal Haasan keeps surfacing in the internet platforms.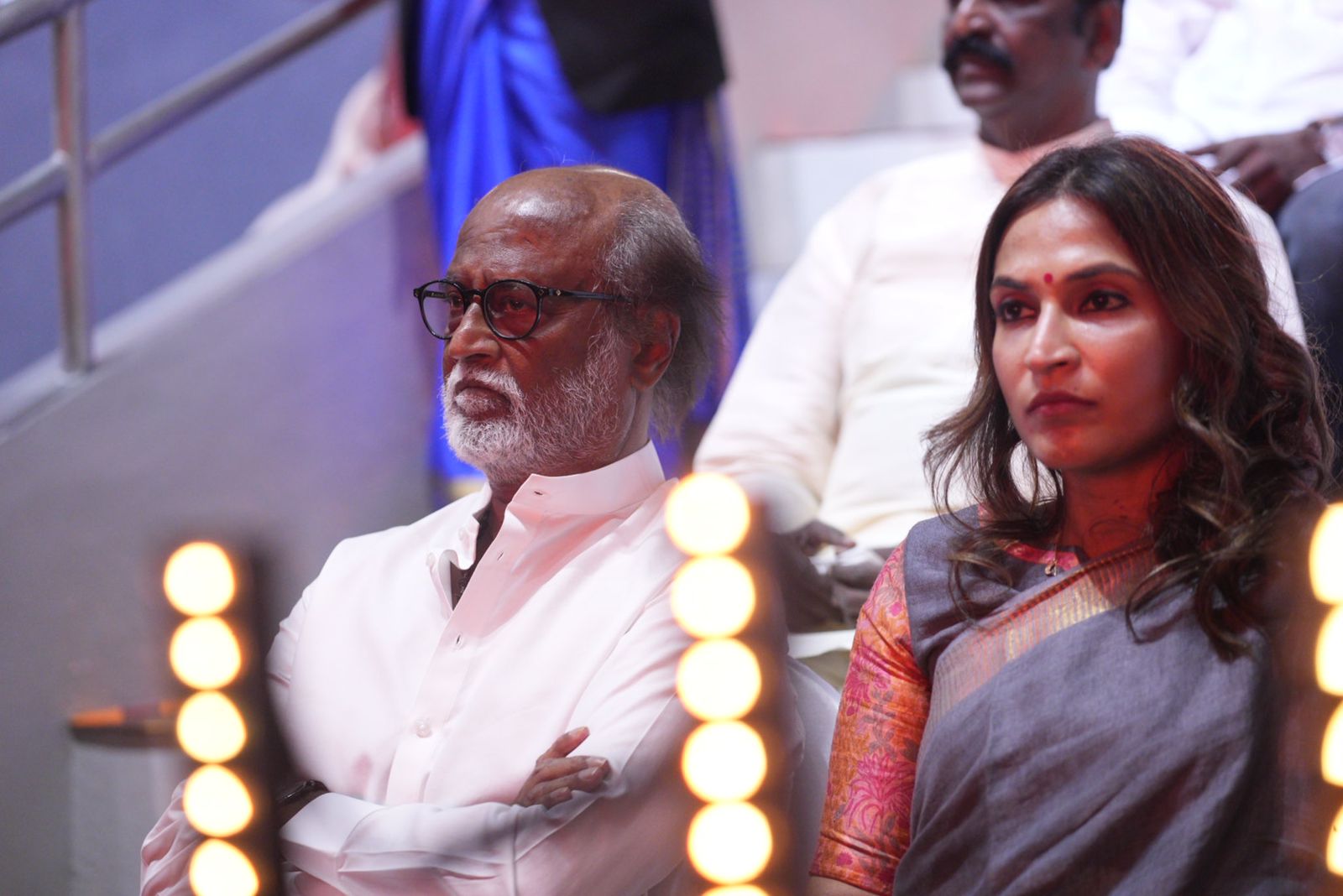 In the meantime, a video that showed Superstar Rajinikanth staying quiet, refusing to bat an eye to be precise, while Chepauk MLA Udhayanithi Stalin was greeting the guests such as lyricist Vairamuthu and others caught the attention of Internet users. The video shows Udhay greeting lyricist Vairamuthu who was sitting in the row behind Superstar Rajinikanth at first and looks at the "Padayappa" actor who could be seen sitting without any kind of reaction.
Udhayanithi Stalin moves on to shake hands with Aishwarya Rajinikanth. Here's the video that is trending :
எழுந்து நின்னு கட்டிப்புடிச்சு முத்தமெல்லாம் கொடுக்க அவரு என்ன கோமாளிகாசனா? pic.twitter.com/Ny8E3Yo4T7

— kishore k swamy 🇮🇳 (@sansbarrier) July 28, 2022
Here's how internet reacted to the incident :
அந்த பக்கமே திரும்பல 😆 pic.twitter.com/ny4rzGEIbZ

— Ranga Jagan Nathan 🇮🇳 (@Ranga_Jagannath) July 28, 2022
ரஜினிகாந்த் அவர்கள் உதயநிதி ஸ்டாலின் மீது கடும் கோபத்தில் இருக்கிறார் போல…

— vallarasu (@vallara30247941) July 28, 2022
ஆண்டவர் தாக்கப்பட்டார்
உண்மை இது தானே
🤣🙏 https://t.co/EDJMzwbcZC

— Dr.Ravi (@imravee) July 28, 2022
பின்னே இருக்காதா … விக்ரம் சொருகினா சொருகு அப்படி https://t.co/xoohNmcuXc

— Bala Murugan (@PatBalaboss7345) July 28, 2022
தேர்தல் பிரச்சாரத்துல ரஜினிய வறுத்தெடுத்ததெல்லாம் அவருக்கு எப்டி மறந்து போகும்….

— பாலகிருஷ்ணன் செல்லையா (@B_PositiveDonor) July 28, 2022
However, in a video of Thanthi TV, both Rajinikanth and Udhayanithi Stalin were seen discussing together which hints that the Superstar actor and the Chepauk MLA could have met already in the event and didn't intend to greet each other one more time.
Here's the video :
Source : Thanthi TV 
It is notable that Rajinikanth's latest movie "Annatthe" was distributed by Redgiant movies of Udhayanithi Stalin. On the work frnt, Superstar Rajinikanth is all set to be seen in Nelson Dileepkumar's directorial. The film has been titled as "Jailer" with Anirudh Ravichander composing music. Udhayanithi Stalin who is pretty much active in distributing movies, is going to be seen in Maari Selvaraj's "Maamannan" and has been committed in one of the next projects of Raaj Kamal International.