A number of twitter users started complaining about the excess number of advertisements that are being displayed during the streaming of Vijay Sethupathi starring "Tughlaq Darbar". The film skipped theatrical and OTT release to be telecasted as a special film on the auspicious day of "Vinayagar Chathurthi". Television audience who were excited to watch the film for the first time, seemingly got upset due to the uninterrupted advertisements that are being displayed during the first time premiere of the film.
[wp_ad_camp_1]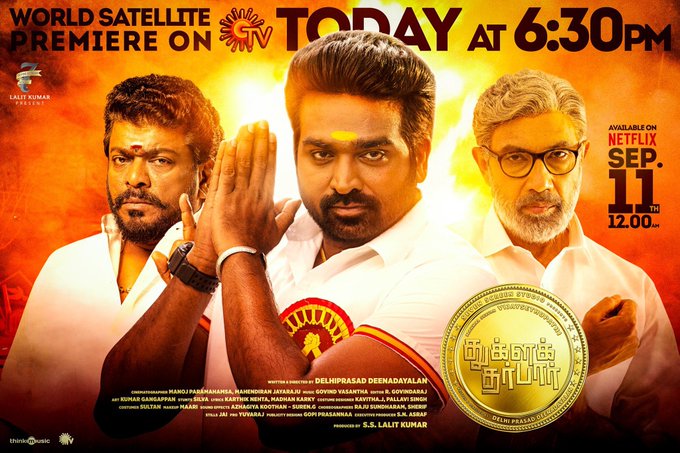 Kollywood films skipping theatrical and OTT release to get directly premiered on Television channels became a thing nowadays. "Vanakkam da Mapley" of "SMS" fame Rajesh starring G.V Prakash and Amritha Aiyer got premiered on a special occasion on Sun Television. On the auspicious day of Pongal festival which also marked the birthday of the film's protagonist Vikram Prabhu, "Pulukuthi Paandi" directed by Muttiah released on Sun TV. Lakshmi Menon played the female lead in the film.
Amidst the COVID 19 lockdown situation, many films are skipping theatrical release and are directly getting released on OTT platforms such as Hotstar, Netflix, Amazon etc. Suriya's "Soorarai Pottru", Dhanush's "Jagame Thanthiram" are two of the high profile films that got released on OTT platforms, despite of the request made by fans to release them in theatres.
[wp_ad_camp_1]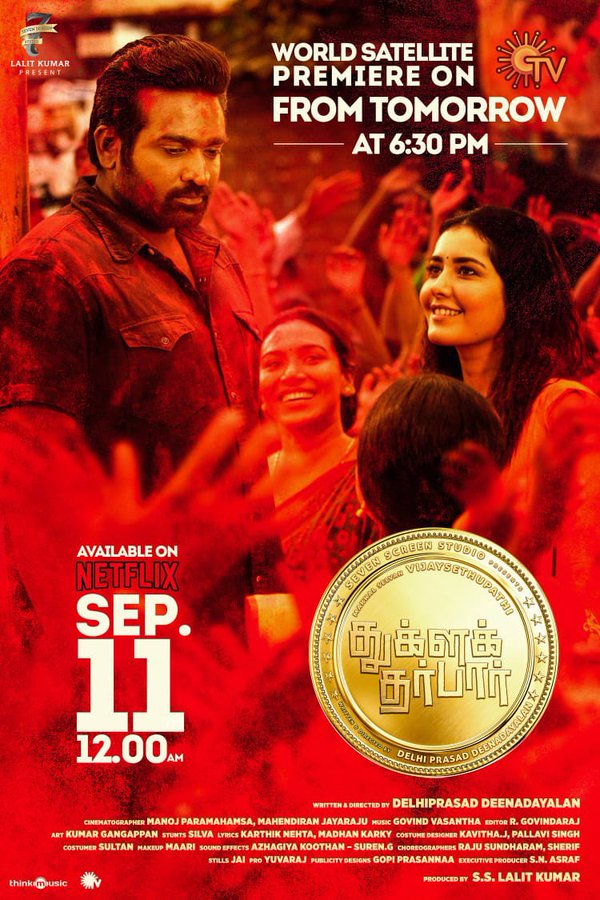 Now, as the cases are decreasing, Tamil nadu government allowed 50% occupancy in Tamil nadu theatres. However, the first ever double action flick of Vijay Sethupathi has sealed an agreement with the Sun Television for an exclusive premiere during "Vinayagrar Chathurthi" evening. Now, as the film started streaming, a number of twitter users could be seen expressing their dejection over the excess number of advertisements.
"The frequent ad breaks ruining the entire movie" a social media user said whereas another one user wrote "Tuqlaqh darbar looks like a nice film but this sun tv putting lot of breaks and enga veetla vijay tv serial paka porangalam" to express her frustration.
Check out some of the reactions below :
Tuqlaqh darbar looks like a nice film but this sun tv putting lot of breaks and enga veetla vijay tv serial paka porangalam😤

— Anju✨ (@JuInAWonderland) September 10, 2021
#TughlaqDurbar 😭😭😭

Enna ya panni vachirukeenga..1+ Hr aachi.

Pesama wait panni Netflix la paathirukalam. SUN TV la intha 15Mins Frequent AD break vera torture.

Ungala nambi paathathuku Nalla Panreenga…. pic.twitter.com/Ru33IRRuiw

— Christopher Kanagaraj (@Chrissuccess) September 10, 2021
Add ah kammi ah pooduya😡😡😡

— பச்சை கிளி🦜 (@pachai_kili) September 10, 2021
[wp_ad_camp_1]
Same here bro. The frequent ad breaks ruining the entire movie. https://t.co/CINr9RHojF

— 𝒯𝒽𝒾𝓁𝒶𝒸𝓇𝒶𝒿 (@Thilacraj) September 10, 2021
#TughlaqDurbar after long time seri movie ah tv la pakalam paatha evlo advertisement. Onumey puriyala @SunTV worst uh.

— Vikash R (@vikashravi2) September 10, 2021
Naanum adhaan nenaikkuren 😐😐 pic.twitter.com/z9hOB4P1VM

— Martin (@zzmartin1415) September 10, 2021
Epudi. nangalaaa corporate criminal ma…motha padame 2 hrs tha irukum ad um 2 hrs…

— Ashwin (@Ashwin________) September 10, 2021