Sudha Kongara Questioned This Tamil Movie Reviewer For His Negative Review On "Soorarai Pottru" !!
Written by Dhiwaharan Published on Jan 15, 2022 | 12:20 PM IST | 135
Follow Us
Comments: 0
Director Sudha Kongara of "Soorarai Pottru", "Irudhi Suttru" fame questioned film critic Baradwaj Rangan for the partly negative review he provided for her recently released Suriya starrer. In the "Tamil directors roundtable" video that got released in "Film companion South" youtube channel, Sudha Kongara questioned Baradwaj Rangan who said that some emotional scenes in "Soorarai Pottru" looked melodramatic for him and didn't work for him. Nelson Dilipkumar, Vignesh Shivan, Venkat Prabhu, Arun Matheshwaran, A.L Vijay are the other filmmakers who took part in the interaction and talked about the many aspects of Tamil cinema.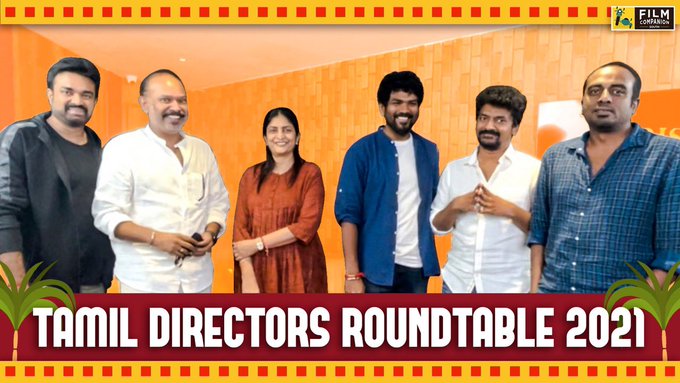 During the interaction, Sudha Kongara asked Baradwaj rangan how he would handle criticisms for his review videos. Answering to her question, Baradwaj said that he get used to it generally. "I am criticizing his film, somebody will do that to my work as well. The only difference is, I would tell what worked for me and what not in a polite way, they will tell the same to me in different language" Baradwaj said.
Reacting to his answer, Sudha Kongara asked how it is polite when he says that he doesn't like a film she made. "You said that you don't like my film. what's so polite about it ?" she asked to which Baddy replied "I didn't say I disliked it. I just said that it didn't work fully for me"
Here's a glimpse of what to expect from the #TamilDirectorsRoundtable releasing tomorrow!!! Get ready for loads of laughter and a whole lot of cinema!!
Full conversation drops tomorrow on our YouTube Channel. Stay Tuned!!#FCSouthRoundtable #Exclusive #Promo #ComingSoon pic.twitter.com/qeeYOFYNAK

— Film Companion South (@fcompanionsouth) January 13, 2022
Vignesh Shivan immediately reacted saying "Turn off the cameras, lets talk about it first before continuing this interview" in a funny manner to which Nelson Dilipkumar responded "Kill Bill interval block is going to take place" only to leave everyone in splits. In his "Soorarai Potttru" review, Baradwaj Rangan criticized the most important airport scene for not being "organic". He compared it with an emotional scene between Bommi- Maara and said that it was more realisitic comparing to the airport scene where Suriya would be needing money to travel in a flight and meet his dying father.
Barad also criticized saying that the film looked like it got majorly trimmed and the screenplay was rushing. Watch his review below :
Venkat Prabhu continued questioning Baradwaj Rangan on how he approaches the different genre of films while reviewing. "As a critic, I should go to the respective zones while watching films which belong to different genres. I grew up watching Kamal Haasan-Rajinikanth films and didn't watch Bergman and Tarkovsky as soon as I turned 5" the film reviewer said.
"There's a difference between a bad kamal film and Aboorva Sagotharargal" Baradwaj Rangan said. "You said "Soorarai Pottru" didn't work for you fully. What do you mean by that ?" Venkat Prabhu asked and Baradwaj Rangan replied "That airport scene looked a bit over-melodramatic for me. The film had a different tone till there and the bar reached different level all of a sudden" and went on to add that Sudha Kongara's "Iruthi Suttru" was an amazing film as even when the conflicts were happening in the film, it all looked organic"
Watch the video below :
Source : Film Companion South