Suchithra Getting Slammed By Netizens For Her Biased Judgement !!
CM / Updated: 2020-11-05
14:03 IST
By Dhiwaharan
Suchithra's way of investigating cases and serving judgements didn't go well with the followers of Bigg Boss show. This week, Bigg Boss conducted a task by having wild card contestant Suchithra as a judge in an imaginary courtroom. Petitions were filed by contestants against each other and cases were investigated by the judge before giving judgement.
[wp_ad_camp_1]
Suchithra who is popularly known as a playback singer and Radio jockey, participated the show as a wildcard entrant. She is benefitting the offers of Bigg Boss as a wildcard contestant. She couldn't be eliminated from the show for 1 week and the participants were restricted to nominate her in the nomination process. To let audience know about her attributes, Bigg Boss gave her an opportunity to be a judge.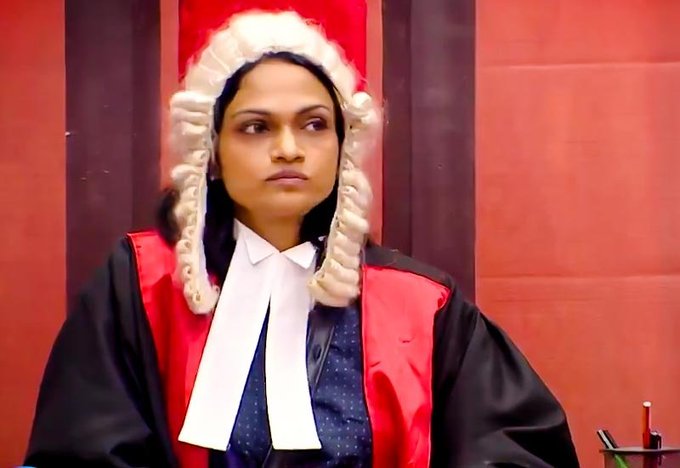 However, her judgements and opinions didn't go well with the show's followers as they found her completely biased towards Balaji Murugadoss, one of the contestant. Apart from the judgements she gave in favour of Balaji, the moment she let him talk when Aari was arguing for his case disappointed them.
When Sanam shetty talked with her co-contestants during a case of Balaji was being investigated, Suchithra condemned her and asked her to leave the courtroom. "You don't have to teach me how to do my job Sanam, I will do it, Thank you" Suchithra said at one point. When Balaji committed the same mistake during Aari's case, Suchi kept mum.
Followers who watched the episode called Suchi as "Hypocrite" and asked her to leave the Bigg Boss house.
Watch the video here :
#Suchitra#Suchithra

APDIYE THIRUMBI PAAKAMA #BiggBoss4Tamil veeta vitu ODI POURU

BLOODY HYPOCRITE 😡😡😡🤮#Balaji did what EXACTLY #Sanam did

But you didn't ask #BalajiMurugaDoss to keep quite 😡😡😡😡😡

GET THE HELL OUT OF #BiggBossTamil4 RIGHT NOW 😡😡😤😤#SanamShetty pic.twitter.com/4hOKtfws4I

— #BiggBossTamil4 (@bbtamil04) November 4, 2020
[wp_ad_camp_1]
Some even expressed their frustration over Suchithra's way of giving judgement. At the end of the investigation, she asked housemates to raise hands for whom they support and gave the judgment for the party who had majority votes. People asked what is the role of a judge here if she gives justice by counting votes.
Check out some of their reactions below :
#Suchithra Why is she asking for opinions from the HMs?

If that's the case, majority will always win!

The arguments were weak from both the teams but individually #Sanam defended herself well!

Clearly a biased decision from the judge👎#BiggBossTamil4

— TringTring (@tringdringtring) November 3, 2020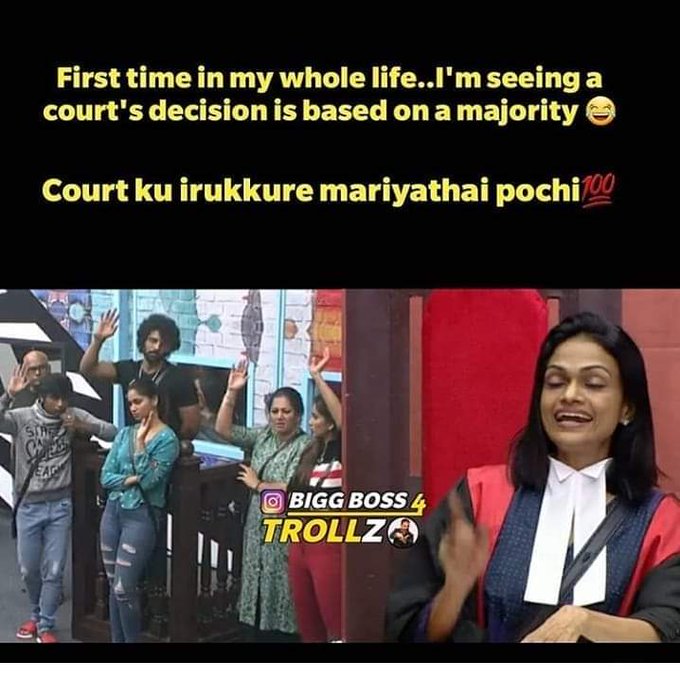 We should thank God that #suchitra is not a real judge. 😛 The accused should only bring some supporters to raise their hand to win the case.#biggbosstamil4

— D (@_____DA______) November 5, 2020
Always one sided, either supports Bala, or goes against Sanam and Suresh 😑😑

— Priyangka (@deviarunassalam) November 4, 2020
Suchitra will be eliminated soon!!

Within 1 week, she earned many haters inside n outside!!! She actually looks like joker in tat judge costume!!!

She actually used this task for her personal interest towards each n every person.

Pure oneside!!!

— Priyavarshika S (@sundpriya9) November 4, 2020
#Suchithra being BIASED#Suchitra CLEARLY FAVOURING #BalajiMurugaDoss

VERY VERY EVIDENT

Though she is doing a good job as a JUDGE#BiggBossTamil4 #BiggBoss4Tamil

— #BiggBossTamil4 (@bbtamil04) November 3, 2020
#BiggBoss4Tamil – Day 31:#Suchitra did not justify the position as a Judge… She was so unfair.#Balaji did the same which #Sanam did but #Suchi could not show her power to him kept quite. But shouted at #Sanam.

Irritating behaviour from #Suchi.

— Prakashini (@spr2819) November 4, 2020
Comment your views on these reactions !!