Simbu who was in Bangkok for all these days has made his come back to Chennai and the picture are getting circulated in Internet like a wildfire. Simbu aka STR aka Silambarasan who is known for films like Manmadhan, Vallavan, Vinnai Thaandi Varuvaya enjoys a huge fan base for his films. Arguably he is also one of the most controversial celebrity of Kollywood industry.
[wp_ad_camp_1]
Check out his recent pictures that are going viral here :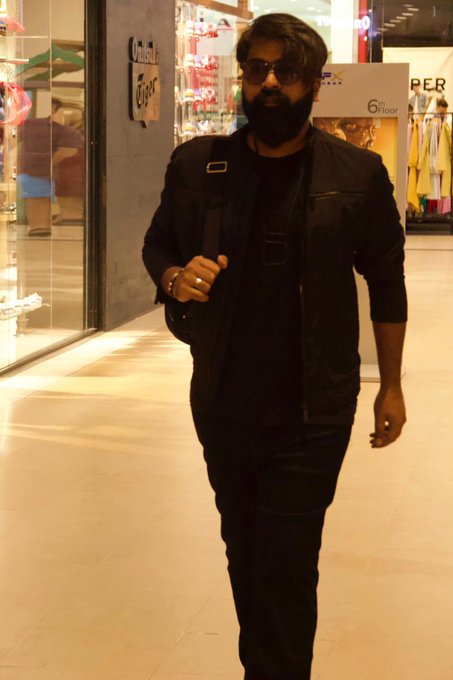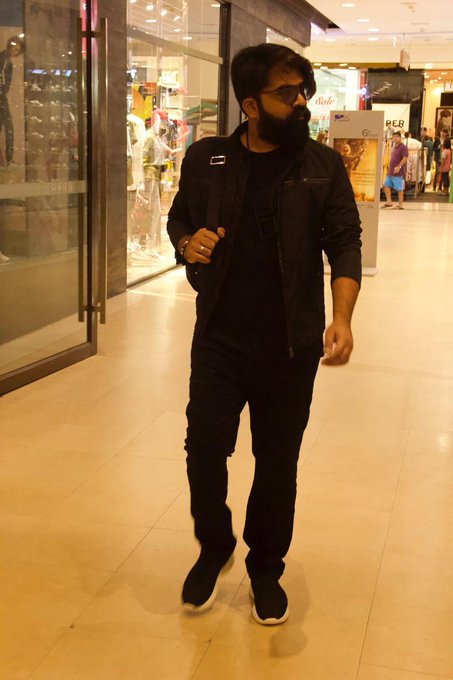 The actor who seems to be in a shopping mall donned himself in complete black including his ornaments. The long beard and new hairstyle made him look so cool and his fans are expecting him announce something regarding his future projects very soon.
Not many days ago, Silambarasan's own fans expressed their disappointment over him in Twitter for the drop of Maanadu film which was supposed to be directed by Venkat Prabhu, a dear friend of Simbu.
[wp_ad_camp_1]
The actor who was last seen in "Vantha Raajava Thaan Varuven" by Sundar C as protagonist, has attended shoot of the 50th movie of Hansika, his former girlfriend. There were shooting spot pictures of Simbu with gautham Karthik were also released which is a movie produced by Gnanavel Raja. It was said to be a remake of Kannada remake "Mufti". However, that project didn't elevate to next level as well.
Days after the news of Maanadu's drop announced, Simbu announced through his manager that he is going to make his own movie "Maghamaanadu" under his banner. After that the actor went "Thailand" according to the report of Indiaglitz. Now these pictures made his fans extremely happy. However, few fans trolled him for not completing a single project since VRV. Check out some of their reactions here :
வீட்ல போய் தூங்க தான் போறான் எதோ ஹாலிவுட் ஹீரோ மாரி வரான் பாரேன்் https://t.co/G5SApP6jr8

— நம்ம வீட்டு பிள்ளை சேட்டு (@SettuOfficial) September 27, 2019
எப்படி இருந்தாலும் ஓரு புல் மீல்ஸ் சாப்ட்டு தூங்க தான் போறான் ..

— UK (@mgr1917) September 27, 2019
Ini STR vayasukuu vanthaa enna..

— ARUN KUMAR (@kuttysmartkutty) September 27, 2019
[wp_ad_camp_1]
pala getup paathaachu…london return, thailand return…
shooting return eppo ?

— wowbytes (@Srinir78) September 27, 2019
Omg 😍😍😍 he is so damn cute nd handsome breath taking pic of my #STR wat a man 😘😘 our #strreturns pic.twitter.com/fVthoRKybE

— keerthi (@keerthisai4538) September 27, 2019
He is one swagger 💥👌👌👌 #STRReturns

Now get the announcements going..! #STR #Simbu pic.twitter.com/34cH50YDyl

— Tracker Boss (@TrackerBoss) September 27, 2019
And the man is back! #STRReturns!! Now, waiting to see what he's going to announce!! #Simbu #Silambarasan #STR @hariharannaidu pic.twitter.com/zNaCFLWiUi

— Manigandan K R (@cineobserver) September 27, 2019
VERA LEVEL goosebumps 🔥 #STRReturns

Let the game begin… #STR #Simbu pic.twitter.com/c1JtYeKTOu

— Troll Negativity (@TrollNegativity) September 27, 2019
Shooting ku pokama #str enna maruvesathula irukara.. 🤔😂😂

— Vignesh⚡️ (@Vignesh86088188) September 27, 2019
What do you think on this new changeover of Simbu ?? Comment your views !!