Story About "Savarkar Escaping Jail" In 8th Standard Book Caused Trolls !!
8th standard
Savarkar
Text book
7 months ago
By Dhiwaharan
The BJP-led government is accused of "rewriting history" as the textbook revision committee has reportedly inserted a section on Vinayak Damodar Savarkar in the revised high curriculum in the state. The text book of Kannada's class 8 says that Mr. Savarkar used to sit on bird's wings and fly out to visit the homeland while he was imprisoned in the Andaman jail.
"There was not even a keyhole in the cell where Savarkar was incarcerated. But, Bulbul birds used to visit the room, and Savarkar used to sit on their wings and fly out and visit the motherland everyday", a passage in the new textbook says.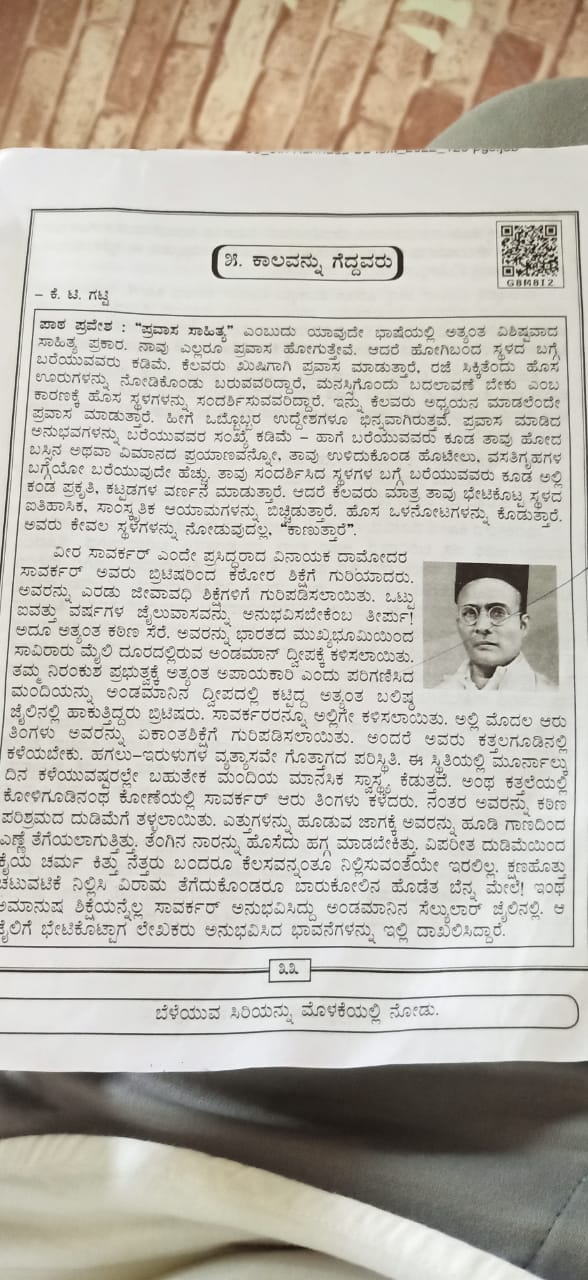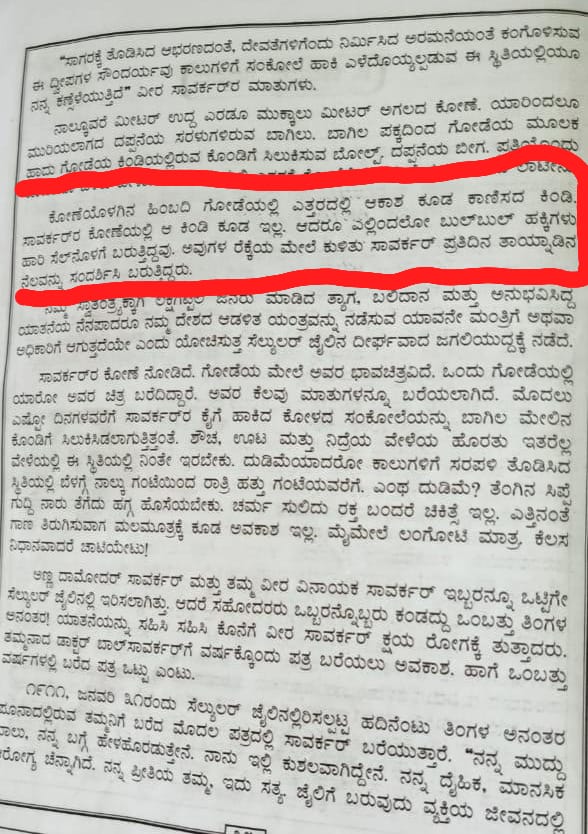 The text book which is in question, is a second language book and is still not available for public view on the Karnataka text book society's official website. The particular chapter on Vinayak Savarkar, introduces him to the kids and is followed by an excerpt from a travelogue on the Andamans written by KT Gatti, a Kannada writer.
Upon being questioned regarding the same, Made Gowda, managing director of KTBS, stated that he was unaware of the content and would require consulting the team before commenting on it.
Savarkar's role in the Indian freedom struggle has been a big ideological flash point between the Rashthriya Swayamsevak Sangh, the ideological mentor of BJP and Congress.
Here's how internet reacted to the narrative that took place in the text book :
WHAT A JOKE.😎

SAVARKAR FLEW OUT OF JAIL 🕊

Now in karnataka higher school text book .

ANDH BHAKTS:
Still anything else left to prove that He Was a FREEDOM FIGHTER.😜#IAmSorry pic.twitter.com/JrUd1G7ma0

— pathan Khan (@pathan_neamath) August 29, 2022
"Bulbul Man of India" Sorry Savarkar pic.twitter.com/tMu6EntjGt

— Chetan Krishna👑 🇮🇳 (@ckchetanck) August 29, 2022
'Savarkar Flew Out Of Jail On Birds' is the kind of idiocy Bhakts will very easily believe. They believe in Modi after all.

— Sangita (@Sanginamby) August 29, 2022
As per the Karnataka government's Kannada school textbook, this was a daily routine of V D Savarkar from 1911 to 1921
😂😂😂😂😂 pic.twitter.com/JLEFvq3Qmz

— Ravi Nair (@t_d_h_nair) August 28, 2022
Karnataka Govt Education Dept Try To Fix The Savarkar's History. (8 th standard text book about Tells about Savarkar's Fake Prides )
🤣🤣🤣

But the Savarkar's Reality Was 👇 pic.twitter.com/EAVvv8IXI7

— நீலகண்டன் (@BAN_NEET) August 28, 2022
If Savarkar, Hegdewar, Golwalkar, DeenDayal etc are such stalwarts, why doesn't Modi ever talk about them when he travels overseas? Why doesn't he educate foreign leaders/media about these alleged legends?

— Sir Kazam (@SirKazamJeevi) August 22, 2022
If Savarkar used to fly out on Bulbul to escape from the jail, then the obvious question is why he used to return to the Jail at all ?

— Brigadier A K Jairath, Retd (@KWecare) August 29, 2022
Expected better sense from BJP Govt than cook up a cock and bull story of Savarkar flying on Bulbul's wings to his motherland. Perhaps they are oblivious of the difference between fiction and history

— rkhuria2 (@rkhuria2) August 29, 2022
every night savarkar flew out on the wings of bulbuls to drop his mercy petitions at the andaman post office

— glxrfindel (@amrtsh) August 29, 2022
VD Savarkar visiting India when he was jailed in Port Blair, circa 1911 (colourized) pic.twitter.com/Pv1Sd4Atvq

— nate 🍟 (@ScarletNate) August 28, 2022
Akshay Kumar is up for a cameo in upcoming biopic on Savarkar as #BulBul. pic.twitter.com/gEIlXGfHAY

— Mister J. (@Angryoldman_J) August 29, 2022
#AkshayKumar and Radika Apte all set to play lead roles in the upcoming movie
Savarkar ki #BulBul pic.twitter.com/BeW2njuRDp

— Chicha👴 (@pheku_56) August 29, 2022
Indians: Petrol has crossed over 100 😢

Meanwhile Legend Savarkar 🕊️🤡 pic.twitter.com/MOQmqEBh3Y

— Chetan Krishna👑 🇮🇳 (@ckchetanck) August 28, 2022
#Savarkar flew out of jail on a bulbul, changed shape & became a peacock, time travelled to visit Modi and requested him for a template to write mercy petitions from his book exam warriors.

RT coz no one will tell you this. pic.twitter.com/4ketiS42KD

— ηᎥ†Ꭵղ (@nkk_123) August 29, 2022