"Stop Torturing Yourself" – Top Hero Advised Samantha
CM / Updated: 2023-02-20
19:48 IST
By Dhiwaharan
"Stop torturing yourself", said actor Manoj Bajpaye to Samantha on seeing the way she work outs. Manoj Bajpayee, one of the most talented actors in Bollywood, has always been known for his dedication to his craft. Recently, he spoke about his experience working with Samantha Ruth Prabhu on the second season of The Family Man. In an interview with Siddharth Kannan, Manoj revealed that he used to get scared after watching Samantha work really hard for The Family Man Season 2.
also read : For The First Time, Samantha Revealed Her First Income!! Watch
Manoj and Samantha played the lead roles in the Amazon Prime Video show's second season, which was a huge success among audiences. Samantha's dedication to her work was something that Manoj found both inspiring and terrifying. According to Manoj, Samantha would work extremely hard physically, which would make him wonder why she was torturing herself.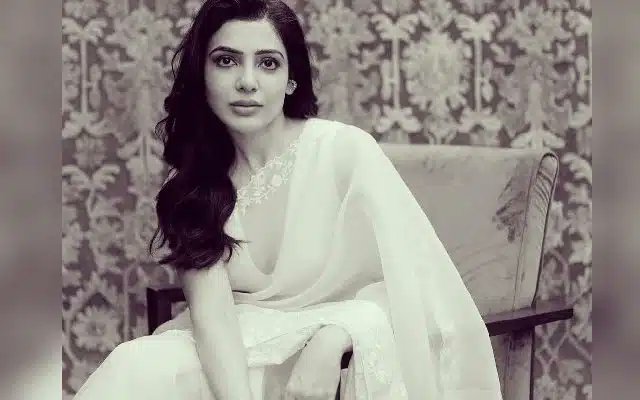 "Physically jis tarah se usko kaam karte hue dekha tha Family Man mein, it used to scare me ki kitna sata rahi hai apne aap ko yeh," Manoj said. (The way I watched her work physically during Family Man, it used to scare me and I thought she is torturing herself)
Watch the video below :
@BajpayeeManoj sir about @Samanthaprabhu2 ❤️💪🙏#Samantha #SamanthaRuthPrabhu #SamanthaRuthPrabhu𓃵 #Shaakuntalam #ShaakuntalamOnApril14 pic.twitter.com/Fmf1wIbz5M

— Rahul | #ShaakuntalamOnApril14 (@Only_For_Sam) February 15, 2023
Samantha Ruth Prabhu, who is known for her dedication to her work, responded to Manoj's comments on Twitter with a smiley emoji and a folded hands emoji, saying "🤗🫶🏻 will try sir." Samantha has always been a fitness enthusiast and her dedication to staying fit and healthy is evident from her social media posts.
🤗🫶🏻 will try sir @BajpayeeManoj https://t.co/PP4h4Ly7ES

— Samantha (@Samanthaprabhu2) February 15, 2023
However, in 2021, Samantha revealed that she is suffering from an autoimmune condition called myositis. This condition causes inflammation of the muscles and can lead to weakness and fatigue. Despite this, Samantha has continued to work hard and maintain her fitness regime.
A few days ago, Samantha shared a photo of herself undergoing Intravenous Immunoglobulin Therapy (IVIg), which is a treatment for myositis. She shared the photo on her Instagram stories and wrote, "Monthly IVIG party. New normal." This shows that Samantha is not one to let her condition get in the way of her work and her dedication to her craft.
On Valentine's Day, Samantha shared a photo of herself from the gym where she was practicing boxing. Samantha Ruth Prabhu will be seen next in Shaakuntalam, which is scheduled to release on April 14 this year. The film is a romantic drama directed by Gunasekhar, and it stars Dev Mohan opposite Samantha.
The dedication and hard work of actors like Manoj Bajpayee and Samantha Ruth Prabhu are truly inspiring. Despite the challenges they face, they continue to work hard and give their best in every project. Their commitment to their craft is something that young actors can learn from and emulate in their own careers.
also read : When "BEAST" Heroine Mocked Samantha !!
Most lately, Samantha came across a tweet in which a meme page demeaned her looks and criticized her based on her health condition. The 35 year old actress said that she wish the author of the post not to go through the hardships she suffered and replied back by sending her love. The reply is going viral in social media platforms with fans admiring Samantha for her kind heart.
Recently, Actress Samantha Ruth Prabhu broke down in tears on air while interacting with a female host for an interview. In the interview which took place to promote her film "Yashodha", she opened about her health. The actress who got emotional, said that she is not at a life-threatening stage and expressed her wish over how the media could have avoided the exaggeration.
also read : Old Post Of Samantha About Siddharth Getting Spammed After Her Divorce !!
"As I said in my post, some days are good, some are bad. Some days, I have felt even taking one more step would be difficult. But when I look back, I wonder I have gone through so much and have come this far. I'm here to fight" the actress who got emotional said.
I pray you never have to go through months of treatment and medication like I did ..
And here's some love from me to add to your glow 🤍 https://t.co/DmKpRSUc1a

— Samantha (@Samanthaprabhu2) January 9, 2023