"Srimathi Jumping From Third Floor Is A Complete Lie" – Journalist Nakkheeran Gopal !!
Journalist
Justice
Nakkheeran Gopal
Srimathi
8 months ago
By Dhiwaharan
Renowned Journalist Nakkheeran Gopal who is known for shedding light on the truth in the serious issues that are taking place in the society for several years, released a video in his youtube channel, claiming that student Srimathi didn't jump from the third floor to kill herself.
The Journalist wanted the police officials to trace the phone calls of the school secretary Shanthi and her husband and correspondent C. Ravikumar as per the request made by Selvi, mother of Srimathi. It is notable that Shanthi released a video asking officials to hear the phone call conversations of Srimathi and her Mother to know that the school management has nothing to do with the demise of the student.
Playing the audio recording of driver Senthil who claimed that he caught Srimathi while writing a love letter while she was studying 11th standard, Nakkheeran said that he was hiding the truth as there is no logic in his statement. Driver Senthil, in his phone call conversation with Nakkheeran reporter, said that he found Srimathi writing a letter in the bus. "She tore it when I saw her writing the letter but I kept 5 pieces from the letter safely and submitted it to CB CID after her death" the driver says.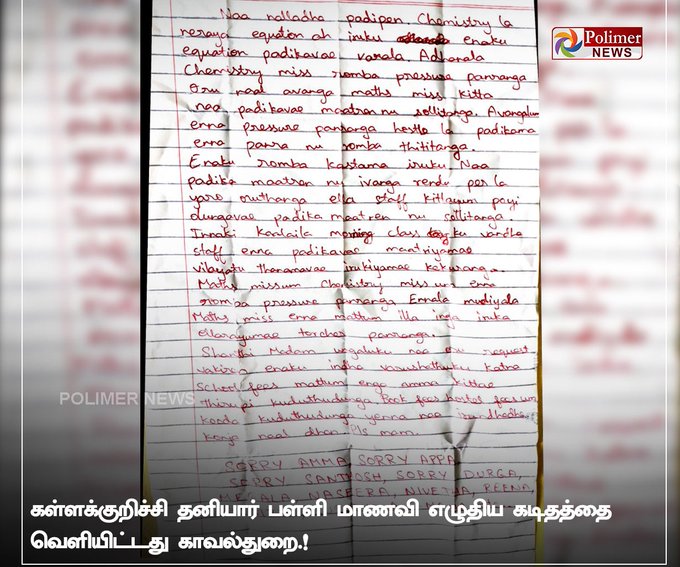 Nakkheeran, in his report, said that it is not possible at all and questioned why the driver  should keep the torn pieces of a letter written by a random student safe, that too for one long year. The journalist said that the driver should be an accused too, if he done something like that. The journalist also claimed that the released in media was not written by Srimathi as it was written in Tanglish but her mother proved about her daughter's writing skills in Tamil language.
Further, Nakkheeran showed the pictures of the school premises and explained that it is not practically possible to climb the edge of the third floor and jump as Srimathi is just a student who is 17 year old. "In the 2 feet gap, it is not possible for Srimathi to climb and stand properly before jumping. Two people must have dropped her from the third floor to stage her death. The blood stains near steps are the evidence that proves Srimathi didn't go to the third floor by herself but was carried by at least two individuals" Nakkheeran said.
Watch the video below :
Source : Nakkheeran 
The journalist also demanded the school to be closed until the case is resolved and wanted the culprits to be punished in a right manner. He also wanted Shanthi and Ravi couple to produce their two sons in front of media to prove their innocence.