Soundarya Rajinikanth's First Tweet After Aishwarya Rajinikanth's Announcement About Her Divorce Goes Viral !!
Written by Dhiwaharan Published on Jan 19, 2022 | 00:57 AM IST | 115
Follow Us
Comments: 0
A tweet uploaded by Super star Rajinikanth's younger daughter Soundarya Rajinikanth after the divorce announcement made by her sister is going viral among the users of social media platforms. The designer cum filmmaker uploaded an old picture of herself and her sister posing with their father in their childhood and kept it as her Twitter profile picture. The tweet garnered large number of reactions from online users and most of the comments are about Dhanush-Aishwarya divorce.
View this post on Instagram
Ever since Dhanush and Aishwarya announced about their separation through their respective social media handles, various kind of reactions are flooding the Internet despite of the duo seeking privacy through their posts. Many of the fans of actor Dhanush expressed their emotions over the actor getting separated from his wife with whom he has been leading a life for 18 long years. A fan shared an one year old video of Dhanush singing "Ilamai Thirumbuthey" for Aishwarya and vented his emotions out.
Pan Indian actor Dhanush and renowned filmmaker, singer, dancer Aishwarya, daughter of Super star Rajinikanth has announced their separation after 18 long years of their marriage life. The social media posts of the individuals came in as a shock to the fans, celebrities and social media users/influencers. The actor/filmmaker sought privacy from the public and requested public to respect their decisions.
"18 years of togetherness as friends, couple, as parents and well wishers to each other. The journey has been of growth, understanding, adjusting and adapting. Today we stand at a place where our paths separate.. Aishwaryaa and I have decided to part ways as a couple and take time to understand us as individuals for the better" Dhanush said in his post.
"Please do Respect our decision and give us the needed privacy to deal with this. Om Namashivaaya! Spread love, D" he added. Aishwarya Rajinikanth came up with a similar post in her official Instagram account.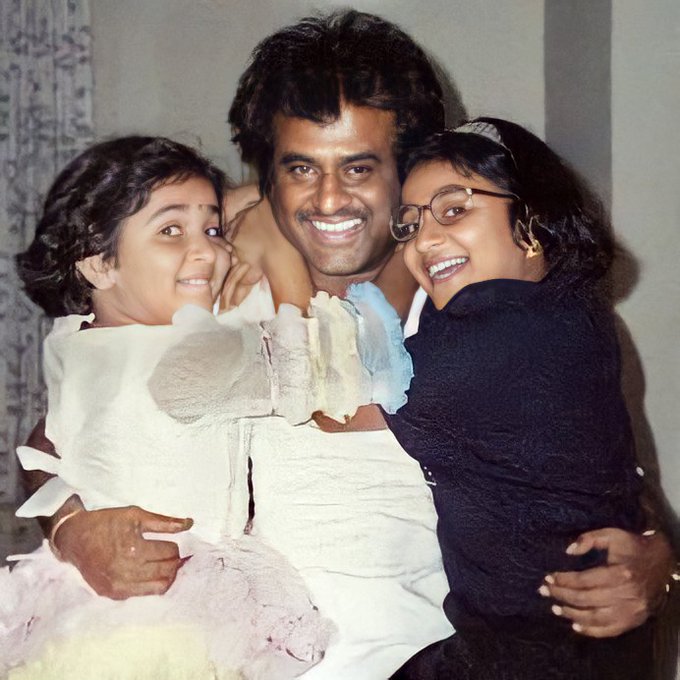 Meanwhile, Soundarya Rajinikanth, youngest daughter of Rajinikanth who worked with Dhanush in "Vela Illatha Pattathari-2", changed her profile picture in twitter, indirectly denoting that they will always be loving and caring to their father irrespective of what happens in their marital relationships. The post also shows Soundarya stretching her supportive hand to her sister in the important decision she made in her life.
Check out her post below :
#NewProfilePic pic.twitter.com/0SnIQYvkkg

— soundarya rajnikanth (@soundaryaarajni) January 17, 2022
Many fans of Superstar Rajinikanth could be seen requesting Soundarya to take care of their idol and many other comments about Dhanush-Aishwarya divorce flooded the comment section of Soundarya's post which 79k plus likes and hundreds of reactions so far. Few who believe that Rajinikanth is hurt, criticized his daughters through their comments. Check out some of them below :
Great father who raised his kids to take bold decisions when it is needed..

stay strong sister .. take care of your sister, her kids and your parent 🙏🏻 https://t.co/damEpEQJgo

— vaishali (@vaisu_tweets) January 18, 2022
@soundaryaarajni all things love …. 💖

— Sriya Reddy (@sriyareddy) January 18, 2022
அப்பா என்னும் கோட்டைக்குள் இளவரசி கள் எப்போதும் இளவரசி களே ❤ "மகள்கள்"

நடுவில் இருக்கும் குழந்தை"👑" ய நல்லா பார்த்துக்கொள்ளவும். @soundaryaarajni

— Vannan ❤MASTER (@ArishAriharan) January 17, 2022
பெண்கள் தந்தையை அதிகம் நேசிக்க காரணம்,எவ்வளவு அன்பு வைத்தாலும் ஏமாற்றி விடாத ஒரே ஆண் தந்தை மட்டுமே ..💔

தயவுசெய்து அப்பாவ நல்லா பாத்துக்கொங்க Sister @soundaryaarajni ❤

— J E B A _T A M I L A N 󾠴 (@its_samclicks7) January 17, 2022
உங்க ரெண்டு பேராலும் இதுவரைக்கும் தலைவருக்கு என்ன சந்தோஷம் வந்திருக்கு …

உங்களால தலைவருக்கான சந்தோஷமே போச்சு…. pic.twitter.com/dooT9ByzEu

— 💗💗SUPERSTAR BAKTHAN💗💗 (@AJITAJI2) January 18, 2022
Pavam manushan avaroda manasu evlo valikitho pic.twitter.com/HdrMEldm3A

— PRABA AK (@PrabaPixel) January 18, 2022
தலைவர் ………… pic.twitter.com/z7BYf805kD

— Joe Selva (@joe_selva1) January 18, 2022