Social Media Went All Guns Blazing Against Jadhav !!
CM / Updated: 2020-10-08
11:05 IST
By Dhiwaharan
It all started when Rayudu went for a shot instead of keeping it with the ground when the required run rate per over was just below 9. When Dhoni tried to hit Varun Chakravarthi for a biggie, he completely missed the ball and got bowled which caused Kedar Jadhav to make his presence in the middle to bat. When he came to bat, CSK needed 39 runs from 21 balls and he played a solid defence in the very first ball he faced. No runs came in the next two balls as well.
CSK team which scored 90 runs in the first 10 overs, lost the match by 10 runs with Jadhav and Jadeja playing in the middle. Jadhav scored 7 runs from the 12 balls he faced and Jadeja made 21 runs from the 8 balls he faced. In his innings, the right hander was involved himself in so much drama such as counting the fielders, changing bat, not giving strike to his partner etc.
Before the last over where Jadhav would refuse a single, he didn't respond to Jadeja who called him for a quick second after a overthrow. In the fourth league match played by CSK, Jadhav faced 10 balls and scored just 3 runs which costed CSK the match as the team lost the game with just 7 runs difference. he alleged middle order batsman of the yellow team, scored 58 runs in the 4 innings he played for CSK in this ongoing tournament with an average of 14.
[wp_ad_camp_1]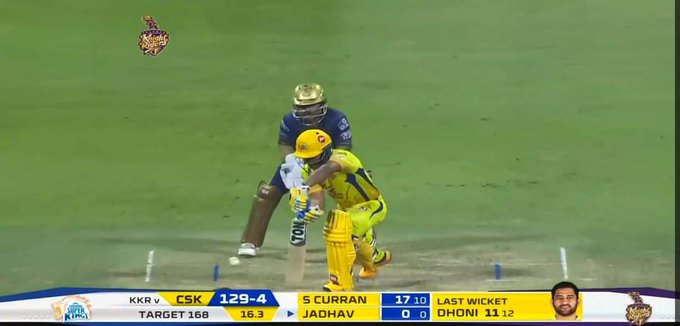 Jadhav received Rs. 7.8 Crores to represent CSK as a middle order batsman with Tamil nadu based batsman Jagadeesan is sitting in bench. Fans who questioned the team management why they are still giving opportunity to the 35 year old, started a campaign to remove Jadhav from CSK team after seeing performance in the last match.
So far 11,000 plus people signed the petition to remove the cricketer from CSK team. "Kedar Jadhav hasn't been performing at all but he's in the playing 11, please sign this petition to drop that useless, Spineless and stupid Jadhav from the team." the petition reasoned.
Apart from this, the old social media posts of the cricketer are being targeted as well. Fans storming into the comment section and thrashing the batting all rounder for giving his everything to make KKR win. A work out video Jadhav posted on 29th of August before the tournament's start is being thrashed by the fans of CSK team.
Required rate enna un straike rate enna
Okkali dei pic.twitter.com/FEca6TPKPn

— கொக்கி ᴷᴰᴹ ᴳᵒˡᵈ (@KDmgold) October 7, 2020
Unna oru batsman nu nambi anupunathuku Enna pana mudiyuma Atha nala panita…@ChennaiIPL pic.twitter.com/c2DlYadN2W

— Kalidasan Rajendran (@srkrajen) October 7, 2020
[wp_ad_camp_1]
What a responsible knock…. pic.twitter.com/ldy6AuIUik

— கிருஷ்ணன் ரவி (@Krishna34090268) October 7, 2020
October 7, 2020
Check out some of the other reactions that surfaced regarding the innings played by Jadhav :
"Every 5sec"

Othaa Jadhav 😭 pic.twitter.com/4z5GP2KdVP

— Ishtathukku (@venkatvasanth23) October 7, 2020
One of the many hilarious memes about last night's game that I got on WhatsApp. 😂😂😂 #KedarJadav #CSK #IPL2020 pic.twitter.com/r2H6E5bp1c

— Sumanth Raman (@sumanthraman) October 8, 2020
Shot of the day🔥💥. Well played Kedhar Jadav. Way to go 💪👍. #CSKvKKR pic.twitter.com/tbk9TA8jPp

— Rathna kumar (@MrRathna) October 7, 2020
[wp_ad_camp_1]
தலைவன் என்னி பார்த்துட்டு எட்டி பாக்குரதெல்லாம் வேர லெவல் 💥💥 pic.twitter.com/AhkOYkwl3l

— ℳsd Kutty (@its_MsdKutty) October 7, 2020
#kedarjadhav game changer of the match pic.twitter.com/VjoZoDII0I

— Daniel Annie Pope (@Danielanniepope) October 7, 2020
Kedhar anne, nee six adikaaadhadha kooda marandhuduven aaana first ball of last over single venaaam sonne paarthiya 👏🏻

— SA (@Aravind_SA) October 7, 2020
Sorry Rahane
Sorry Shubhman Gill
We want Kedar Jadhav in Australia test series.#kedarjadhav pic.twitter.com/INWkecWivY

— Alok Ranjan (@mealokranjan) October 8, 2020
Jadhav contribution to CSK match #kedarjadhav pic.twitter.com/b8eTdrlKGr

— Vicky (@Stephan53457462) October 8, 2020
When you're fielding and only 39 runs are needed but you know kedar jadhav is batting #KKRvCSK 🤣😂#kedarjadhav pic.twitter.com/GL2fU1obVJ pic.twitter.com/3lDZoJekz5

— i,am@SHaRiF😎 (@imSHaRiF84) October 8, 2020
Brother, you have got in life more than what you deserve.. leave it now… I play better than you ..#kedarjadhav pic.twitter.com/Hn4nv9iLWv

— Rupesh Kumar (@Rupees01) October 8, 2020
One of the historic moments in CSK's history!!
Just Kedar things 🔥🔥🔥🔥#kedarjadhav #CSKvsKKR #IPL2020 pic.twitter.com/TeJezdHVYq

— …. (@JustPainSzn) October 7, 2020
Comment your views on the innings played by Jadhav !!