Social Media Set On Fire As A.R Rahman & Ilayaraja Shared Stage Together !! Watch Video !!
CM / Updated: 2019-02-03
02:11 IST
By Dhiwaharan
Music maestro Ilayaraja has scored the music for more than 1,000 films and 5,000 songs. He has also rendered 500 numbers and won the national award five times. To honour his achievements, Tamil Film Producers Council is felicitating 'Isai Gnani' with a two-day function at a gala event titled Ilayaraja 75. Top actors and technicians from all south Indian languages including Tamil, Telugu, Kannada and Malayalam, besides Hindi who have worked with the maestro are expected to attend the event and share their experiences with the music maestro.
[wp_ad_camp_1]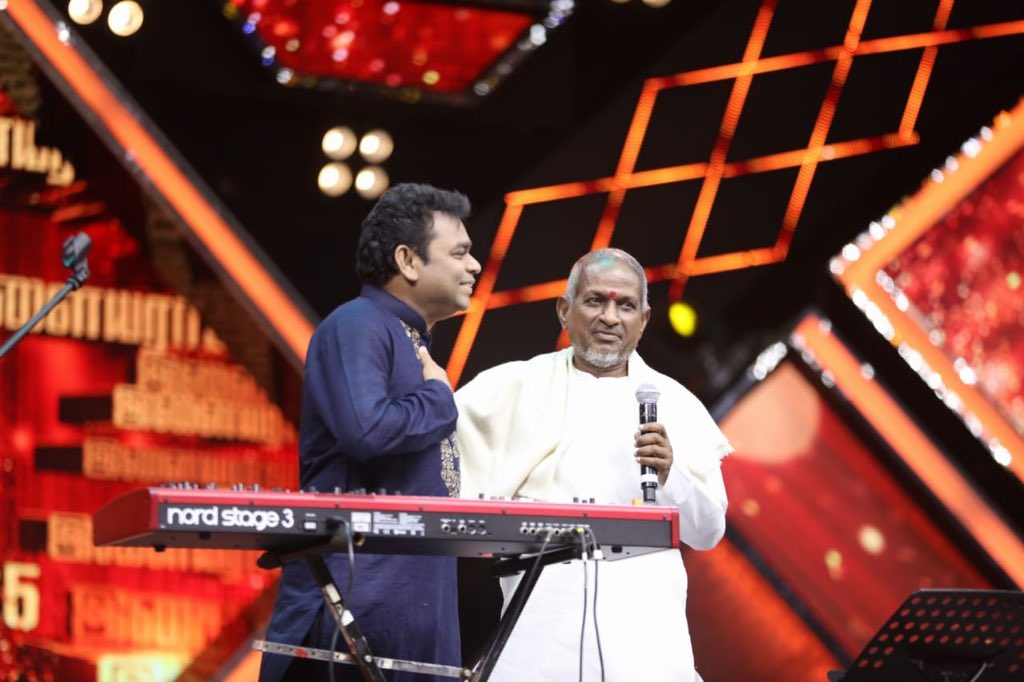 As the function held today, a low quality phone video which was made by a fan was going viral on Internet. The video is all about the two musical icons in world music Ilayaraja and A.R Rahman. In the video it is seen A.R Rahman playing piano of a song from Punnagai Mannan.
Source : Nakkeeran Studio 
[wp_ad_camp_1]
As soon as the video got released the netizens couldn't resist themselves from sharing it with lovely thoughts and emotions. Check out some of them here :
Am in… Kaanbathu kanavaa
illa nejamaa mode 😀
Rahman sir is playing one of d finest themes in d world.. Punnagai mannan.#ARR 🙏🙏 #Peace pic.twitter.com/XFFFL3w3Yw

— ʝɛииι fer вℓɛssʏ (@JenniferBlessy) February 2, 2019
"I first worked for #Ilaiyaraaja on #MoondramPirai. Facing him in the studio was like facing a headmaster" @arrahman at #Ilaiyaraaja75. The two share stage and play music together.

Magical. pic.twitter.com/ypw34jDcx6

— Srinivasa Ramanujam (@srinivasjam) February 2, 2019
Ilayaraja and A.R.Rahman together, on stage at the #Ilayaraja75 event! Raja singing 'Mandram Vandha Thendralukku' and Rahman playing keyboard + a light moment between them 🙂

Video courtesy: @sash041075 on Instagram Stories.
HT: @blogeswari pic.twitter.com/EG39OJ8MKC

— Karthik S (@milliblog) February 2, 2019
Just came out Ilayaraja 75 show. Best content for Tv will be Raja & ARR conversation and AR played in is mobile is first music he fed in computer for Ilayaraja… #IlayaRaja75

— Balaji Gopal (@gopalbalaji) February 2, 2019
@arrahman & @TheMaestroRaja sharing the same stage historical moments in Indian Music #IlayaRaja75 #ARRahman moment to cherish forever @SriniMaama16 how u feel? pic.twitter.com/8wSpoGboKh

— Mohamed Faisal (@Miracleboyz7) February 2, 2019
When @arrahman plays one of the ilaiyaraja hits. 😍😍😍 #IlayaRaja75 pic.twitter.com/vKSvFvVN22

— Prabhu Kandasamy (@PrabhuK_PK) February 2, 2019
25 Year Challenge! #IlayaRaja75 pic.twitter.com/zj11RMmxN8

— Chandler Bing (@SarcasmChamp) February 2, 2019
@arrahman Sir playing #PunnagaiMannan at #Ilayaraja75 😍

It was Rahman Sir who played keyboard in this original composition of Raja Sir.What a historic moment,2 of the greatest legends on the same stage,recreating a classic which both of them worked on😍#Ilayaraja75 #ARRahman pic.twitter.com/SUWfloZDQ6

— Athithya Eswaran (@athithya_e) February 2, 2019
RAJA&RAHMAN fans rightnow@SunTV #ilayaraja75 pic.twitter.com/NjIuBiHsKA

— lakshminarayanan (@lanarayananceg) February 2, 2019
Picture of the day ❤#IsaiPuyal #ARRahman 😘😍#Ilayaraja75 #Rahmaniac #Rahmanism #VijayRahmaniac pic.twitter.com/U8T0KbDpWn

— JosephThalapathy Rahmaniac (@vijay_rahmaniac) February 2, 2019
What a day !! @arrahman playing Punnagai Mannan theme followed by Raja sir singing mandram vantha thendral where Rahman playing the keyboard along. You won't get this lucky. Made my Day. Month. Year. Life. #Ilaiyaraaja75 #Ilayaraja75

— Karthic (@karthic_s) February 2, 2019
Awwwwww…..!

Picture to framed ❤️🙏#IlayaRaja75 pic.twitter.com/RCSrMBg1CH

— KESAVAN (@I_m_k7) February 2, 2019
Raja sir singing Mandram Vantha with ARR playing keyboard #Ilaiyaraaja75 #ilayaraja75 pic.twitter.com/e5z7kwVeNy

— Karthic (@karthic_s) February 2, 2019
#Ilayaraja75 ❣️❤️
That Atmost Respect U give To the most Celebrated Musician of All Time … @arrahman Sir One Of the Most Down To Earth Personalities …. Have to remind him y r u so humble always pic.twitter.com/1M6cTPYRla

— Abiram (@Abiram20548001) February 2, 2019
[wp_ad_camp_1]
@arrahman Sir, saw the snippet of your lovely presence at #IlayaRaja75.It was magical! IR sir sounded like a child who wanted to hear from you about him.He was bit emotional.Your love & humility soothed him.May be,if U could invite him to #KMC, it might help. God's grace that! 💙

— Hari Narayanan (@hari_dwijaha) February 2, 2019
What a day it is! Two legends Raja with Rahman,No words happy with music😍 மூன்றாம்பிறை #IlayaRaja75

— Selva (@17Selva) February 2, 2019
The function is scheduled for February 2 and 3, 2019 at YMCA Grounds in Chennai. Shooting for the said two days has been cancelled to ensure that the entire Tamil film industry will grace the occasion, and make it a memorable one.