Students of SRM University in Chennai's Kattankulathur area staged a demonstration inside the campus Thursday night after a cleaning staff masturbated in front of a student in a lift at a girl's hostel.
[wp_ad_camp_1]
The university says the culprit ran away from the campus after the uproar. A university official told India Today that efforts are on to trace him. Terming the incident as unfortunate, the university spokesperson said the administration was reviewing security and taking steps to ensure this is not repeated. The accused will get appropriate punishment, he said. Students, however, are angry and not convinced.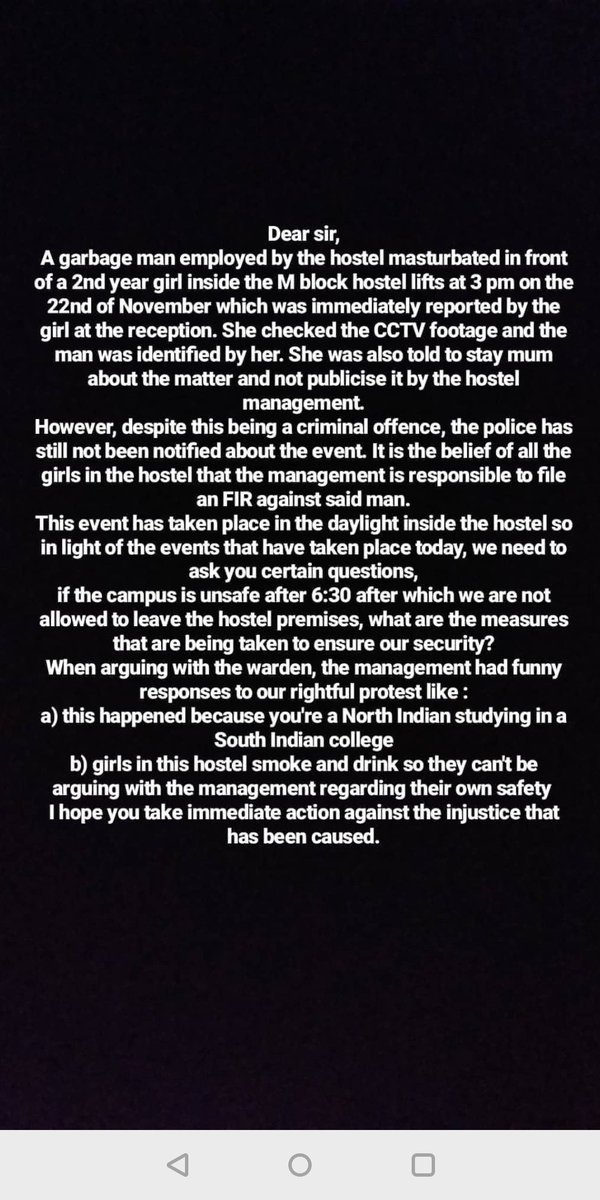 According to a third-year software engineering student who took part in the protest, a second-year undergraduate student of the university was allegedly sexually harassed by a man working as sanitation worker inside a women's hostel lift on Thursday afternoon around 3 pm.
"The man masturbated in front of the woman student in the hostel lift, following which she reported the issue to the authorities," the student told PTI.
[wp_ad_camp_1]
The Maraimalainagar Police confirmed that the protest continued till midnight and students finally dispersed after the university assured to take action. Police said no complaint had been filed till 11 pm on Thursday.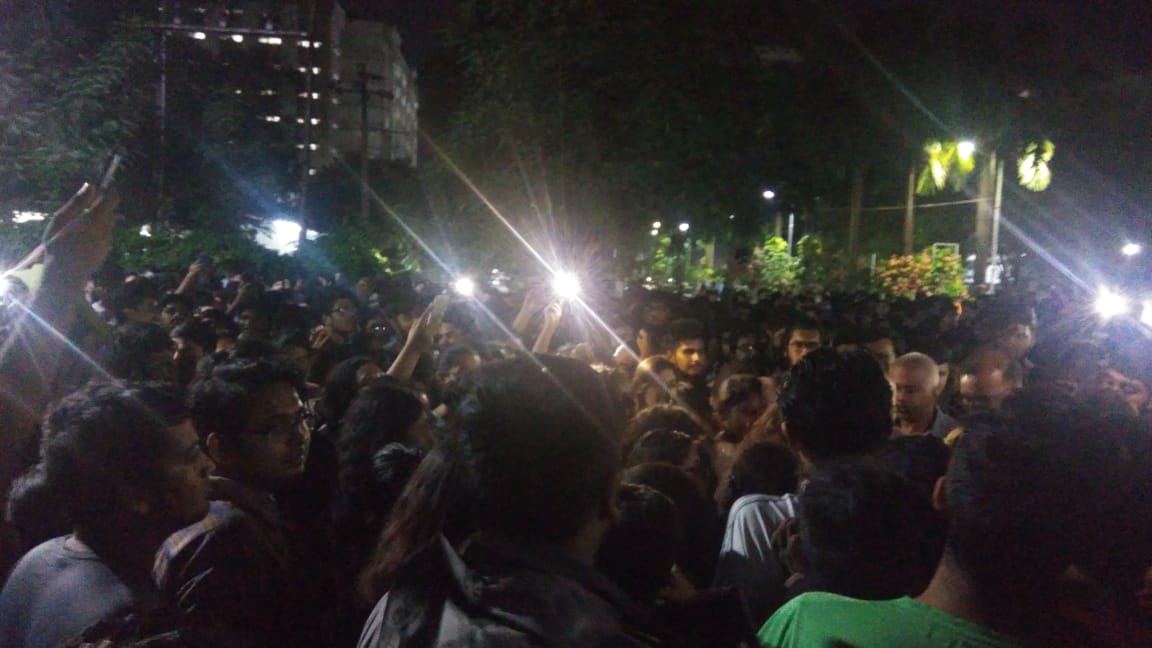 According to one of the final year student the girl students were told to change their clothes before meeting the chancellor. "The student body is now protesting but the police hasn't lodged an FIR even though they are present on the campus for crowd controlling purposes. The management hasn't filed an FIR as well even though the guy has been identified through a CCTV footage" She said. "The girls were confined within the hostel premises when asked to join the protest happening outside" she added.
Another protestors said that the hostel warden, who the student had informed about the incident, allegedly blamed the student and delayed access to CCTV footage. The protestor said the student identified the worker from the CCTV footage. "However she was asked to stay mum about the incident by the authorities," the protester said.
SRM University Vice-Chancellor Sandeep Sancheti, however, denied the allegations of inaction and said the administration would look into the complaint.
"Students are discussing with us. Whatever the matter is, it will be taken care of. If there is a matter, it will be inquired," Sancheti told news agency PTI.
[wp_ad_camp_1]
As soon as the protest staged this issue grabbed massive attention from social media. Check out some of the reactions here :
SRM response.
a) this happened because you're a North Indian studying in a South Indian college
b) girls in this hostel smoke and drink so they can't be arguing with the management regarding their own safety. #SRM mastrubation case

— Kevin nevermind (@nevermind_kevin) November 22, 2018
When a girl is not safe in a so called best private school, despite of this the vc laughs and shouts at students. Welcome to SRM #srm #srmuniversity https://t.co/Jawaafr8Q8

— chandu (@rdchandu) November 23, 2018
Why is that a girl is always judged by the clothes she wears or for her conduct.

Absolutely unbelievable response and attitude showed by #srm https://t.co/1k0kHn8R8K

— Pragya Garg (@9604garg) November 22, 2018
*Student doesn't pay fees on time*

College authorities :
*Makes 100 calls to the parents*
*Notice is sent 10 times*
*Thrown out of the college*

*Student is assaulted*

Authorities : #SRM #Chennai #HRD @timesofindia @IndiaToday https://t.co/lpTUGoGn8c

— Prachi Mohta (@MohtaPrachi) November 22, 2018
SRM University may not take any action , but we as students won't let our reputation and dignity down ,we need justice and that guy need to be arrested and pay for his deeds. If not then there is no use of protesting. So please share as much as possible. #SRM #SRMUniversity pic.twitter.com/icw5KPSQnS

— Haroon Hero (@haroonhero786) November 22, 2018
"Issue out of nothing.."
What the point of being called a well educated when chancellor of a reputed Institute replies like this.#SRM@SRM_Univ@htTweets @TOIIndiaNews @aajtak pic.twitter.com/qgbd90htvE

— Anmol Pratap Singh (@i_m_anmolsingh) November 22, 2018
#SRM Girls please join the protest at Gate of M Block hostel and fight against all odds ..pls RT pic.twitter.com/dyiZBNFOzl

— Prithvi krishna (@prithvikrish) November 22, 2018
" What has man made of man. " – William Wordsworth.

Students are not safe.
Lakhs of rupees spent for nothing.
Students are depressed.
Parents are worried.
Suicides , Rapes? #SRM #Chennai #HRD https://t.co/0AedsZBSov

— Prachi Mohta (@MohtaPrachi) November 22, 2018
We blame the women for not raising their voice during an assault. But when she does we do this to her instead. #SRM@fayedsouza pic.twitter.com/BGXSmO9xrL

— Gokul S (@Iadroxus) November 23, 2018
But according to NDTV, the police said they are yet to receive any formal complaint.
"Our enquiry reveals that the 38-year-old male is a toilet cleaner. The new appointee, was accompanied by two woman workers and he got confused operating the lift," a Kacheepuram district police officer told NDTV. The officer indicated that the allegation seems to be a "ploy" to get today's exams cancelled.
"Their last exam was originally on Thursday but due to rain, they were postponed to Friday and many had already booked flight and train tickets to leave home on Friday for vacation," the officer said.
The students have denied the claims made by the police. "Police officials are here to protect the university management. It is a total lie. The management is only suppressing it," a student said.
Source : NDTV