Lyric writer cum politician Snehan married the love of his Kannika Ravi on 29th of July in the presence of legendary actor and Makkal Needhi Maiam Founder Kamal Haasan. The wedding ceremony took place at a posh hotel in Vadapalani, Chennai with limited guests due to COVID 19 restrictions in the state. Legendary director Bharathi Raja, Director Ameer, Pazha Karuppiah, Orator-actor Gnanasammantham, Pazha. Karuppiah, Taj Noor, Nakkeeran Gopal are some of the other guests attended the special event.
[wp_ad_camp_1]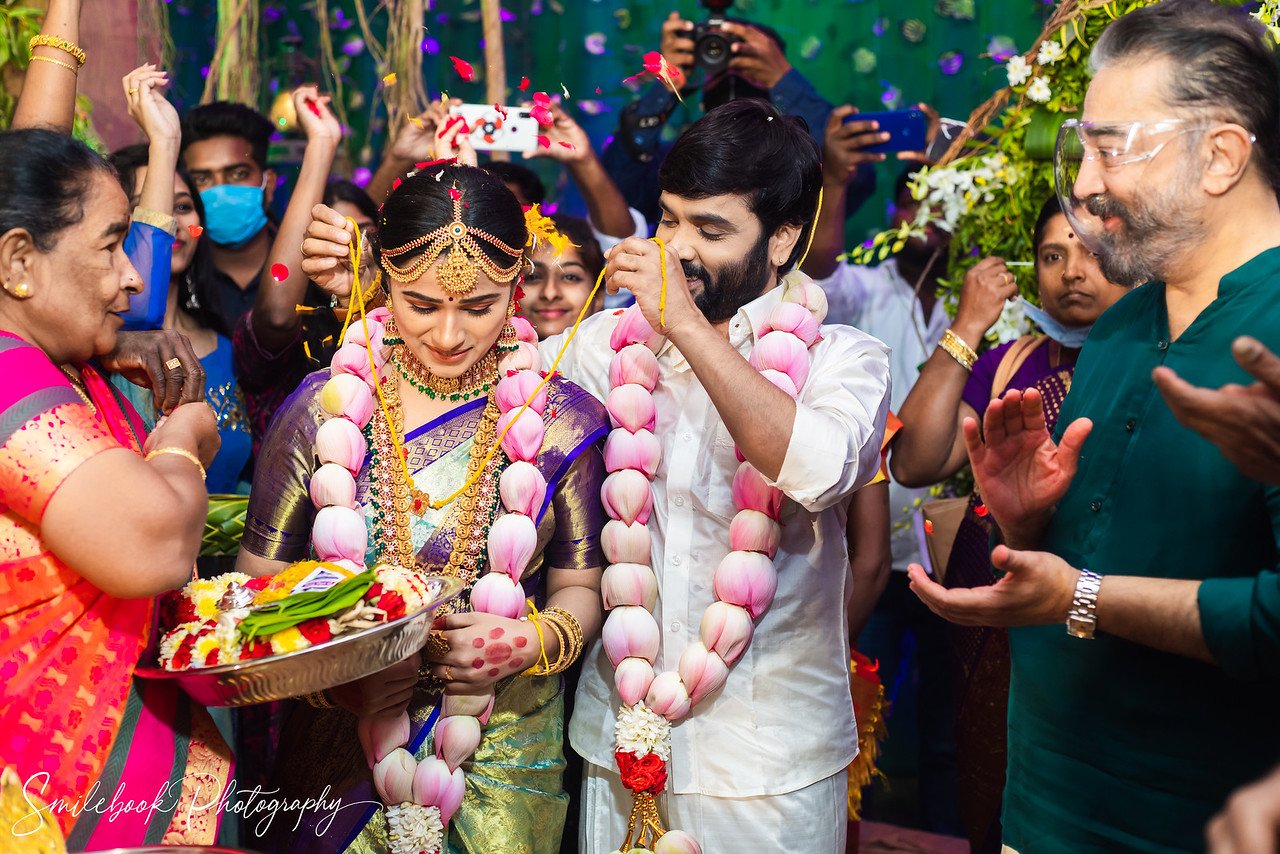 It has been reported that Snehan and Kannika were in a relationship for a very long time and the duo got married with the approval of both their families. Snehan who wrote lyrics for over 2500 Tamil songs, became a household name only after taking part in the Kamal Haasan hosting Bigg Boss show as a participant. After his Bigg Boss stint, Snehan joined Kama's "Makkal Needhi Maim" party and contested as an MLA candidate in the Tamil nadu assembly elections 2021.
The 42 year old became the runner up of the Tamil Bigg Boss's inaugural season. Kannika Ravi is known for her on screen presence in serials such as "Amudha Oru Acharya Kuri" and "Kalyana Veedu". The 27 year old hosted Television shows as well. It is notable that Snehan appeared in a number of films as an actor as well. Ever since getting married, Snehan has been pretty much active in social media.
[wp_ad_camp_1]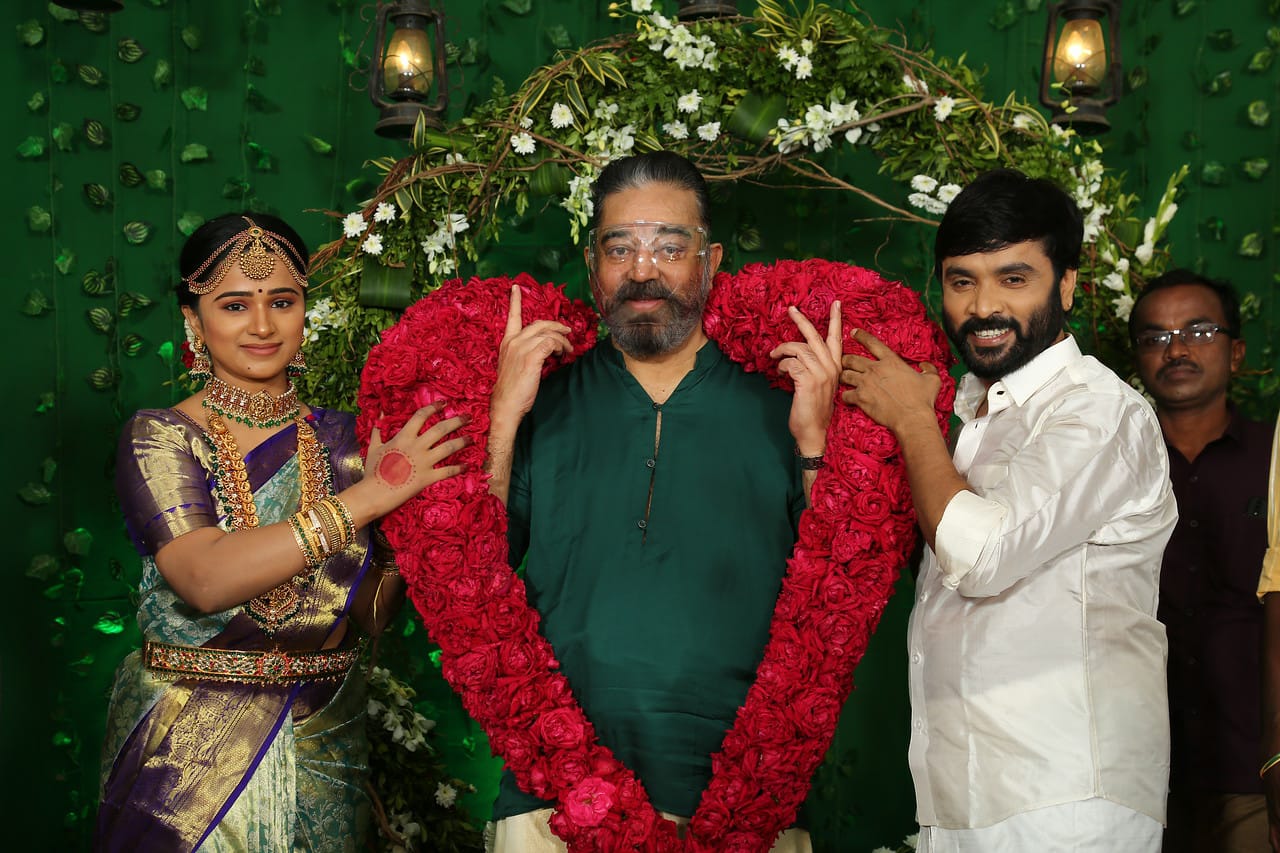 Most recently, the writer came up with an emotional post, reacting to the trolls and criticisms he has been facing all these years. Uploading a series of pictures that were captured while he was tying knot to Kannika Ravi, Snehan, in his recent tweet, wrote that this is the moment he has been waiting for all these years, tolerating all the gossips, criticisms, trolls and insults.
"We tolerated all the pain only for these moments" he said in his tweet. "எத்தனை விமர்சனங்கள்… எத்தனை கிசுக்கிசுக்கள்… எத்தனை ஏளனங்கள்… எத்தனை அவமதிப்புகள்… அத்தனைகளையும் ரணங்களோடு தாங்கிக் கொண்டது.இப்படி ஒரு தருணத்திற்காகத்தான்." his tweet read.
Check out his tweet below :
எத்தனை விமர்சனங்கள்…
எத்தனை கிசுக்கிசுக்கள்…
எத்தனை ஏளனங்கள்…
எத்தனை அவமதிப்புகள்…

அத்தனைகளையும் ரணங்களோடு தாங்கிக் கொண்டது.

இப்படி ஒரு தருணத்திற்காகத்தான். pic.twitter.com/QArgnaaPgi

— Snekan S (@KavingarSnekan) August 2, 2021
Check out some of the other tweets Snehan uploaded post his marriage :
எனக்கான எல்லா உறவுமாய் இருந்து என் இல்லற இணைவு விழாவை முன்னின்று நடத்திய என் மூத்த அண்ணன், என் தலைவர், எனக்கான ஆண் தேவதைக்கு என் ஆயுள் உள்ளவரை நன்றிகளை கூறிக்கொண்டே இருப்பேன்.
நன்றி
அண்ணா… pic.twitter.com/lxlupacXKU

— Snekan S (@KavingarSnekan) July 31, 2021
காதலியே.. மனைவியாய்..
மனைவியே..காதலியாய்..
அமைவது பெரும் வரம்.

அந்த வரம் எனக்கு
கிடைத்திருக்கிறது.

இந்த புகைப்படம் அதை நினைவுப்படுத்துகிறது… pic.twitter.com/AVUd7GvRPP

— Snekan S (@KavingarSnekan) July 31, 2021
[wp_ad_camp_1]
திருமணம் முடிந்த மறுநாளே சிவகாசியில் நந்தா பெரியசாமி இயக்கத்தில் "ஆனந்தம் விளையாடும் வீடு" என்ற படத்தில் நடித்ததும்.

அதைத்தொடர்ந்து இன்று தூத்துக்குடியில் இயக்குனர் ஹரி இயக்கத்தில் நடிப்பதும் மகிழ்ச்சியாக இருக்கிறது.

திருமணம் திருப்பம் தரும்
என்பது உண்மைதானோ…🥰 pic.twitter.com/dX6UsiUoxm

— Snekan S (@KavingarSnekan) August 2, 2021
Let us wish the couple to lead a healthy and happy life together !!