Sivakarthikeyan Fans Got Upset On Seeing This Edit !!
CM / Updated: 2021-02-27
14:41 IST
By Dhiwaharan
Makers of Sivakarthikeyan starring "Doctor" released the next single from their film and the music video is trending at the top in the video streaming social media platform. Titled as "So baby", the song got released on the 25th of February and was sung by music director Aniruth Ravichander. The makers released the video by staging a skit.
[wp_ad_camp_1]
Releasing the song in his official twitter account, actor Sivakarthikeyan wrote "Here it is … Our Rockstar @anirudhofficial's love for #Doctor"
Here it is …🥳
Our Rockstar @anirudhofficial 's love for #Doctor 😎 #SoBaby ♥️ – https://t.co/NEGC6HsxPK@Nelsondilpkumar @priyankaamohan @KVijayKartik @ananthkrrishnan @SonyMusicSouth @SKProdOffl @KalaiArasu_ @kjr_studios

— Sivakarthikeyan (@Siva_Kartikeyan) February 25, 2021
In no time, the song garnered 5 million views in youtube with 3 lakh plus likes. The visuals of the song showed Anirudh Ravichander singing the song with his crew behind. The video also showed the glimpse of how, where and why the song is going to be featured in the film.
Throughout the song, Priya mohan who played the female lead in the film appears along with Sivakarthikeyan. Nelson Dilipkumar disclosed that it is a situation where the protagonist is meeting the female lead for the first time in the film. With the beautiful montages and appealing visuals, the music video became a huge hit among the fans which is evident through the likes and views.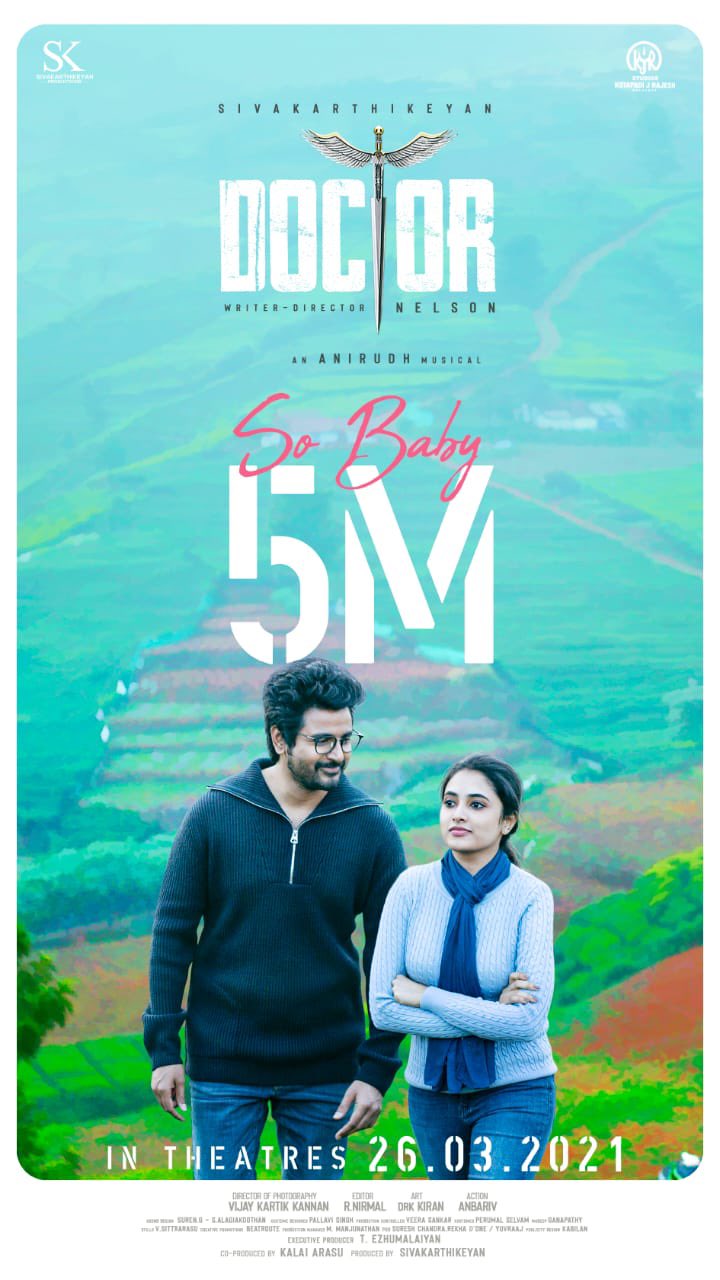 The song is being widely shared in the other social media platforms by the users with various kind of reactions as well. Meanwhile, a social media user made a parody version of the song by adding the background music of "Ratchasan" film and termed the protagonist as "Stalker".
[wp_ad_camp_1]
Watch the "Ratchasan" version of "So baby" below :
Doctor is a stalker . . 😷😷😷😷#Sivakarthikeyan #Doctor #SK20 pic.twitter.com/HU2c4WtHW2

— Anbu (@Mysteri13472103) February 27, 2021
In previous occasions, Sivakarthikeyan became a subject o severe trolling due to the roles he done in films such as "Remo", "Varutha padatha Vailbar sangam", "Maan Karate", "Mr. Local" etc. Many criticized the actor for glorifying "stalking" in his films and for influencing youths to do the same indirectly. However, SK changed his path and started producing films such as "Kanaa" which talked about women empowerment and concentrated on acting in content oriented films such as "Velaikaaran", "Hero" etc.
Now, on labelling the role done by Sivakarthikeyan in "Doctor" as "Stalker" after seeing a glimpse of a single song, many fans of the actor got upset and stretched their supportive hand to their idol. "LOL they will make shitty edits n call SK as a stalker but won't have an issue nor will they comment anything when it's their favourite star or a director. hypocrites" wrote a fan to express his dejection.
Check out some of such comments below :
LOL they will make shitty edits n call SK as a stalker but won't have an issue nor will they comment anything when it's thier favourite star or a director 😏 hypocrites

— Jathushan (@Jathushh) February 27, 2021
Ippothan intha tweet pathen.. ppl improve everyday nu advise pannitu ivangaleh ipadi pandrathellam 🤷

Thought of posting this but @Daisy_SKfan ka tweet stopped me pic.twitter.com/jiXnuAbDsP

— Karthick Shivaraman™ (@iskarthi_) February 27, 2021
🤣🤣🤣
Andha video edit summa jolly ah panna maari dha irunchu enaku 😷, aana adha serious ah eduthu sk va stalker nu attac pannum podhu dha gaandu aagudhu

— b s h k (@_sangimangi_) February 27, 2021
[wp_ad_camp_1]
Doctor padathula SK stalker nu ipove muthirai kuthitanga

— Equality🔆 (@EaswaranTweets) February 27, 2021
One think wanna say you like sk right???

Funny ah podanum na antha bgm mattum potrukalame ethuku antha stalking ndra work use Pannenga bro athuvum stalker is back nu vera enna puluthiku potenga

Ithuku per enna??? Attention Seeking illama??

— Always SKian 🏌️ (@dhineshsk3) February 27, 2021
If this stalking, so means what ajith, vijay do in movies too. for instance bairavaa/viswasam checking out the actress by intense observations.
and there are directors who have been named for the glory of stalking.
just bec he's Sivakarthikeyan, it bothers right ? Sit down. https://t.co/cmzZudSL7k

— Caffeine. (@iaxmoon) February 27, 2021
Hey Priyankaa?

Why are you stalking SK anna?

😒😠 pic.twitter.com/XXK4yTh1rF

— ️️️️️️️️️️Sai Krish (@bsk5496) February 27, 2021