The Indian cricket team is currently playing a day night warm up game against Australia starting on Friday. The contest is expected to serve as preparation for the first test in Adelaide. The three day game is held at the floodlit Sydney cricket ground. Indian captain Virat Kohli didn't take part in the game and hinted that he wants go on with his own preparation. An extra spinner in Kuldeep Yadav or an additional batsman in Hanuman Vihari, the selection choice will be a big consideration for Indians.
[wp_ad_camp_1]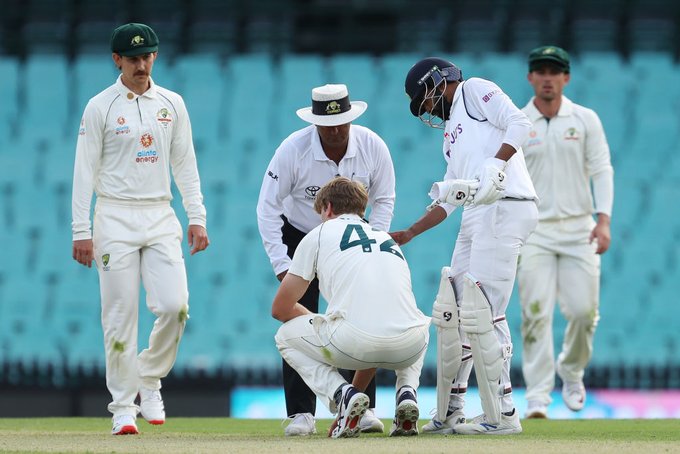 Meanwhile, during the first day of the match, while Indian team was batting, a ball struck by Jaspirit Bumrah at the straight, hit Australia A all rounder Cameron Green on the head. As soon as the incident happened, Mohammed Siraj who was batting at the non-striker's end, dropped the bat and rushed towards the bowler to check him whether he is alright. At that time, Bumrah had ran half way down the pitch to take a run but Siraj was standing near Cameron to check him.
This gesture from the Indian bowler has taken the Internet by storm and the Board of control for cricket in India uploaded a post, appreciating Siraj. "Non-striker batsman Mohd Siraj quickly rushed to check on Cameron Green, who got hit on the head by a Jasprit Bumrah straight drive." read the tweet of BCCI with the hashtag "Spirit of Cricket"
Watch the video of the incident below :
How is this for sportsmanship? Green cops one in the face, Siraj goes straight to check on him. 🇦🇺🇮🇳 #AUSAvIND #AUSAvINDA pic.twitter.com/ivPYyFF4qa

— Chloe-Amanda Bailey (@ChloeAmandaB) December 11, 2020
[wp_ad_camp_1]
After this incident, all rounder Green has been ruled out of the ongoing tour and has been replaced by Pat rowe. Cricket Australia said that the all rounder will be continued to be monitored by the medical team and the update on his condition will be made on Saturday.
Check out the post BCCI uploaded below :
#SpiritofCricket

Non-striker batsman Mohd Siraj quickly rushed to check on Cameron Green, who got hit on the head by a Jasprit Bumrah straight drive.

📷: Getty Images Australia pic.twitter.com/EfX9aEuu5i

— BCCI (@BCCI) December 11, 2020
Here's how fans reacted on seeing the gesture of Siraj :
He(Siraj) is came from my Telugu state, So proud to see his sportsmanship today 🥰🥰🥰🥰🥰🥰🥰🥰🥰🥰😍

— Shivakumar Kanakala (@ShivakumarKana6) December 11, 2020
That's the greatness of Indians.we prefer humanity than anyother thing.Salute for Siraj for showing gentleman's courtesy.

— Aejaz🇮🇳 (@Aejazwritings) December 11, 2020
Spontaneous reaction from Siraj. It comes straight from his heart.

— Hunter ᵛᵃˡᶤᵐᵃᶤ (@Hunterof3) December 11, 2020
[wp_ad_camp_1]
Large number of people in his own country hate the people of community which he belongs. They should see how kind people they are. Hatts off to Siraj. 🙏

— GURMEET (@INDIANsuave) December 11, 2020
Very good gesture on the part of Siraj . Hope Green is doing well

— Sachidanand Menon (@Sachida72117650) December 11, 2020
Siraj❤… Humanity is the back bone of sports…

— Praveen Rajendran (@Praveen73878447) December 11, 2020
After Hughes then any blow to the head sends shivers down the spine, great sportsmanship 😊😊😊😊

— Ants the Mag (@dinobaby02) December 11, 2020
Loved it & Very proud 🔥🔥🇮🇳🇮🇳❤❤👏🏻👏🏻#MSiraj 👏🏻👏🏻👑👑🙇🏻‍♂️🙇🏻‍♂️

What a Immediate Reaction !! That comes from Inner side !!!!🙌🏻🙏🏻

— Sidh Chaudhary 🇮🇳 (@Sid_Msdian) December 11, 2020