Simbu's Heroine Gave Birth To Child !!
Written by gokul krishnan Published on Jul 06, 2023 | 17:27 PM IST | 143
Follow Us
Comments: 0
Simbu's 'Silambattam' Sana captivated audiences with her performances. However, she took a break from the limelight after participating in reality shows and eventually tied the knot with Mufti Anas Syed in 2020. Recently, Sana delighted her fans by announcing the arrival of her baby boy on June 5th. Let's delve into the intriguing story of Sana Khan's transformation and her joyous journey into motherhood.
Sana Khan initially gained recognition in the Tamil film industry, commonly known as Kollywood, with her lead role in Simbu's 'Silambattam.' Her captivating presence and impressive dance moves made her an instant hit among audiences. Following this success, she went on to showcase her acting prowess in films such as Narain's 'Thambikku Indha Ooru,' Radha Mohan's 'Payanam,' and the Vishal starrer 'Ayogya,' released in 2019. Sana's versatility and charm won the hearts of fans and critics alike, solidifying her position as a rising star in the industry.
also read: Superstar Rajinikanth Failed To Mention Keerthy Suresh In His Tweet!! Check How She Replied
Sana Khan's popularity soared when she participated in the sixth season of the reality show 'Bigg Boss,' hosted by Bollywood superstar Salman Khan. Her vibrant personality, strong presence, and ability to connect with the audience made her one of the most loved contestants on the show. Sana's journey in the Bigg Boss house was filled with ups and downs, but she emerged as the second runner-up, leaving an indelible mark on viewers' minds.
After her stint in 'Bigg Boss,' Sana Khan decided to step away from the entertainment industry and focus on her personal life. In 2020, she surprised her fans by marrying Mufti Anas Syed, a prominent religious scholar. This union marked the beginning of a new chapter in Sana's life, where she sought to strengthen her bond with her husband and embark on a spiritual journey.
Choosing to embrace a more devout lifestyle, Sana publicly announced her decision to quit the world of cinema. She expressed her desire to dedicate herself to her family and deepen her spiritual connection. Sana's decision sparked admiration and intrigue among her fans, as they witnessed her transformation and respected her choice to prioritize her personal growth.
also read: Madhya Pradesh CM Sivaraj Singh's Gesture Won Hearts !!
Inevitably, as a public figure, Sana Khan's personal life became the subject of scrutiny. A video surfaced on social media showing Sana being dragged by her husband, creating controversy and raising concerns among her well-wishers. However, Sana promptly clarified the situation, explaining that she felt breathless during the incident, and her husband rushed her to safety out of genuine concern. Her clarification put the controversy to rest, emphasizing the importance of understanding and compassion in judging others.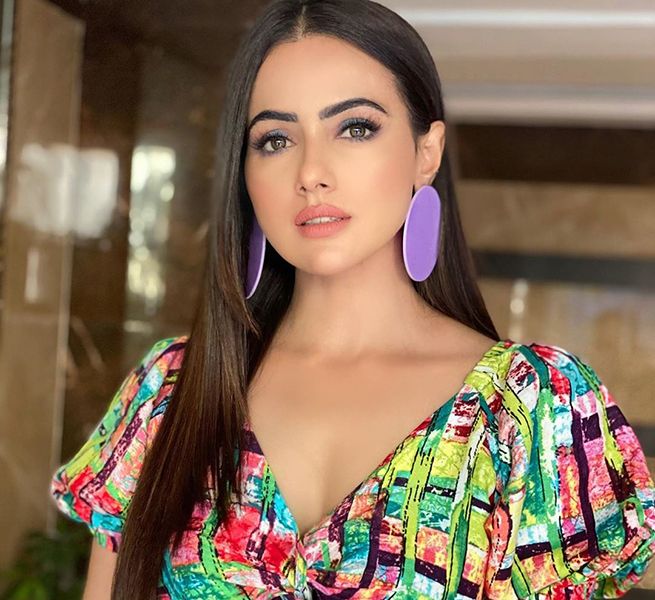 Late last year, Sana Khan announced her pregnancy while participating in an event, bringing immense joy to her fans and well-wishers. The news of her impending motherhood further reinforced her decision to prioritize her family and embrace the blessings of motherhood. On June 5th, Sana shared the delightful news that she had given birth to a healthy baby boy. Grateful for the love and prayers she received from her fans, she expressed her heartfelt thanks and hoped for the continued blessings from the almighty for herself, her husband, and their little bundle of joy.
also read: Samantha To Stop Acting In Movies ?
The news of Sana Khan's baby boy spread like wildfire on social media, eliciting an outpouring of love, joy, and congratulations from her fans. Social media platforms were flooded with heartfelt messages and well-wishes for the new parents. Fans expressed their excitement for Sana's new chapter in life and admired her for embracing motherhood while simultaneously navigating her spiritual journey.
Sana Khan's journey from her Bollywood and Kollywood debut to her decision to prioritize family and embark on a spiritual path is truly inspiring. Her notable roles in films like 'Silambattam' and 'Ayogya' showcased her talent and versatility as an actress. Sana's participation in 'Bigg Boss Season 6' further endeared her to the audience, and her decision to step away from the limelight and focus on family and spirituality was met with admiration and respect.
Despite facing controversies and misunderstandings along the way, Sana Khan remained steadfast in her choices and took the time to clarify any misconceptions. The recent arrival of her baby boy has brought immense joy and blessings to her life, further strengthening her commitment to her family and her spiritual journey.
Here is the picture below:

As fans and well-wishers celebrate this joyous occasion, they eagerly anticipate updates on Sana's journey as a mother and her continued exploration of spirituality. Sana Khan's story reminds us of the importance of personal growth, self-discovery, and the enduring power of love and family in shaping our lives. With a promising future ahead, Sana Khan's fans eagerly await her next steps and continue to shower her with love and support as she embraces motherhood and her chosen path.