Siddharth's Gives Back To Troller Who Compared Him With Swara !!
CM / Updated: 2021-05-08
16:33 IST
By Dhiwaharan
After severely criticizing the ruling government, Siddharth gave back to a Hindi speaking Gunta who compared him with Bollywood actress Swara Bhaskar. The actor said that he feels happy to be compared with Swara and lauded the actress by using the terms "cutie" and awesome". It is notable that the actress is known for her outspoken nature and there is no wonder he feels overwhelmed to be compared with her. On the same day, Siddharth trolled actress Kangana Ranawat for the controversial tweet of her which caused her termination from the micro blogging social media site.
[wp_ad_camp_1]
"Hindi speaking junta calling me south Ka Swara Bhaskar. Just to clarify…I would happily be Swara from anywhere or anytime. She's awesome and a cutie." the actor's tweet which garnered 40k plus likes so far read.
Hindi speaking junta calling me south Ka @ReallySwara .

Just to clarify…I would happily be Swara from anywhere or anytime. She's awesome and a cutie. ❤️

— Siddharth (@Actor_Siddharth) May 6, 2021
Pan Indian actor Siddharth who predominantly appears in Tamil cinema, is known for raising voice against Prime minister Narendra Modi. Recently, he faced threat from the followers of BJP party and shared about it in his twitter timeline to make public aware of it. He also denied police protection and said that they should be used for something else useful at this pandemic situation. On Friday, he took sly dig at actress Kangana Ranaut who is known as an ardent follower of BJP party.
[wp_ad_camp_1]
Controversial actress Kangana Ranaut's twitter account suspended permanently after she uploaded a tweet on the violence in West Bengal post election. The social media site said that the actress repeatedly involved in violating twitter policy and the account got suspended due to "hateful conduct and abusive behaviour".
A tweet uploaded by Kangana Ranaut against Mamata Bannerjee made the twitter management to suspend Kangana Ranaut, according to reports. The actress, reportedly urged Prime minister Narendra Modi to "tame" Mama Bannerjee using his "Virat Roop" from early 2000s in Bengal. Kangana posted the tweet reacting to Swapan Dasgupta of BJP on the violence in Bengal since election results were announced.
here's the screen shot of her tweet :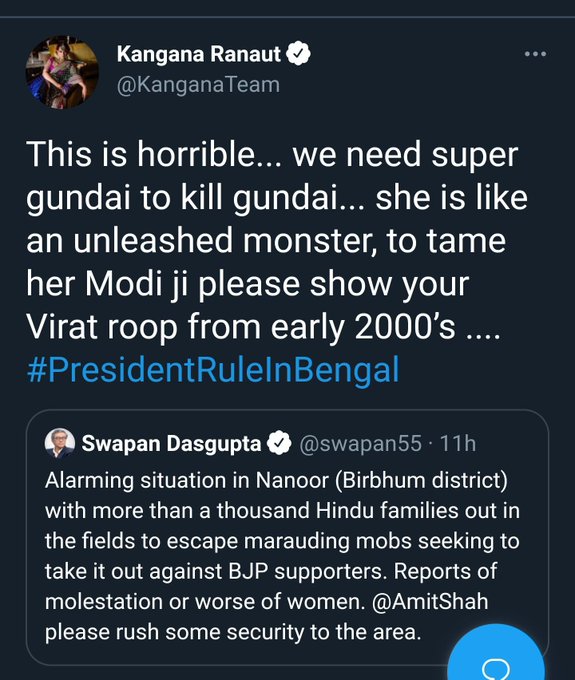 The tweet of the actress sparked outrage and public started demanding strict action against her for tweets. "We've been clear that we will take strong enforcement action on behavior that has the potential to lead to offline harm. The referenced account has been permanently suspended for repeated violations of Twitter Rules specifically our Hateful Conduct policy and Abusive Behaviour policy," said a Twitter spokesperson to the media.
[wp_ad_camp_1]
Now, mentioning the tweet, Siddharth wrote "I think it is a stain on democracy that @Twitter has curbed the rights of Padmashri #KanganaRanaut ji and banned her just because she praised Modi ji for his Virat roop in #Gujarat in early 2000s. Let the woman speak. Stop the patriarchy." in his tweet to troll her.
I think it is a stain on democracy that @Twitter has curbed the rights of Padmashri #KanganaRanaut ji and banned her just because she praised Modi ji for his Virat roop in #Gujarat in early 2000s. Let the woman speak. Stop the patriarchy. 👸

— Siddharth (@Actor_Siddharth) May 6, 2021