Shruthi Haasan's Open Reply To A Fan Who Questioned About "Smok*ng Pot"!!
Written by gokul krishnan Published on Jun 22, 2023 | 20:55 PM IST | 64
Follow Us
Comments: 0
Shruthi Haasan, the talented actress and daughter of the legendary actor Kamal Haasan, has once again captivated her fans and followers with her effortless presence on social media. Known for fearlessly facing trolls and responding with witty replies, Shruti Haasan recently entertained her hardcore fans through a live session and Q&A on her Instagram account. Amidst various questions, a cynic asked her, "Do you smoke?" Rather than avoiding the question like many celebrities might, Shruti Haasan tackled it head-on with a firm and clear statement, stating, "No, I don't smoke. I don't drink either. I live a sober life, and I'm very grateful for that."
also read: Mangalore : Bus Driver's Presence Of Mind Saved Multiple Lives!!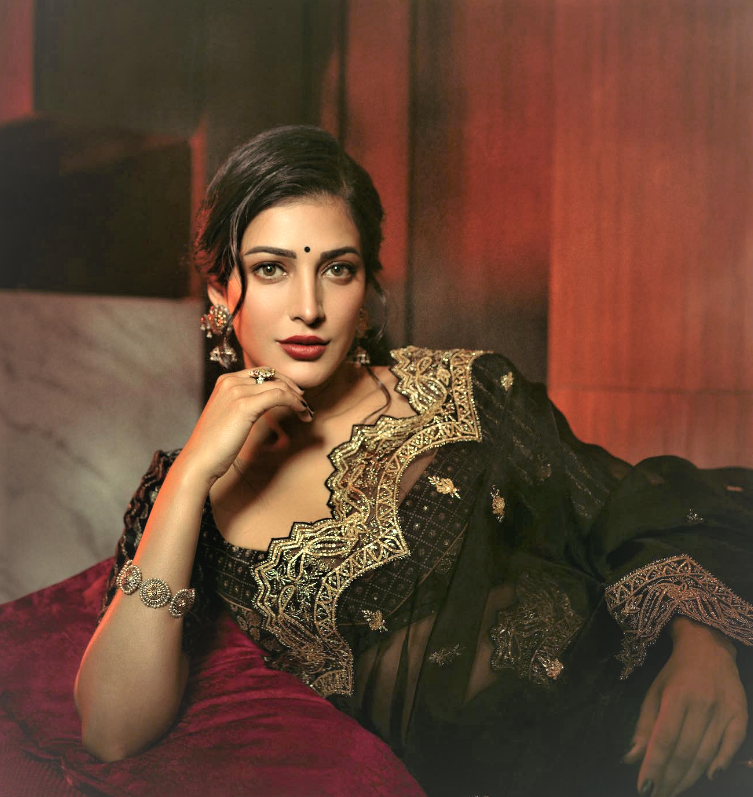 To further emphasize her point and dispel any drug-related assumptions, she also posted a picture using Instagram's 'Tattoo Filter.' This clever move showcased her confidence and shut down any unfounded rumors. Furthermore, Shruti Haasan gracefully handled some embarrassing questions as well. When a man asked her, "How many times did you do your homework today?" she quickly replied, "Three times, not bad." Her witty response showcased her ability to engage with her fans and entertain them with her playful nature.
Also read: Tamannah's Cozy Video With Vijay Verma From Lust Stories Goes Viral!!!
On the professional front, Shruti Haasan was last seen in the web series 'Bestseller,' where she shared the screen with veteran actor Mithun Chakraborty. Currently, she is in the final stages of Prashant Neel's highly-anticipated movie 'Salaar,' starring Prabhas and Prithviraj Sukumaran. Additionally, she has completed her Hollywood project titled 'The Eye.' Shruti Haasan's ongoing success and ability to gracefully handle trolls on social media reflect her strong and confident personality. By maintaining a genuine connection with her fans and openly addressing their questions and concerns, she fosters a positive and engaging environment on her social media platforms.
also read: Leo First Look Copied From This? Picture Goes Viral
Shruti Haasan's honest and genuine responses are appreciated by her fans, who admire her authenticity. Her ability to shut down trolls with a combination of wit and grace inspires others to follow her example and live authentically. With every interaction on social media, she continues to solidify her bond with her followers and create a positive impact.
also read: Vijay TV KPY Comedian's Wife Did This To Stop His Extra Marital Affair??
As Shruti Haasan continues to make strides in the entertainment industry, her fans eagerly anticipate her upcoming projects. Her versatility as an actress, coupled with her charismatic presence on social media, has garnered her a devoted fan base that adores both her talent and personality.
Shruti Haasan's recent social media interactions have once again showcased her effortless style and her ability to handle trolls with grace. Her candid and cool answers, coupled with her current projects, continue to captivate her fans and keep them eagerly awaiting her next moves in the entertainment world. Her genuine and engaging approach sets her apart and creates a deep connection with her fans, who appreciate her for being true to herself.
Here is the picture:
Shruti Haasan, with her talent and confident personality, has become a beloved figure in the entertainment industry. Her ability to fearlessly face trolls on social media and respond with grace and wit further solidifies her position as a role model for many. With her ongoing projects, such as 'Salaar' and 'The Eye,' her fans are excited to witness her versatility as an actress. Shruti Haasan's genuine and engaging interactions on social media foster a positive environment and create a strong bond with her followers. As she continues to captivate her fans with her talent and personality, there's no doubt that Shruti Haasan's future in the entertainment industry will be filled with success and adoration.