Amidst of Indian 2 shooting in Andhra Pradesh and press meets about current social issues, Kamal Haasan managed to attend the shooting of Bigg Boss's weekend episode which was held in EVP film city, Poonamalle. The actor hosted the show with ease as usual and roasted the contestants in his own way.
[wp_ad_camp_1]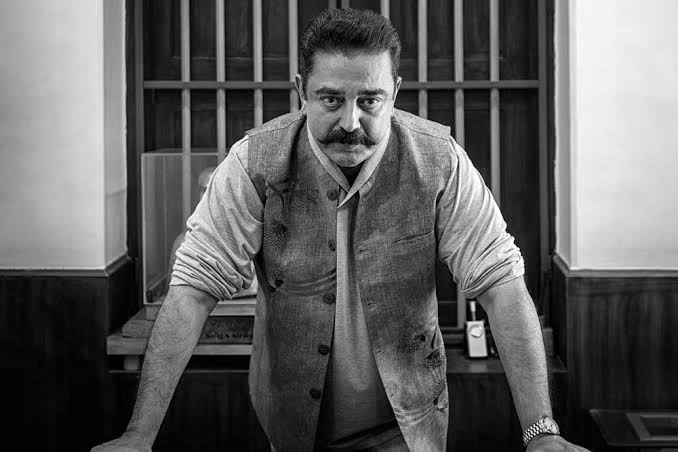 Bigg Boss Tamil 3, the Ulaganayagan hosted reality show, is just a few days away from the grand finale. As the reality show is inching closer to the finale, the contestants are being tested by Bigg Boss in every possible way. The latest episodes of Bigg Boss Tamil 3 contains intense tasks yet competitive as housemates were given multiple tasks for the 'ticket to finale'. In the weekend episode, Kamal entered the house and gave the finale ticket to Mugen who excelled in the 8 given tasks.
Meanwhile, the evicted contestant was also announced by the "Hey Raam" actor in the weekend episode. Director/Actor Cheran, who got evicted already has been evicted again by the audience of Bigg Boss. He spent 90 days inside the Bigg Boss house which includes 3 days of secret room.
[wp_ad_camp_1]
Actress Kasthuri who participated in the show as wild card contestant disappointed on seeing his eviction and expressed it through her official twitter account. She wrote "சே !!! Disappointed. Most manipulated show ever. எச்சே !!!" by adding an eye emoji.
Check out her tweet here :
சே !!! Disappointed. Most manipulated show ever.
எச்சே !!!#nohashtag 👁

— Kasturi Shankar (@KasthuriShankar) September 22, 2019
It is notable that Kasthuri often said that she entered Bigg Boss house only to learn something from an experienced artist like Cheran. She even confronted Losliya at some occasions for not showing affection to him as a daughter when he needed it the most.
Few also believed that the comment of Kasthuri surfaced once she witnessed Kavin getting saved by Kamal Haasan in the show. Kasthuri while being inside the house said that Kavin would get evicted within 2 weeks of her eviction. Check out some of the reactions for her tweet below :
Madam sandy, losliya Ku Ella kooptu vechu pasama thana advice pannaru big boss appo Madhu matter la ipdi kooptu vechu pesiyum Madhu kai aruthangala….

— தளபதி 🤚ஜெய் (@JaiGaneshbri) September 22, 2019
Pls mam u don't manipulate tweeters 😜 #BiggBossTamil3

— RænjithKumar (@romeorkr) September 22, 2019
Neenga panna comedy ah thaan pathome ulla 😂😂😂 Namakellam twitter thaan correct ah irukum.#Pimbilikki_Pilappi

— Hidden Folder (@Hidd3nFolder) September 22, 2019
[wp_ad_camp_1]
One of the cheapest and worstest season ever… Ethula most famous season uhm😣😣😖🤬🤬oru niyayam nu venaam…. KH n vijay tv thinking ppl are fools.. 😫😫😫💦💦💦

— *•. 🌹 ιи∂υ 💤 ❤️ 🌹¸.•* (@indusha21) September 23, 2019
Yes… Most manipulated show ever in history. #cheranrealwinner

— Prabhakaran (@iamprabhakar87) September 22, 2019
What do you think on this tweet of Kasthuri ?? Comment your views below !!