Shivangi's Heart Touching Post From "Cook With Comali" Set!!
Follow Us
Comments: 0
Shivangi's Reflections on Cook with comali
In a heartwarming and emotional post, Shivangi, the talented singer who captured the hearts of many with her melodious voice on Super Singer, shared her bittersweet experience on the set of Cook with comali's 4th season. After participating in three previous seasons as a clown, Shivangi made her debut as a contestant in the fourth season. Despite not winning the title, she gained widespread recognition for her singing talent and went on to perform in numerous musical concerts. Now, as she bids farewell to the show, she takes a moment to reflect on the four-year journey she embarked on.
SHIVANGI
Shivangi's journey on Cook with comali began as a clown, spreading laughter and joy among the audience with her endearing antics. Little did anyone know that behind the clown's mask was an extraordinary singing talent waiting to be discovered. It was during her time as a clown that she revealed her passion for music, and the audience quickly fell in love with her dual talent of making them laugh and mesmerizing them with her songs. This unique combination made her a fan favorite, and viewers eagerly awaited her appearances on the show.
Also read: Samantha Is In The Receiving End For Endorsing Sadhguru!
SHIVANGI AS COMALI
After three successful seasons as a clown, Shivangi decided to take a leap of faith and participate as a contestant in the 4th season of Cook with comali. Although her decision came as a surprise to her fans, they were excited to see her showcase her singing skills on a larger platform. Shivangi's performances on Super Singer had already proven her vocal prowess, and her inclusion in the culinary reality show brought a delightful twist to the competition.
Also read: Delhi Youth Died In Gym Due To This Unexpected Reason!!
As a contestant, Shivangi had to face new challenges in the kitchen, and she embraced each one with determination and enthusiasm. Cooking was a whole new world for her, and while she may have been a comali (clown) in the kitchen at times, her commitment to learning and improving never wavered. With each episode, she grew not only as a singer but also as a cook, surprising the judges and fellow contestants with her culinary creations.
Shivangi's emotional post captures the essence of her four-year journey on Cook with comali. The last photo she shared from the set of the 4th season reflects the final moments she spent with the show's crew and fellow contestants. The picture encapsulates the camaraderie, the laughter, the tears, and the memories that were woven into the fabric of her time on the show. As she bids farewell to the show that became a significant part of her life, she expresses gratitude to the viewers and the entire team for their unwavering support and encouragement throughout the years.
Also read: Coimbatore Man Accused By His Wife Of Wife-Swapping !!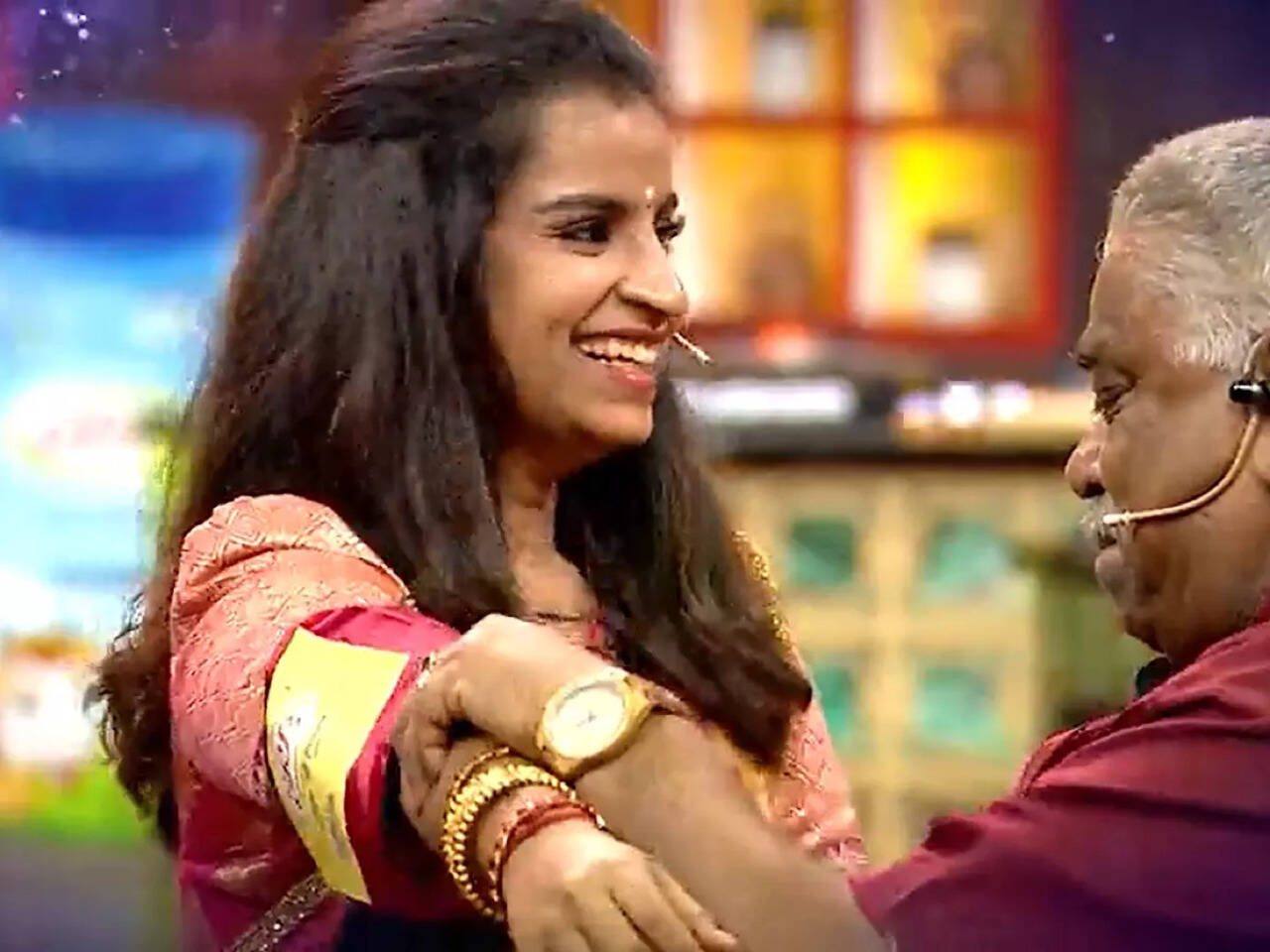 SHIVANGI AS A COOK
Amidst the sadness of leaving the show, Shivangi expresses her profound gratitude for the opportunities she received and the love she garnered from the audience. She acknowledges that her journey on Cook with comali has not only made her a better singer and cook but also a stronger individual. As she looks ahead, she promises her fans that this is not the end of her musical journey. Instead, it marks a new chapter in her life where she will continue to pursue her passion for music and entertain her well-wishers through various avenues.
Shivangi's emotional post from the sets of Cook with comali's 4th season beautifully encapsulates the joy, learning, and growth she experienced during her four-year journey on the show. As she bids farewell to this cherished chapter of her life, she embarks on a new adventure with a heart full of gratitude and enthusiasm