Ever since the film "Master" released in the theatres of Tamil nadu, trolls targeting the supporting actors of the film kept surfacing in the internet. Based on their limited screen time, users of social media platforms made memes to troll the actors. Actors Shanthanu, Deena, Andrea, Malavika Mohanan, Sanjeev became victims of the mindless trolls in social media. For uploading a throwback video of practicing Archery, followers of Andrea Instagram account made fun of her in the comment section. Now, actor Shanthanu came up with a tweet, writing how much the project "Master" means to him irrespective of the screen time.
[wp_ad_camp_1]
The ensemble cast of "Master" includes Vijay, Vijay Sethupathi, Arjun Das, Nasser, Malavika Mohanan, Shanthanu, Gouri Kishen, Ramesh Tilak, Andrea, Mahendran with several other well known youtube stars. Locking horns with John Durairaj played by actor Vijay, Vijay Sethupathi who represented Bhavani, comes as a ruthless killer who uses juveniles as his pawns to establish his criminal enterprise.
When the protagonist is being loved by his students for his good heart and swag, naturally the college management wants to get rid of him. Circumstances lead him to become a teacher in an observation home where Bhavani is using the kids for his business. The entire second half lies on whether JD managed to save the children from Bhavani and his men or not.
In the film, Shanthanu played the role of Bhargav, a college student with an influential background. He who initially dislikes Gouri Kishen for standing against him in the college election, ends up having a strong bond with her. However, Bhavani, to avenge JD, kills him by staging a road accident. Many fans who expected Shanthanu to play a significant role in the film, started trolling him after seeing the movie.
[wp_ad_camp_1]
Shanthanu was the Bobby Simha from Petta in Master

— துவாரகன்🐅 (@Thuvarahan18) January 13, 2021
Shanthanu role in master ! 😁😁😁😁😁😁😁😁#MasterDisaster pic.twitter.com/ftntqQi6DY

— AMUTHAN_AK (@AMUTHAN_AK) January 13, 2021
Thalapathy-VJS-Arjun Das-Poovaiyar ivanga matum than padathula therinjanga✅

Mathapadi malavika,shanthanu,andrea,thalapathy friends,youtube stars ivangalam epo,ethuku vanthanga ❌

Ivlo periya cast & crew atlee ipdi waste paniruntha kadhari vachirupaanunga#Master #MasterFilm

— MaayoN 🎩💫ᴹᵃˢᵗᵉʳ (@itz_satheesh2) January 16, 2021
Shanthanu gave more interview than the number of shots where he would appear In the film . To be precise he was shown in exactly 8 shots in the film . When opened youtube he has given 35+ Interviews from the day master title was announced . Wtf da ? #shanthanu #Master

— milf2film (@GuyisRitchie) January 15, 2021
#Master

Andrea, Gouri Kishan , Shantanu, Sriman, Sanjeev, Srinath, Prem, Nagendra Prasad, Dheena, VJ Ramya, Nasser

YT fame Nakkalaties & Brigida (avlo fans iruthathe paathen before film release), but just a blink & miss role pic.twitter.com/qDEjjCx4le

— arunprasad (@Cinephile05) January 13, 2021
Mahendran & Shantanu interview la patha avanga padathula etho Pani irukanga nu nenacha ☺☺

2 naal tan shooting eh poi irupanga Pola ana Padam full ah iruntha madiri pesanaga lae !!#Master

— MãÑØJ💙 (@sachinnManoj) January 13, 2021
டேய் சஞ்சீவ் ,தீனா ,சாந்தனு நீங்க படத்துல வந்த சீன்ஸ விட நீங்க படத்துக்காக கொடுத்த பேட்டி அதிகம் டா

— ஈஸ்வர சேட்டு (@SettuOfficial) January 13, 2021
Shanthanu watching his ̶r̶o̶l̶e̶ cameo in Master pic.twitter.com/b5nNDvToDs

— Rakesh Koothrapalli (@summairrakesh) January 14, 2021
[wp_ad_camp_1]
Replying to these trolls, Shanthanu uploaded a tweet in his official Twitter account saying that it's still an achievement to be part of such a magnanimous project. He said that it doesn't matter if it is a singe scene or full movie and said that he feels proud to be a part of such project. He also added the video of himself celebrating the first day first show of "Master" in Rohini theatres.
"Oru scene oo, muzhu padamo.. it's still an achievement to be part of such a magnanimous project & I'm proud of it" said Shanthanu in his tweet.
A snippet of the FDFS celebration of #Master … Oru scene oo, muzhu padamo.. it's still an achievement to be part of such a magnanimous project & I'm proud of it🙂🙃
Happy to be part of such a team & I've earned good friends🤗💛😍https://t.co/voxPFciAdT #MasterFilm #FDFS pic.twitter.com/rsgzUL4DEV

— Shanthnu 🌟 ஷாந்தனு Buddy (@imKBRshanthnu) January 16, 2021
Earlier, he replied to a fan who met him during the making of "Master". The fan said that Shanthanu is a hard worker and disclosed about Shanthanu's dedication to act in "Master" movie. The fan who felt bad on seeing the trolls, said that Shanthanu used to practice 3 hours daily to act as a student in "Master".
Here's the message of the fan :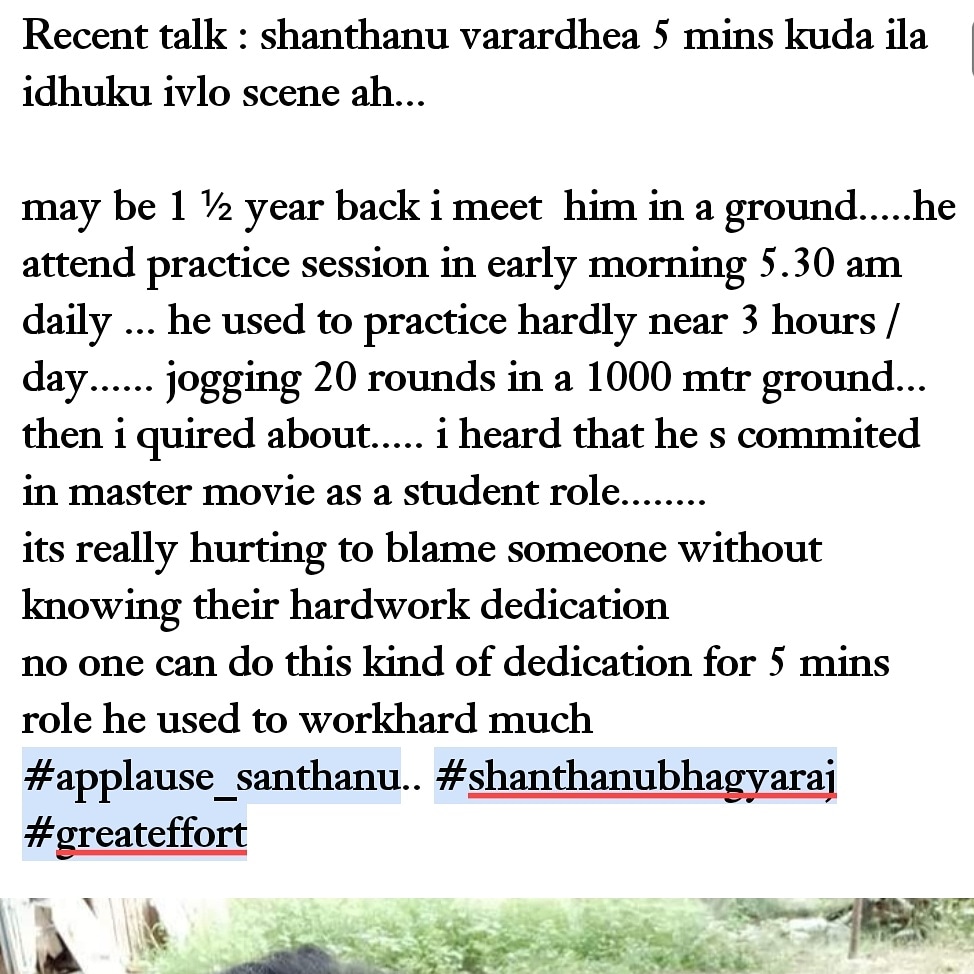 Shanathu shared this tweet by adding positive emojis :
January 15, 2021