Shami Tried To Communicate In English Himself In Post Match Presentation !! Host Simon Stunned !!
cricket
IndiavsNZ
Kholi
Shami
Virat
4 years ago
By Dhiwaharan
India with its dominating performance made a clear 3-0 series win against New Zealand on their home soil on Monday.
After registering a comfortable 7-wicket win, Kohli became the first Indian captain to win back-to-back ODI series in Australia and New Zealand.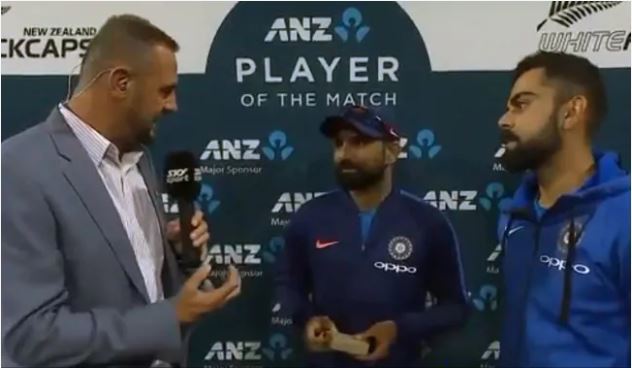 The match was nicely set up for the Indian team by the bowlers led by Mohammed Shami, who finished with 3 wickets for 41 runs. Bhuvneshwar Kumar, Hardik Pandya and Yuzvendra Chahal bagged two wickets each.
[wp_ad_camp_1]
Winning the Man the Match for his bowling performance, he was called to speak along with skipper Kohli as his translator. The pacer had needed Kohli's help in Napier where he answered the questions in Hindi which the captain translated in English.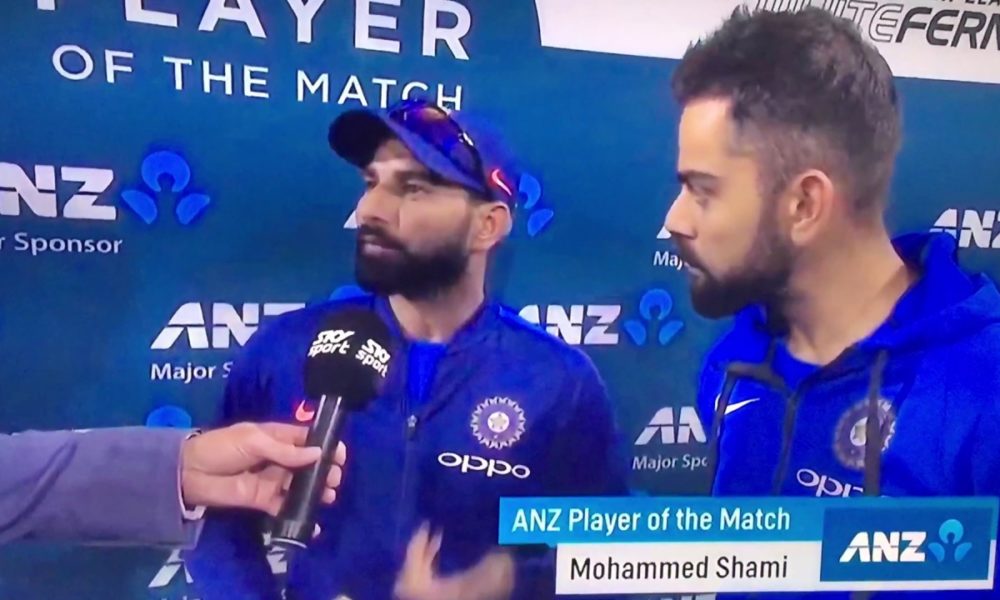 However Shami – who is known to bowl people out in style – took everyone by surprise, especially former New Zealand fast bowler Simon Doull who was conducting the presentation.
Shami surprises Simon Doull by speaking in English who responds in Hindi "your English bahut achha (very good)" #IndvNZ pic.twitter.com/F9p9GDH0Ez

— Navjot Piddu (@DesiFamilyGuy) January 28, 2019
Shami decided to go for it and said, "It's really difficult to bowl against the wind. One comes with the wind and the other is against the wind. It is difficult but not too hard. Bhuvi at the other end was also a great help. Sticking to areas where we want to bowl is the key".
[wp_ad_camp_1]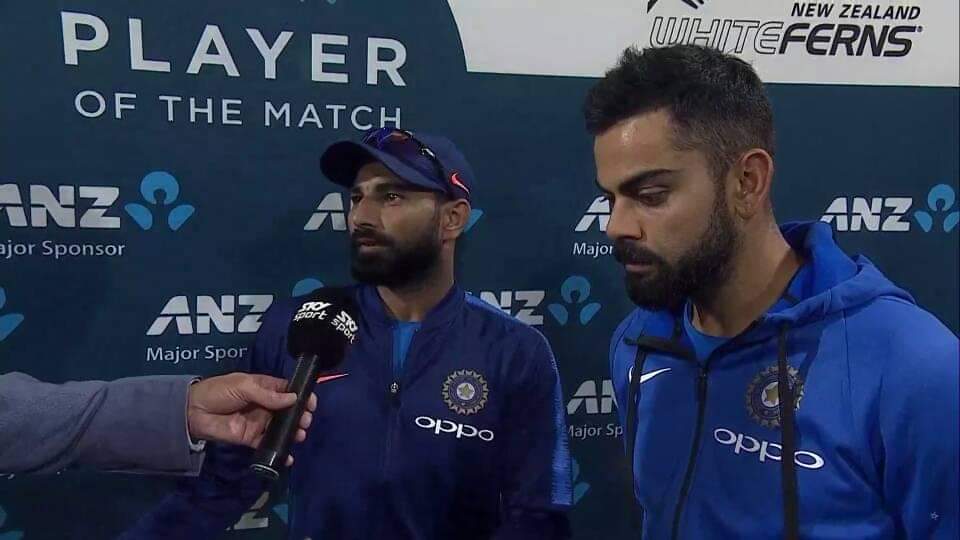 Doull was so impressed with Shami's effort that he complimented him in Hindi. He said, "Your English bahut acha, congratulations," making everyone burst out into laughter.
Check how twitter enjoyed the moment :
In this match i enjoyed only three thing..1.Irfan bhai commentary
2.Mohammad shami english
3.Simon doull comment on shami english "your english bahut achha hai"

Hahaha well done shami 🤣🤣😂😂 @MdShami11@IrfanPathan #NZvIND

— Sanu Tripathi (@sanutripathi771) January 28, 2019
Post Match presentation.

Simon Doull to Shami : Your English bahut acha. 🤣🤣🤣🤣 #NZvInd

— Lord Voldemort (@Smart_Ladka) January 28, 2019
" Bhuvi that end taken, I am this end bowling " – M Shami

" Your English, BHAHOOTH ACHA " – Simon Doull. 😂😂😂#NZvIND

— சங்கமன் அரசு (@sangamanarasu) January 28, 2019
#NZvIND Just watched the post match presentation of Shami. It was amazing. @Sdoull – " Your English bhott accha"😁 @Sdoull learnt some Hindi at @cricbuzz @IPL
??? #Shami

— Umang Goswami (@Umangism) January 28, 2019
Late post
Simon Doull to Md Shami: "Your english bahut acha"😂
I think he should start hindi commentary😂😂😂

— J P Behera (@itz_jpb) January 28, 2019
Shami surprised presenter by speaking in English😂😂🤣 https://t.co/ic1CRjx1Pz

— Jafar Iqbal Laskar (@LaskarJafar) January 28, 2019
Just saw shami's post match presentation
Wtf was that😂 why he came with virat when he wanted to speak in English? That's a real brainfade.

— Nitesh Khandelwal (@k_nitzz23) January 28, 2019
[wp_ad_camp_1]
Kohli came to trasalate the Hindi but Shami spoked English in the presentation and @Sdoull is impressed with his english. pic.twitter.com/b0HkxwN56p

— Johns. (@CricCrazyJohns) January 28, 2019
Moments that made the day happy:
*Shami back to having a nic of picking up wickets in every match.
*Pandya stunning catch!!and his 2-45 after his return.
*Contribution from all the top 5 batsman.
Finally
Simon doul: "Your ENGLISH BAHUT ACHA".#INDvsNZ #INDvNZ

— Ravi Kumar#RK (@ravikumar9s) January 28, 2019
After Simon's compliment, Virat laughed with pride and gave a pat to Shami while leaving the presentation. That is one way of showing his sigh of relief ?? Comment your views on this !!