Separate Vaccination Drive For Brahmins ?? Video Creates Outrage
CM / Updated: 2021-06-05
15:47 IST
By Dhiwaharan
A number of politicians of party BJP in Bengaluru, including deputy chief minister C.N Ashwath Nayaranan came under scanner after the allegations over a certain COVID 19 vaccine drives functioning only to give preference to a particular section of society which includes caste-based groups. A video of a group of Dalit men complaining about authorities sending them back after inquiring about their caste identity has created a huge controversy. They were sent back saying that the vaccination camp is "exclusive" for people who belong to Brahmin caste.
[wp_ad_camp_1]
In the Malleswaram constituency of BJP MLA Ashwath Narayanan, one of the vaccination drives functioned only to vaccinate Brahmin people who are not on the list of priority group. Many users of twitter, including Congress leader B.K Hari Prasad condemned the "Caste based vaccine camps" and a hashtag saying "BJP vaccine camp" also trended in twitter.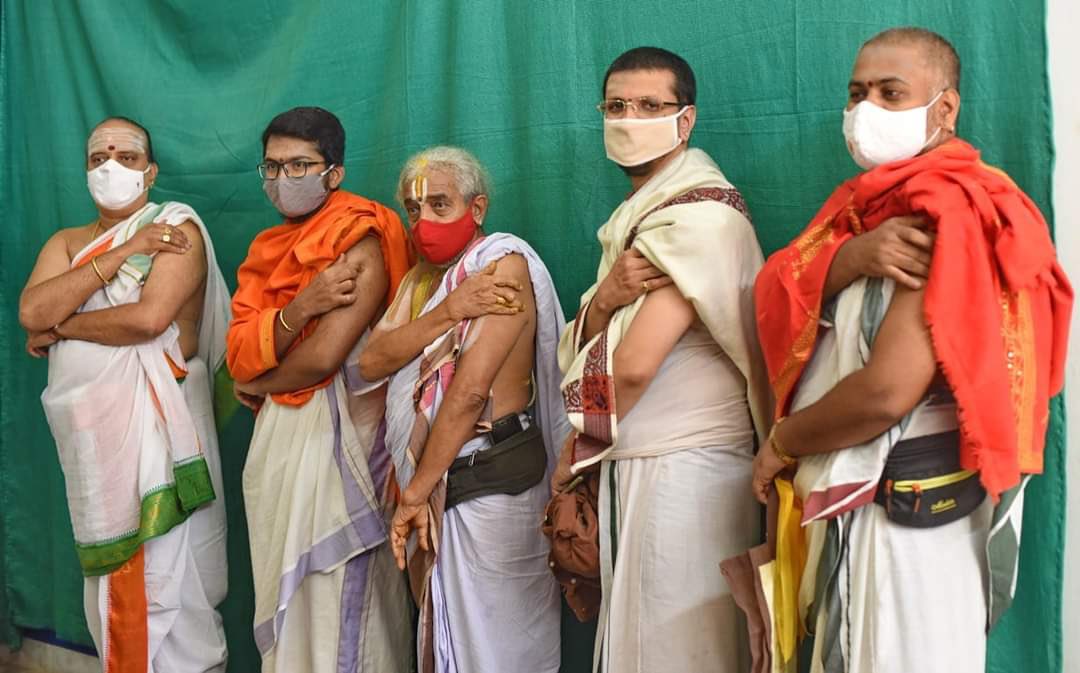 Office of Deputy Chief minister and MLA Ashwath Narayanan denied the allegation saying that the camp was held for senior citizens and a group of Brahmin priests turned up, they claimed, arguing that the photos that did rounds in social media were used out of context. However, a video of a group people who belong to scheduled caste narrating about the humiliation they went through while trying to get vaccinated at the particular drive, went viral in social media platforms.
Sharing the video, a Congress party member wrote "In Bengaluru's Malleswaram Government Hospital SC/ST were turned away as COVID vaccines were being only given to Brahmins"
Watch the video below :
In Bengaluru's Malleswaram Government Hospital SC/ST were turned away as COVID vaccines were being only given to Brahmins😡 pic.twitter.com/hecSYSXhix

— Brijesh Kalappa (@brijeshkalappa) June 2, 2021
[wp_ad_camp_1]
In another incident, MLA S. Raghu is accused of diverting vaccines from a primary health centre to a marriage hall that he owns and made the BJP party workers and his family members to get vaccinated, on Tuesday. Nearly 300 people who were supposed to get vaccinated returned home with disappointment and conducted a protest expressing their emotions, according to reports. However, MLA Raghu claimed that it is a "political conspiracy" to defame him and claimed that the vaccine drive was shifted as per government guidelines. Last week, another MLA named Ravi Subramanya was also accused of "vaccine trade". However, he denied the allegation that were raised against him as well.
Users of social media who witnessed the videos and reports against the BJP politicians, has been condemning them through their posts and tweets.
Exclusive vax center for Brahmins organised by Deputy Karnataka CM. What is their merit to get vaccine reservation? 30y/o Brahmin gets vaccine but 70y/o Dalit suffers from vaccine shortage. Why not vaccine on economic basis? Manu ki shakti dhoom machaye, Dalit corona se marr jaye pic.twitter.com/qh5XKjA2da

— Sankul Sonawane (@Sankul333) June 2, 2021
[wp_ad_camp_1]
Casteism illa nu evanachum thookitu vaangale https://t.co/n7Unu1gHjU

— 𝘈𝘬𝘢𝘳𝘴𝘩 𝘚𝘳𝘪𝘳𝘢𝘮🇵🇸 (@akarshsriramno1) June 3, 2021
DCM @drashwathcn does a special vaccination drive for priests in Malleswaram. And this lead to huge fight at the vaccination Center.

Vaccination has become caste based

Will this kind if vaccination be done for other castes ?

Kuruba, gowda, chetty vaccination drive?? pic.twitter.com/WAWLM38U78

— Lavanya Ballal | ಲಾವಣ್ಯ ಬಲ್ಲಾಳ್ (@LavanyaBallal) June 1, 2021
Karnataka govt is running a special vaccination drive for brahmins😑 Caste virus is more dangerous than deadly Coronavirus!!🤷‍♀️

வாருங்கள் ஹிந்து சொந்தங்களே Vaccine Reservation-னை பற்றி விவாதிப்போம்😌 pic.twitter.com/xTMKL5Ne4q

— Mannu (@mannu_talks) June 1, 2021