Viral Video Of Mayor Priya Being Mentioned As "Kuzhanthai" !!
Written by Dhiwaharan Published on Mar 06, 2022 | 22:10 PM IST | 167
Follow Us
Comments: 0
Video of new Chennai's Mayor Priya facing the press for one of the first times is going viral in social media as someone, presumably Sekhar Babu, senior DMK leader, could be heard referring her as a "Kuzhanthai" (Baby) in front of the media. He also prompted for her when the press reporters asked her what Chief Minister MK Stalin told her personally. The video is going viral in social media platforms with various kind of reactions from the online users.
On Friday, Chennai city got it's youngest and third woman mayor. R. Priya of the ruling DMK party is also the first ever Dalit mayor of the capital of the state. On Thursday, DMK party nominated Priya as its mayor Candidate for the Greater Chennai Corporation as it enjoys majority. Being a grand daughter of former DMK MLA Chengai Sivam, Priya hails from a strong political background.
Priya is the daughter of "Perambur" R. RajanRajan, a ward level DMK functionary in Thiru. Vi. Ka NagarNagar, who has been in the party for over 30 long years. Being a Chennai born, Priya completed her M.com in Sri Kanyaka Parameshwari for Women. As soon as she became the first ever youngest Mayor of the city, she received accolades and appreciations from all over the state.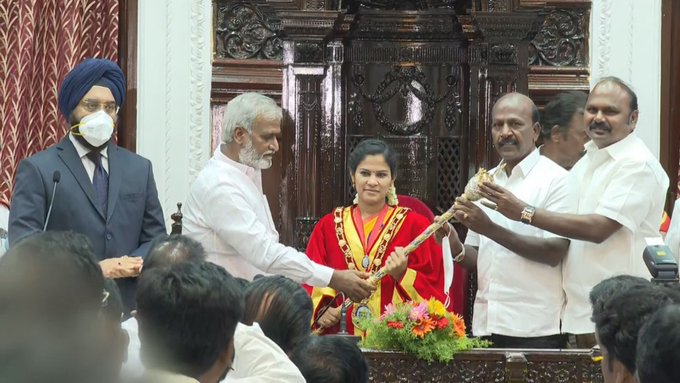 In a recent viral video, Priya met press reporters for the first time and senior DMK leader Sekar Babu could be seen helping her to answer the questions by giving her prompts. After the press reporters finished questioning her, Babu caught on mic saying "Kozhanthai kita poi ipdi kelvi kekreenga" (Why are you asking such questions to a child?)
Watch the video below :
குழந்தைக்கிட்ட போய் இப்படி கேள்வி கேக்குற- சேகர் பாபு

அப்புறம் ஏன்டா குழந்தைக்கிட்ட மேயர் பதவி கொடுத்தீங்க- மக்கள்… pic.twitter.com/KqBQQy5Nr0

— Prabhakaran Kamaraj (@wolfprabha) March 5, 2022
The video is going viral in social media platforms with many kind of reactions from the online users, including from BJP's Gayathri Raguramm.. Check out some of them below :
குழந்தைக்கு மேயராக பொறுப்பைக் கொடுத்திருக்கிறீர்கள்.. அதனால்தான் ஒரு குழந்தையிடம் கேள்விகள் கேட்கப்பட்டன.. எப்படியிருந்தாலும் வாழ்த்துக்கள் பிரியா அவர்களே.
pic.twitter.com/to72zUsU2g

— Gayathri Raguramm 🇮🇳🚩 (@BJP_Gayathri_R) March 5, 2022
பத்திரிக்கையாளர்களை கண்டால் பிரதமரே பதறியடிச்சு ஓடுர நாட்ல முதல்முறையா பத்திரிகையாளர்கள சந்திக்கர இளம் மேயர கிண்டல் பன்ற மனசு இருக்கே அதுக்கு பேர்தான் கடஞ்செடுத்த சல்லித்தனம். pic.twitter.com/Mjt0fFgC2B

— ɱąཞƙ2ƙąƖı (@Mark2Kali_) March 5, 2022
Utterly shameful if shekar babu had said that really..why can't they have given it to a deserving candidate in SC community than give it to a pliable dynast proving it was a mere gesture not affirmative action https://t.co/Kty3GRvUV3

— Sudhir Srinath (@SudhirSrinath) March 6, 2022
Nice….. No? https://t.co/8SoO6Go2cf

— Sumanth Raman (@sumanthraman) March 5, 2022
என்ன சிறப்பு. இது மாதிரி மோடியை பேட்டி குடுக்க சொல்லு பாப்போம் https://t.co/gJFaSmJZNd

— Savukku_Shankar (@savukku) March 5, 2022