Selvaraghavan Reveals What He Said To His Associate Director When He Asked Him To Act !! Check Out The Reactions !!
Written by Dhiwaharan Published on Nov 03, 2018 | 07:25 AM IST | 81
Follow Us
Comments: 0
Selvaraghavan was born in a Tamil family to film director Kasthuri Raja and Vijayalakshmi. He has a brother, Dhanush, who is an actor, and two sisters, who are both doctors. Afflicted with Retinoblastoma, a cancer of the retina, an eye had to be removed so the cancer wouldn't spread and Selvaraghavan makes public appearances wearing glasses.
Now apart from his director, Singer, Lyricist avatars , the favourites of so many aspiring filmmakers has revealed that some has approached him to make an appearance in their movie.
[wp_ad_camp_1]
The one approached him was no one but Selvaraghavan's own associate director which the revealed by the director himself in his official twitter account. It would be really nice if we get that opportunity to witness this master of making films as a protagonist of a movie. Even many aspiring filmmakers may started writing scripts featuring their very own master after seeing this tweet of him.
The tweet of the director read "My Associate director asked me a few months ago if would act in his maiden film. I just smiled"
Check out his post here :
My Associate director asked me a few months ago if would act in his maiden film. I just smiled 🤓🤓🤓🤓

— selvaraghavan (@selvaraghavan) November 3, 2018
Check out some of the reactions Selva received for this tweet :
My friend Vijay fan asked me when will you get #NGK update? I just smiled

— Sharma (@Sharma94860) November 3, 2018
My friends asked.. enna macha Ungaluku #NGKupdate varuma nu..
I smiled .. He Vilundhu vilundhu smiled..

— அன்பானவன் (@SBR_offl) November 3, 2018
Nadinga sirr… At least Neenga nadikrathai aachum paakrom.. Naanga 🤐

— sᴜᴍᴀɴ sᴜʀʏᴀ 😎🔥 (@suman_csk) November 3, 2018
Pls genius we want to see your acting skills also 😍

— Mani (@Manibose16) November 3, 2018
My Friend Vijay fan asked me
Is NGK Dropped 😔 🙏
I smiled 🤓🤓🤓🤓🤓

— Siddharth PS (@siddharthps73ps) November 3, 2018
Sir diwaliku oru poster avuthu vidunga sir 🙏🙏🙏🙏🙏🙏 @prabhu_sr @Suriya_offl

— vaideeshwaran (@vaideshwaran091) November 3, 2018
#NGK ah release panitu ennavum pannunga na🙏

— NGK😎 (@sivaah0905) November 3, 2018
I wish to see you act on screen Genius CSK sir👨‍🏫🤓🤓…Please do villian role….I have already started my imagination 💪💪💪

— Mavis Chitra H (@mavis_chitra) November 3, 2018
Time. இருந்தா பண்ணுங்க சார்
Off screen செல்வா வ கொஞ்சம்
எங்களுக்கு காட்டுங்க..

— Vasanthapriyan S (@VasanthapriyanS) November 3, 2018
Nanga onnu daily kekarom adhuku onnum Sola matrigalae jii 🙄 pic.twitter.com/qQ5BgVv5Bp

— Dr_Mani (@Msmani_Offl) November 3, 2018
Selva kusumbu Kaaran ball potu pulse paakuraan

— Senthil Kumar (@SteveThala) November 3, 2018
same expression only u r giving when surya fans asking u , NGK updates 🙆‍♀️

— its_me_மனிதன் (@OMGitsme2468) November 3, 2018
Thala…. NGK update kudunga

— 🚗🔥 (@__iamkarthick) November 3, 2018
Poda… Na innum #NGK eduthu mudikkave varusham kanakkula aagum.. Nadikkka koopadraan. Poi vera aal iruntha paaru nu neenga sollirupeengaley ?#NGKUpdate

— Kishore (@Ayan_Kishore) November 3, 2018
நீங்கள் ஒரு படம் மூலமாக நடிப்பு திறனை நிருபிக்க வேண்டிய அவசியம் இல்லை

— தமிழன் முருகா (@MurugaSTR3) November 3, 2018

Director Selvaraghavan, who is currently working on the Suriya-starrer, 'NGK' or Nandha Gopala Krishna is all praise for its lead actor.
[wp_ad_camp_1]
The 'Mayakkam Enna' and 'Irandaam Ulagam' director tweeted that if he ever wanted to work with the same actor again, it would be Suriya. Earlier the crew promised Surya fans that the film would hit the screens on Diwali but unfortunately they could not keep their word. Even Surya apologized his fans in many stages regarding the delay. Now the fans are waiting for any kind of update from the crew of NGK it seems.
No matter what genre he covers, the expectancy level of Selvaraghavan films are always sky high. The director can be labeled as one of the most ambitious directors in Tamil films – Irandam Ulagam is another product that is a result of his ambitiousness.
[wp_ad_camp_1]
After writing the script for his father's directorial venture Thulluvatho Ilamai  (2002), Selvaraghavan went on to make a series of romantic drama films with Kadhal Kondein (2003) and 7G Rainbow Colony (2004) before also venturing into coming-of-age films Pudhupettai (2006).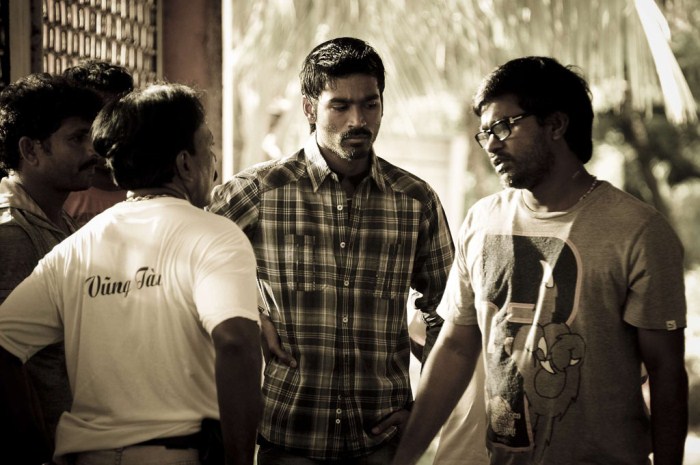 He has also ventured into making science fiction and fantasy films, such as depicting a fantasy Chola kingdom in Aayirathil Oruvan (2010) and a parallel universe in Irandam Ulagam (2013). He has been critically acclaimed for his directorial skills.
What do you think on the director making his acting debut ?? Comment below !!