Sehwag Opened On Buying Natarajan For A Huge Price For The First Time !!
CM / Updated: 2020-12-05
11:47 IST
By Dhiwaharan
Entire Tamil nadu went gaga over Natarajan's first International wicket against Australia in his debut match. Along with fans, cinema actors, political personalities and sports experts lauded the left hander's performance in his debut match. In his debut T20 international, Nattu picked three important wickets by conceding just 30 runs in the four overs he bowled. Cricket experts and fans highly believe that Natarajan is an excellent find of this year's IPL and comparing him with the legendary left hand seamer of India Zaheer Khan. Nattu is expected to replace him by improving his abilities.
[wp_ad_camp_1]
On seeing his successful debut, Virender Sehwag who picked him in the auction for Kings 11 Punjab team during the year 2017, had recalled how he propelled the franchise to buy him for a huge price. The former Indian opener said that many people questioned him for picking Natarajan, a player who doesn't even have played domestic cricket, for a huge price. Sehwag said that he was not bothered about the money but discovered that there is a talent.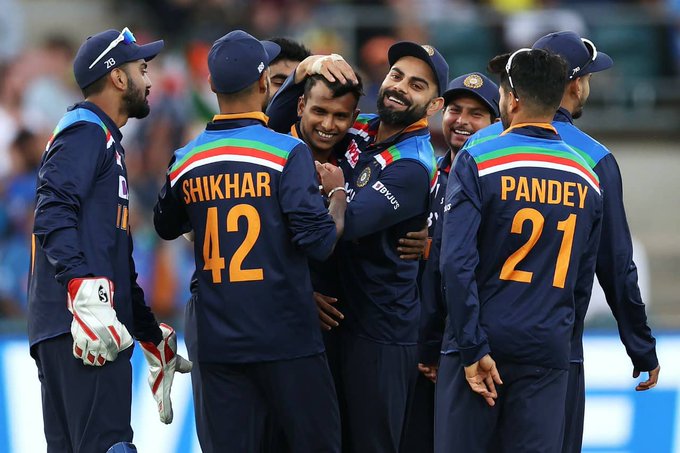 "I was very happy because when I picked Natarajan in the IPL for the Kings 11 Punjab, everyone was asking questions that this player has come who has not even played domestic cricket and came after playing just the TNPL league, so how he was picked at such a huge price" Sehwag, mentor of K11P team at that time opened on the post match show on the Sony sports network.
"I was not bothered about the money but there is a talent. We had a few Tamil nadu players in our team at the time who told me that he is a very good player who bowls very well in the slog overs and delivers a perfect yorker" Sehwag shared.
[wp_ad_camp_1]
"I saw his videos and then decided that we will surely take him at the audion because we did not have a death bowler at that time. Unfortunately, that year, he had an injury in the elbow or the knee because of which he could not play too many matches. But we won only the matches that he played and lost all the other matches" the opener said.
"So I was very happy that he was getting an opportunity although I was thinking that he would be given a chance in the T20s but it was surprise for me that he played in the ODI series. But whatever happened was good. All the best to T. Natarajan. I hope that he keeps on doing well from here and makes his place in the Indian team" Sehwag concluded.
In the year 2011, Natarajan came to Chennai from Chinnappampatti to pursue his cricketing career. In his earlier days, Natarajan represented several villages in the tennis ball tournaments. Natarajan is a big name among the villages for his performance in the 6 over a side Tennis ball tournaments.
With his Tennis ball skills, Yorkers came naturally to him. Impressing Jolly Rovers with his bowling ability, Natarajan made it to the Tamil nadu Ranji team in the year 2015. Soon after seeing the biggest break of his career, Natarajan's bowling action was reported. The dejected cricketer didn't give up. He started concentrating on correcting his action.
[wp_ad_camp_1]
The very next year, the cricketer, with a new action cleared the tests and participated in the TNPL. The world got a chance to witness his talent. He impressed the management of Mumbai Indians with his performance against Tuti Patriots. He bowled six yorkers in the super over of that match. Including Mumbai, Many teams tried to buy him in the auction. The cricketer threw his name for just Rs. 10 Lakhs and ended up being bought for Rs. 3 crores by the Kings 11 Punjab team. As his stint didn't go well with the team due to injuries, SRH bought him for a base price in the year 2018.
In the 13th edition of IPL Nattu picked 16 wickets in the 16 matches he played with a economy of just 8 runs per over. So far he is doing extremely well for the team and is expected to achieve more.