Articles
Seemaraja Cancelled In Rohini Silver Screen !! Fans Trolling For The Banner They Kept A Month Long !!
The growth of Sivakarthikeyan from a witty stand-up comedian to a star is stunning and equally intriguing. Siva, who shot to fame due to his constant presence in a popular TV channel, has now become a star who measures out his public appearance. And now, he will next be seen in masala entertainer Seema Raja, which is hitting the screens this week.
[wp_ad_camp_1]
Siva has teamed up with director Ponram for the third time for Seema Raja. Earlier, they worked in Rajini Murugan and Varuthapadatha Valibar Sangam, two films which won millions of hearts for Siva. Now, Siva has again teamed up with Ponram after a gap of two years. But this time, Ponram is not just handling an upcoming star Siva Karthikeyan, but someone who is aiming at becoming another 'mass hero' of Tamil cinema.
After Rajini Murugan, Siva went on to give back-to-back hits with Remo and Velaikkaran, and quickly became the most bankable star of Kodambakkam. Hence, the playground is not the same for Siva anymore. He can't just be another loafer in his upcoming films – a character that he has frequently been playing from Maan Karate times. And that could be the reason why he is playing a Raja (King) in Seema Raja.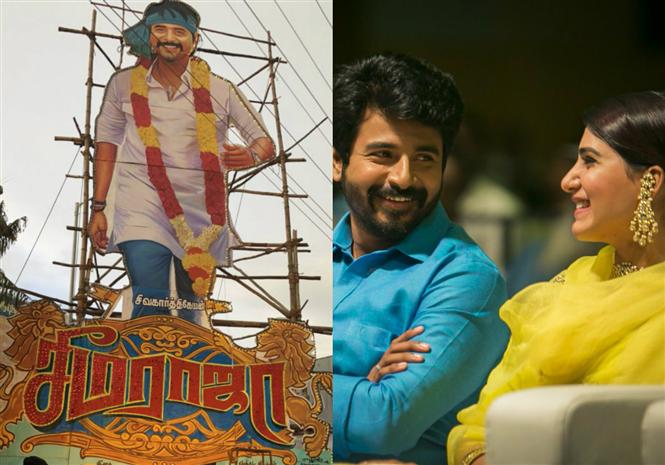 Another interesting thing about Seema Raja is that Siva is now locking horns with a female villain (played by Simran) in this film. This is a typical stint that many actors in Tamil cinema have pulled off; the ones who aim at appeasing the mass. From Rajinikanth's Mappillai to Dhanush's Mappillai, the examples are numerous.
[wp_ad_camp_1]
However, Siva's shot at the 'mass hero' title might also backfire, and that makes this film an important one in his career. If his attempt to pull off this larger-than-life image in Seema Raja hits gold, Siva will definitely enter the bigger league and also seal his place. On failing, he might have to resort to his experiments and go back to being the lovable wastrel.
Though the teaser and trailer promise a rural masala fest, Seema Raja might also invoke a sense of deja vu as it has the same Soori-Siva combo, which we saw in Ponram's last two films, and that might mean its downfall at the counters.
Rohini Silver screen is one of the prominent Cinema theater in Chennai city which is located in Koyambedu. Every theater has this habit of keeping the flex of a movie which is going to be released in their theater in coming weeks. As far as leading stars movies are concerned we can witness so many cut outs through out the theater as a sign of announcing people that the film is going to be released in their theater.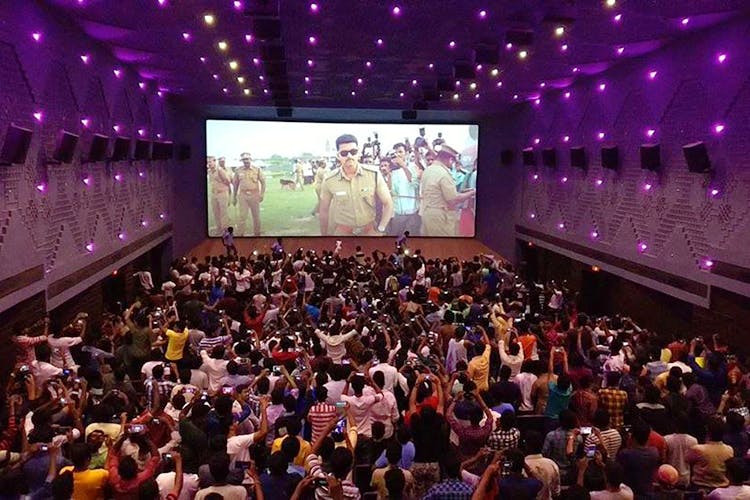 Rohini Silver screen went one step ahead and kept the banner of Sivakarthikeyan's "Seemaraja" for more than one month as a proud sign of movie screening.
[wp_ad_camp_1]
Unfortunately the authorities of the theater announced just before the day of the film's release that the fill will not be screened in their theater which disappointed most of the fans who planned to visit the theater for "Seemaraja"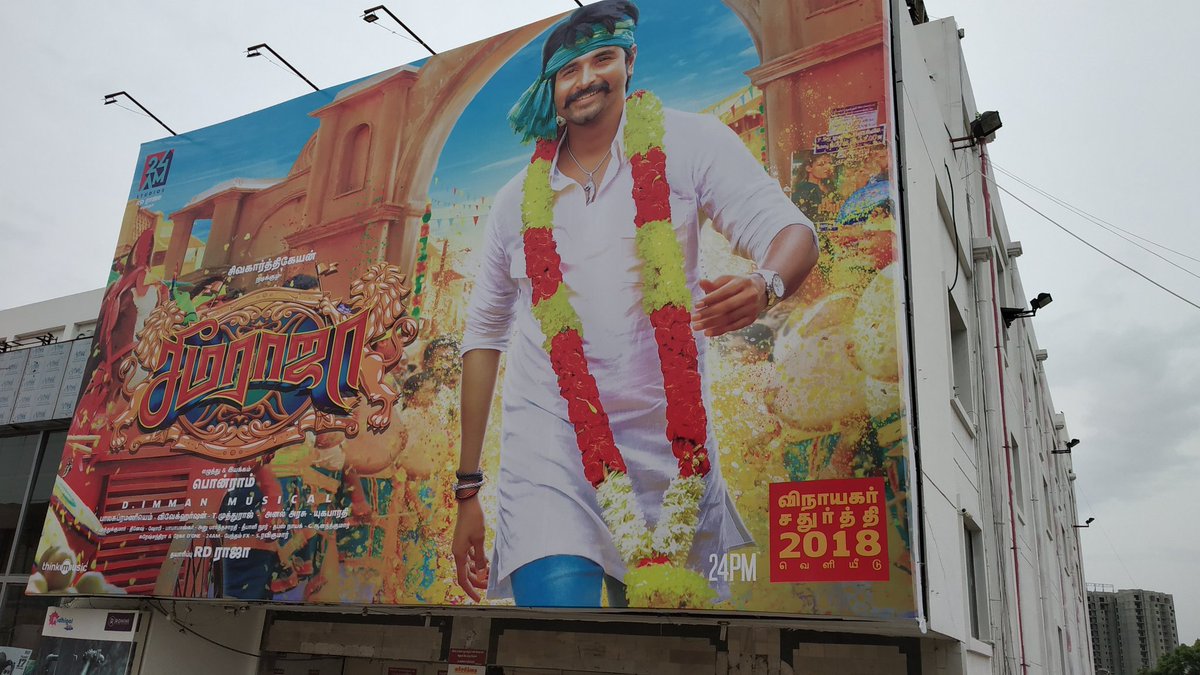 As an effect of their disappointment some fans even trolled the theater in a humorous way.
Executive director of Rohini posted "Superhit #ImaikkaNodigal will continue in the @RohiniSilverScr main screen for the third week. #2Point0Teaser will be played during the interval of the movie in the main screen in 3D. #Seemaraja as of now no release in Rohini."
Check out the tweet that said the film will not be screened :
Superhit #ImaikkaNodigal will continue in the @RohiniSilverScr main screen for the third week. #2Point0Teaser will be played during the interval of the movie in the main screen in 3D. #Seemaraja as of now no release in Rohini.

— Nikilesh Surya (@NikileshSurya) September 12, 2018
Rhevanth Charan another executive director wrote "#Seemaraja won't be releasing in your @RohiniSilverScr due to non agreement on terms. Nevertheless wish the Team a great success."
#Seemaraja won't be releasing in your @RohiniSilverScr due to non agreement on terms.
Nevertheless wish the Team a great success.

— Rhevanth Charan (@rhevanth95) September 12, 2018
Check out some of the main comments of the followers :
Wy bro? Any prob from distributors?

— Kiran Kumar (@am_kiran_kumar) September 12, 2018
Yes. Not able to reach mutually agreeable terms.

— Nikilesh Surya (@NikileshSurya) September 12, 2018
Oops. I pass by that Seema Raja poster almost everyday!

— Sidhu (@sidhuwrites) September 12, 2018
Smart move nanba @RohiniSilverScr

— Gokul (@Gokul99385178) September 12, 2018
Ivlo Periya Banner lam Vechingale 😭 pic.twitter.com/euocDXI0kh

— TrendsWood (@Trendswoodcom) September 12, 2018
Enathu seema raja ilaiyaa😒

— கிருபாகரன் பாண்டியன் (@kirubapandiyan) September 12, 2018
Aiyoooo bro…. 😐

— ѕeeмaraja 🚩 (@SUBASH_Twitts) September 12, 2018
Y rohini alone facing this problem for many movies ?

— Dinesh (@tweetbydinesh) September 12, 2018
Late aanalum kandipa. Release aavum nu nampi.. irunthan..

Kadaisila.. nalla.. senjitinga.. pa… Miga sirappu…🙏🙏🙏

Enime. Antha pakkama ponale. Enaku ithuthana neyapagam varum🚶 pic.twitter.com/mze5y5VLEW

— sivakarthikeyan veriyan Ajith sk🤘 (@skajith343) September 12, 2018
appa antha banner !!

— Santhosh kumar (@sk2287425) September 12, 2018
Disappointed @RohiniSilverScr

— Eashwer Venkat (@eashwervenkat19) September 12, 2018
Yow… One months ku munnadiye big banner la theatre la vechiyae nee…aprm enna da ipdi soldra… Payapulla vera yetho plan panni irukiya😂😂😂

— Ashok (@sparklingAshok) September 12, 2018
Ada enna da namma #PrinceSK vandha sodhanai ?

— Jagadheesh Murugesan (@Indiyakudimagan) September 12, 2018
@rhevanth95 it so embarrassing

— Raghav😎 (@Raghav28483695) September 12, 2018
Almost a month since you have put up the big banner for #SeemaRaja …. sad to hear this sir

— Hari Krishna Raju (@harikraju) September 12, 2018