Seeman is a Tamil politician and the chief-coordinator of the political party, Naam Tamilar Katchi in Tamilnadu. He is an ardent campaigner for the self determination of the Sri Lankan Tamil people and the LiberationTigers of Tamil Eelam and its leader Velupillai Prabhakaran. He is an advocate of the rule of Tamils in their homeland, Tamil Nadu and to spread the importance of Tamil language, only by which unity of Tamil people is possible. Prior to his involvement in politics, Seeman has worked as a filmmaker and actor.
[wp_ad_camp_1]
In a recent press meet the filmmaker/politician  seen trolling actor Vijay for apologizing to AIADMK party. Seeman imitated Vijay apologizing to Jayalalitha in the period of his "Thalaiva" release. "Why are you so afraid of Edappadi Pazhanisami who is a mere slave to Modi ??" asked Seeman.
#திருட்டுபயசீமான் those who see this tag and wonder enada idu vijay fans seeman ku against uh nu below is the reason eliya tamizh pillai director chance tharalanu senjutan … anyways this guy is a fraud ipona arivu vanda seri … 1.30 mins of annanoda anna attack tat raja siripu pic.twitter.com/vlbY3mVPfp

— சிவபிரசாத். ஆ (@cvasachin) January 5, 2019
Now he took a dig at actor Ajith kumar who recently released a press note against BJP Tamizhisai Soundararajan. In the press note the actor said that he is not attached to any political party directly or indirectly and he insisted his fans the same. The press note was  released by the actor's personal manager Suresh Chandra once BJP's Tamizhisai Soundararajan said that enormous number of Ajith fans has joined her party.
[wp_ad_camp_1]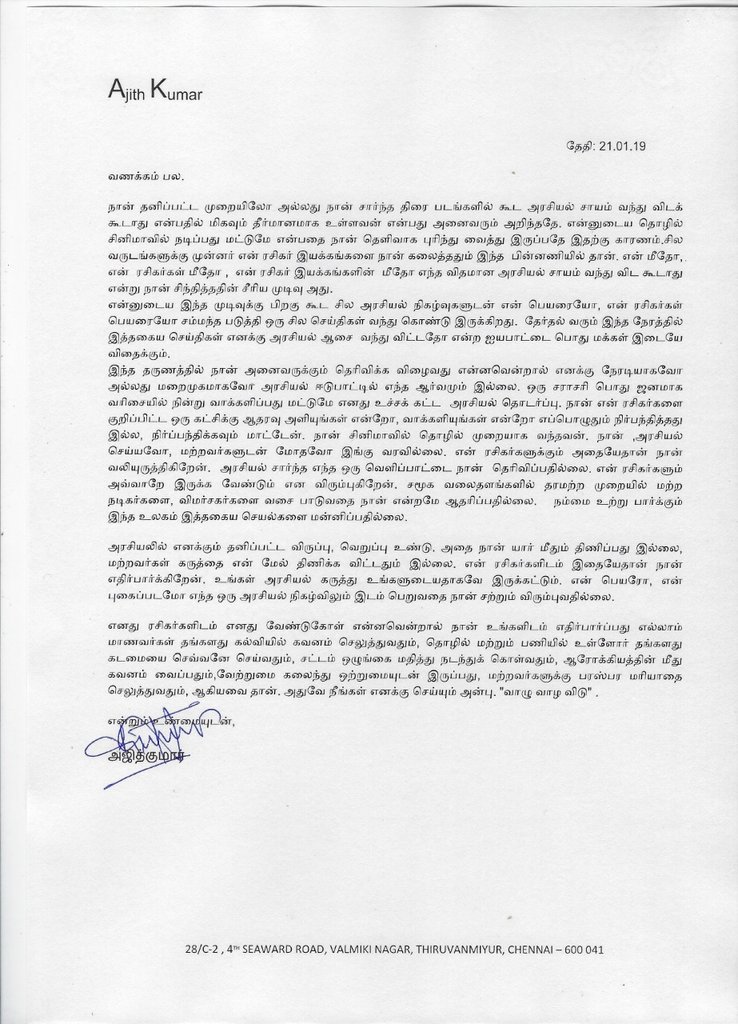 Seeman in his recent press meet said that he wants Ajith to do same kind of announcement to his fans regarding the celebrations during his movie's release day as well. In the video Seeman said "I appreciate Ajith wearing helmet while driving two wheeler in the film Viswasam which will be a major inspiration for those who follow him. There are large number of fans following Ajith Kumar as their role model, I want him to say this to them." said Seeman.
Watch the video here :
Source : Red Pix 
[wp_ad_camp_1]
"I congratulate him for releasing a press note immediately once Tamilisai said something ill about him and his fan base. In the same manner I want him to advice his fans not to celebrate his movie's release day by keeping cut outs and banners. He must have watched the video where one youth killed and few injured when they tried to climb onto his cut out. The whole world seen the video of fans pouring dead goat's blood in the banner of Ajithkumar. I am sure he would have hated it too. I want him to say "no" to all these celebrations atleast once" said Seeman in the video.
What do you think on Seeman's speech ?? Comment below !!