Seeman Teasing Actor Vijay In This Recent Press Meet !! Says "Oru Viral Puratchi Is My Dialogue" !!
By Dhiwaharan
In a recent interview we have seen Seeman announcing his next project with actor Silambarasan. Now to our shock in another recent press meet the "Naam Tamizhar Katchi" leader said that he is planning to do 3 films continuously with the actor. He also hinted that the first of it is about to release on Diwali.
[wp_ad_camp_1]
Seeman is a Tamil politician and the chief-coordinator of the political party, Naam Tamilar Katchi in Tamilnadu. He is an ardent campaigner for the self determination of the Sri Lankan Tamil people and the LiberationTigers of Tamil Eelam and its leader Velupillai Prabhakaran. He is an advocate of the rule of Tamils in their homeland, Tamil Nadu and to spread the importance of Tamil language, only by which unity of Tamil people is possible. Prior to his involvement in politics, Seeman has worked as a filmmaker and actor.
In the press meer the filmmaker/politician also seen trolling actor Vijay for apologizing to AIADMK party. Seeman imitated Vijay apologizing to Jayalalitha in the period of his "Thalaiva" release. "Why are you so afraid of Edappadi Pazhanisami who is a mere slave to Modi ??" asked Seeman.
[wp_ad_camp_1]
Source : Red Pix 
"Vijayakanth is the only one with guts as he made his political entry in the period of Jayalalitha and Karunanithi. Kamal Haasan, Rajinikanth and all has no rights to talk. Among the 8 crore people, don't we have a single leader ? why should we let Rajinikanth rule our state" he bashed almost every current political parties of Tamilnadu.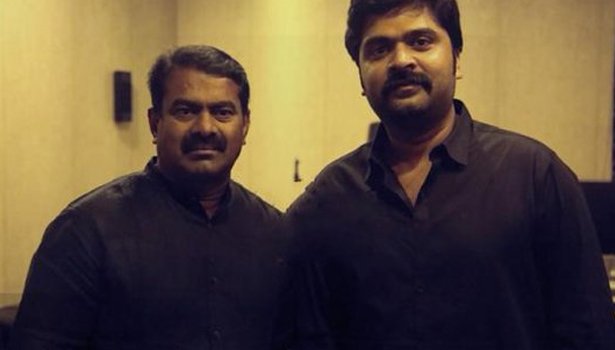 Further he added "Silambarasan, my brother is the only Superstar of Tamilnadu hereafter. I have decided to make 3 films with him which is going to give heart attack to many. He is the real superstar I bet. Many heroes afraid of acting as hero when i narrated the story to them. Only one came forward without fear that is Silambarasan." said Seeman in the meet.
[wp_ad_camp_1]
As soon as the video got released, Internet responded with various reactions. Check out some of them here :
True face of #Seeman exposed now.!! He is now criticising & Trolling our #ThalapathyVIJAY .!! Guys, don't be blind hereafter. Be very careful with these types of Venom..!! "Politicians".

இனிமே சீமான் தம்பி தும்பினு சொல்லிட்டு வந்திங்க, மூஞ்ச திருப்பிடுவேன்‌..!! DOT. pic.twitter.com/SjSO0nyjQn

— T H M Official™ (@THM_Off) January 5, 2019
It's really shame that some Vijay fans supported people such as Seeman.

This is true face of Seeman insulting Vijay.

— Rajinikanth our only leader (@rajinikanth_ss) January 5, 2019
To all #Thalapathy #Vijay fans who made fun of #Thalaivar #Rajinikanth with Seeman comments!
What's your stand now?
As we had already warned you guys about this 🐷#அன்றே_சொன்ன_ரஜினி
He is, was & will be a #Samoogavirodhi
.. No doubt..
It's a humble request never trust this guy. https://t.co/QPtUcmnyfv

— RAJINIFIED ɴᴀᴛʜᴀɴ ❁ (@ShaSherNat1610) January 5, 2019
Single video makes seeman to lost lakhs of supporters(votes) including me @NamTamilar94

— MK®™ (@its_MK_tweets) January 5, 2019
I can only say that, #Seeman is guiding youngsters in the wrong path. During Thalaivaa issue, #ThalapathyVIJAY was shocked on hearing his fan death. He was shaken & immediately came up with a video. And this idiot is criticising that. So, #Seeman wants only Violence?? Right..??!

— T H M Official™ (@THM_Off) January 5, 2019
Two weeks before –https://t.co/qJwffNCF2X (Seeman about vijay)

Yesterday – https://t.co/Und7VvG6C3 (Seeman about vijay)

வேற வாய், நாற வாய் மொமெண்ட் 🤣#திருட்டுபயசீமான் pic.twitter.com/Emv4oTV7DU

— #Sarkar பிரசாத் 🤘 (@PrasathOffl) January 5, 2019
"Had" a huge respect for #Seeman, but now…. 😥

Vijay Anna's request_video for #Jayalalitha is only because his producer and the technicians should not suffer lose because of the misunderstanding of ADMK government for the title.

Didn't expect this from you…. #disappointed

— Mayooran Kathir (@mayoorankathir) January 5, 2019
Comment your views on Seeman's speech !!