"Save Girls From DMK" Trending After Virudhunagar Arrest!! Chief Minister Reacts
dmk
Girls
MK Stalin
Virudhunagar
CM / Updated: 2022-03-22
22:02 IST
By Dhiwaharan
Hashtag "Save Girls from DMK" is trending in the micro blogging social media site after the reports on couple of DMK functionaries involving in a sexual harassment case we're surfaced. BJP leader Annamalai, Actress cum politician Gayathri Raguramm and other prominent political leaders raised voice demanding highest possible punishment for all the eight accused. Meanwhile, a report on CM MK Stalin redirecting IPS officer Sylendra Babu to get the accused their deserved punishment also got surfaced.
A 22 year old woman from Virudhunagar approached women helpline to make a complain against a group of men who sexually assaulted her for 7 long months after blackmailing to leak her private videos in internet platforms. The list of the accused include three school going students and a DMK functionary.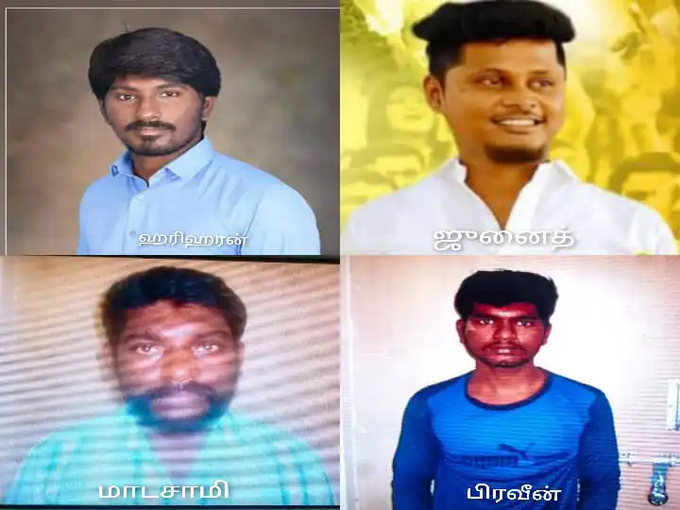 Trending no 1 pic.twitter.com/bDS0xNZ2Ud

— விவசாயி Vivasayi (@Paayumpuli3) March 22, 2022
According to the Police complaint, the woman befriended with one Hariharan alias Saravana through social media. After involving in a romantic relationship, the duo had sexual intercourse which a recorded by Hariharan.
Hariharan reportedly showed the video to his friends and they got the woman's details from him. Police said that they contacted the woman and threatened to leak the video and forcefully raped her multiple times between August 2021 and March 2022.
Police said that the action against the accused were initiated after the survivor contacted women's helpline to make a complaint. It also has been reported that the victim sought help from her neighbour named Madaswamy (37) to get out of the situation. However, Police report say that he too used the video to threaten and sexually assault the woman.
Several cases under relevant sections has been filed against the eight accused Hariharan, Madasamy, Praveen, Junaith Ahmed, one 18 year old, two 17 year old's and a 15 year old boy. Further investigations are currently underway as all the eight men were arrested by the police. Junaith Ahmed has been identified as a functionary of ruling party DMK and some reports suggests that Hariharan also belongs to DMK. The Police are investigating whether the accused were involved in any other similar crimes.
As soon as it was reported that DMK members were involved in the crime, hashtag "Save Girls From DMK" started trending in the micro blogging social media site. Check out some of the tweets under the hashtag below :
DMK functionaries involved in Virudhunagar rape case…#Save_GirlsfromDMK pic.twitter.com/P0vjDT41PL

— நிகரன் (@ntknikaran) March 22, 2022
Using surrogates, DMK steals local body seats reserved for women.
Their partymen in hubris of power snatches dignity of girls.
#Save_GirlsfromDMK pic.twitter.com/nvJQaEQXAC

— Sherif Ali ibn el Kharish (@mindgage) March 22, 2022
Trending no 1 pic.twitter.com/bDS0xNZ2Ud

— விவசாயி Vivasayi (@Paayumpuli3) March 22, 2022
Political party leaders and members including BJP leader Annamalai posted tweets in their respective social media handles demanding punishment for the accused.
Shocked & Saddened to learn about the gang rape of a 22 year old woman in Virudhunagar by a group of men by allegedly blackmailing her over a video.

What is more shocking is the involvement of a local DMK functionary in this shameful act with impunity

1/2

— K.Annamalai (@annamalai_k) March 22, 2022
The Virudhunagar gang rape case is horrifying. Rather sad to see women safety deteriorate by the day in #TamilNadu, a state once seen as pioneers in Law n order. Praying all the accused r given the severest of punishments. Justice should prevail. Media should not turn a blind eye

— Vinoj P Selvam (@VinojBJP) March 22, 2022
பையன் தி.மு.க காரன். இதே எதிர் கட்சியா இருந்தா இந்நேரம் 7 வரி அத பத்தி எழுதி இருப்பீங்க .

நியாயமா , பாரபட்சம் இல்லாம ரிப்போட் பண்ணுங்க @GunasekaranMu . https://t.co/ZhjC6kll6d

— Prashanth Rangaswamy (@itisprashanth) March 22, 2022
22 year old Dalit woman gang raped by 8 men which includes DMK functionary Hariharan of melatheru- Virudhunagar. They kept threatening her with a video. No media spoke about this. DMK cadres only speak about UP they keep mum for TN.@smritiirani @NCWIndia @sharmarekha @VanathiBJP

— Gayathri Raguramm 🇮🇳🚩 (@BJP_Gayathri_R) March 22, 2022
Chief minister MK Stalin reacted to the issue by making an order to IPS Officer Sylendra Babu. According to Sun news, Chief minister MK Stalin redirected the Officer to take immediate action and get the accused their highest possible punishment.
#BREAKING | "அதிகபட்ச தண்டனை பெற்றுத்தர முதல்வர் உத்தரவு" – டிஜிபி சைலேந்திரபாபு#SunNews | @mkstalin | #Viruthunagar pic.twitter.com/XUBHgSXmEO

— Sun News (@sunnewstamil) March 22, 2022
It has also been reported that the party DMK has suspended Junnath.
#DMK has suspended Junnath, who is one of the accused in the Virudhunagar sexual assault case.

BJP has announced protest on 24th March in Virudhunagar district alleging that the Government is not allowing the police to function properly due to political reasons.

— Mugilan Chandrakumar (@Mugilan__C) March 22, 2022