Sathankulam Lock Up Murder Case Got Nationwide Attention !!
Bollywood
Justice
Justice For Jayaram And Bennix
Sathankulam
3 years ago
By Dhiwaharan
Followed by Kollywood celebrities, the horrific lock up death of Jayaram and Bennix in Sathankulam of Thoothukudi made people across the country to mourn and react in a furious way. Days after the report on the custodial death of the father and son duo surfaced, known faces and influential personalities across the country who are having huge number of followers for their official social media accounts, started raising their voice. They are requesting public to join hands together to seek justice for the injustice took place. The main reason behind this nationwide attention is a video made by singer Suchithra who narrated the whole incident in English language, to make everyone understand.
[wp_ad_camp_1]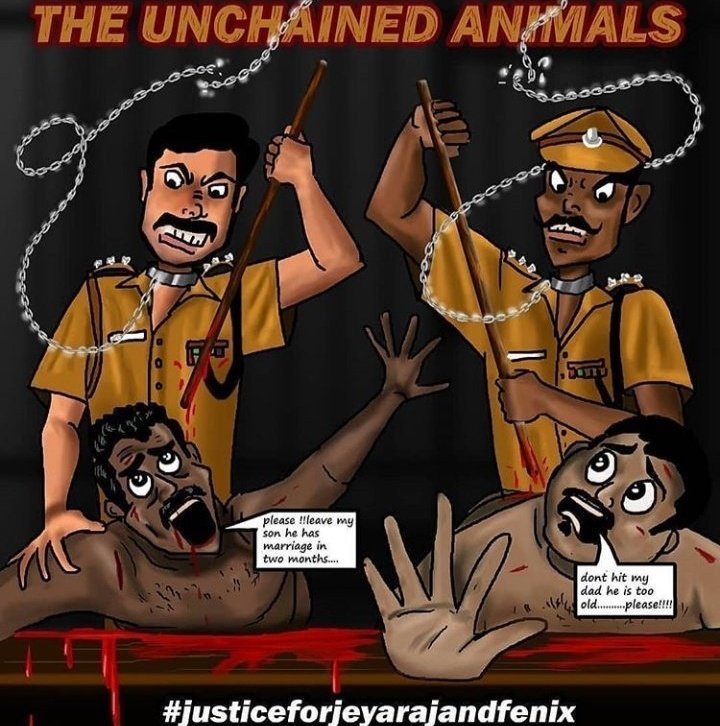 Actress Priyanka Chopra who currently works for hollywood film industry, condemned the act of the police officers and said "No human deserves such brutality, whatever be their crime." Further she added that she cannot imagine what the family is going through and asked people to join together to seek justice. Many other celebrities including Shikar Dhawan, Harbhajan Singh, Taapsee reacted to the issue.
Priyanka Chopra :
#JusticeForJayarajandBennicks pic.twitter.com/vGi8m63If2

— PRIYANKA (@priyankachopra) June 26, 2020
Harbhajan Singh :
அடிப்பவனுக்கு தேவை ஆயுதம். வலிப்பவருக்கு தேவை காரணம்.இனத்துக்காக, மதத்துக்காக,நிறத்துக்காகன்னு போய், இப்போ எதுக்கு சாகுறோம்னே தெரியாம செத்துப் போயிட்டாங்க அப்பாவும் மகனும்.கடந்து செல்வது எளிதல்ல, நீதி கிடைக்காமல் மறந்து செல்வது மனிதமல்ல. மனிதம் எங்கே#JusticeforJayarajAndFenix

— Harbhajan Turbanator (@harbhajan_singh) June 27, 2020
Taapsee :
This might just be one case out of many but it takes only one case to begin the snowball effect. #JusticeforJayarajAndFenix
It could've been anyone we know. Details are scary and gut wrenching.

— taapsee pannu (@taapsee) June 26, 2020
Ashwin :
Every single life matters. We should make sure that this act of brutality is meted out with justice, and I am not sure justice will be any solace for the family of #JeyarajandFenix and my thoughts are with them.

— Ashwin (During Covid 19)🇮🇳 (@ashwinravi99) June 26, 2020
[wp_ad_camp_1]
Director Rahul :
June 26, 2020
Sashi Tharoor :
The tragedy of the custodial deaths in Tuticorin should be a wake-up call to all of us who turn a blind eye to police brutality:https://t.co/rnSZSwWSGp
Compare the outrage the death of #GeorgeFloyd sparked across the world, w/the lack of national outrage here. Justice denied?

— Shashi Tharoor (@ShashiTharoor) June 26, 2020
Jignesh:
Dear Bollywood celebrities, have you heard what happened in Tamil Nadu or does your instagram activism only extend for other countries? The George Floyds of India are far too many. The story of such police violence & sexual abuse is just heartbreaking. #JusticeForJeyarajAndFenix

— Jignesh Mevani (@jigneshmevani80) June 26, 2020
Kajal Agarwal :
I couldn't even listen to this whole video. Grotesque and gruesome. The cops involved need a harsher punishment than just a transfer 😡😡 #JusticeForJeyarajAndFenix https://t.co/WaoNSIS8ur

— Kajal Aggarwal (@MsKajalAggarwal) June 27, 2020
Shikar Dhawan :
Horrified to hear about the brutality inflicted upon Jeyaraj & Fenix in Tamil Nadu. We must raise our voice and make sure justice is given to the family. 🙏 #JusticeForJeyarajAndFenix

— Shikhar Dhawan (@SDhawan25) June 26, 2020
Rohini Singh :
The brutal custodial killings in Tamil Nadu should shake every citizen. Why have criminal charges not been filed against those police officers for their criminal, barbaric and depraved killings? Why are our TV channels silent? #JusticeforJayarajAndBennix

— Rohini Singh (@rohini_sgh) June 27, 2020
Esha Rebba :
This is horrific!#JusticeForJeyarajAndFenix https://t.co/dCvF5G4Et7

— Eesha Rebba (@YoursEesha) June 27, 2020
Earlier, almost, every tamil actors and politicians raised voice regarding the issue. It all started on the night of Friday when the Police personnel from the Sathankulam station, who were on patrol duty, reportedly pulled Jayaraj up for running the shop beyond the permitted time. When police attacked Jayaraj, Fenix who questioned against the police brutality against his father, got beaten by at least 5 police officials including the sub-inspector and constables" said Ravi one of his friend.
[wp_ad_camp_1]
Both father and son were brutally beaten with Lathi and fake medical certificate has been produced by a government hospital doctor and police officials to the magistrate. Both of them were declared dead while they are spending their time in Kovilpatti sub jail.
Fenix's elder sister Perisis, after seeing the bodies on the night June 24, has said "Munnadiyum Pinnadiyum onnume illa" (There was nothing left on the front and rear of the bodies) to the reporters in Tuticorin. All the police officers of the Sathankulam station were transferred and sources reported that the police have kept Inspector Sridhar ion compulsory wait.