"Sarpatta" Actor's Heartfelt Message To "Blue Satta" Maaran!!
Ajith Kumar
Blue Sata
John Kokken
Valimai
1 year ago
By Dhiwaharan
John Kokken who rose to fame after playing the role of an antagonist in "Sarpatta Paramparai", came up with a heartfelt note to movie reviewer "Blue satta" Maaran who was involved in body shaming actor Ajith kumar while reviewing his film "Valimai". John who identifies himself as an ardent fan of actor Ajith kumar, quoted his words "Live and let live" and requested the reviewer to do constructive criticism for the growth of Tamil film industry.
பரோட்டாவிற்கு மாவு பிசையும் இந்த டான்ஸை தியேட்டரில் சிரிக்காமல் பார்த்தவர்கள் யார்? pic.twitter.com/jS6MSuywCs

— Blue Sattai Maran (@tamiltalkies) February 25, 2022
After criticizing "Valimai" film through his review, Maaran came up with a tweet in his official twitter handle, making fun of the actor's dancing ability. He also passed comments on Ajith Kumar's appearance in the film in his review. Many fans and celebrities condemned Maaran for his below the belt comments about an actor who has an experience of more than 25 years in film industry.
Seenu Ramasamy, Keerthi Pandiyan, Producer Dhananjayan are some of the leading celebrities who raised voice against the movie reviewer who enjoys 1 million plus subscribers for his YouTube channel "Tamil talkies". John kokken, in his long note, requested Maaran to understand the struggles of creators and asked him to do reviews in a decent way.
Introducing himself as a small actor, John said that he has a request to Maaran about his reviews. "It is as important to respect others as you point out the mistakes while reviewing a movie. You know how much would the actors have struggled to reach the place they are in today" John said in his note.
View this post on Instagram
 "An actor becomes a superstar only after proving himself as an actor. My request to you is to respect them when you review their movies. You have directed a movie and you very well know the pain about it" John further said.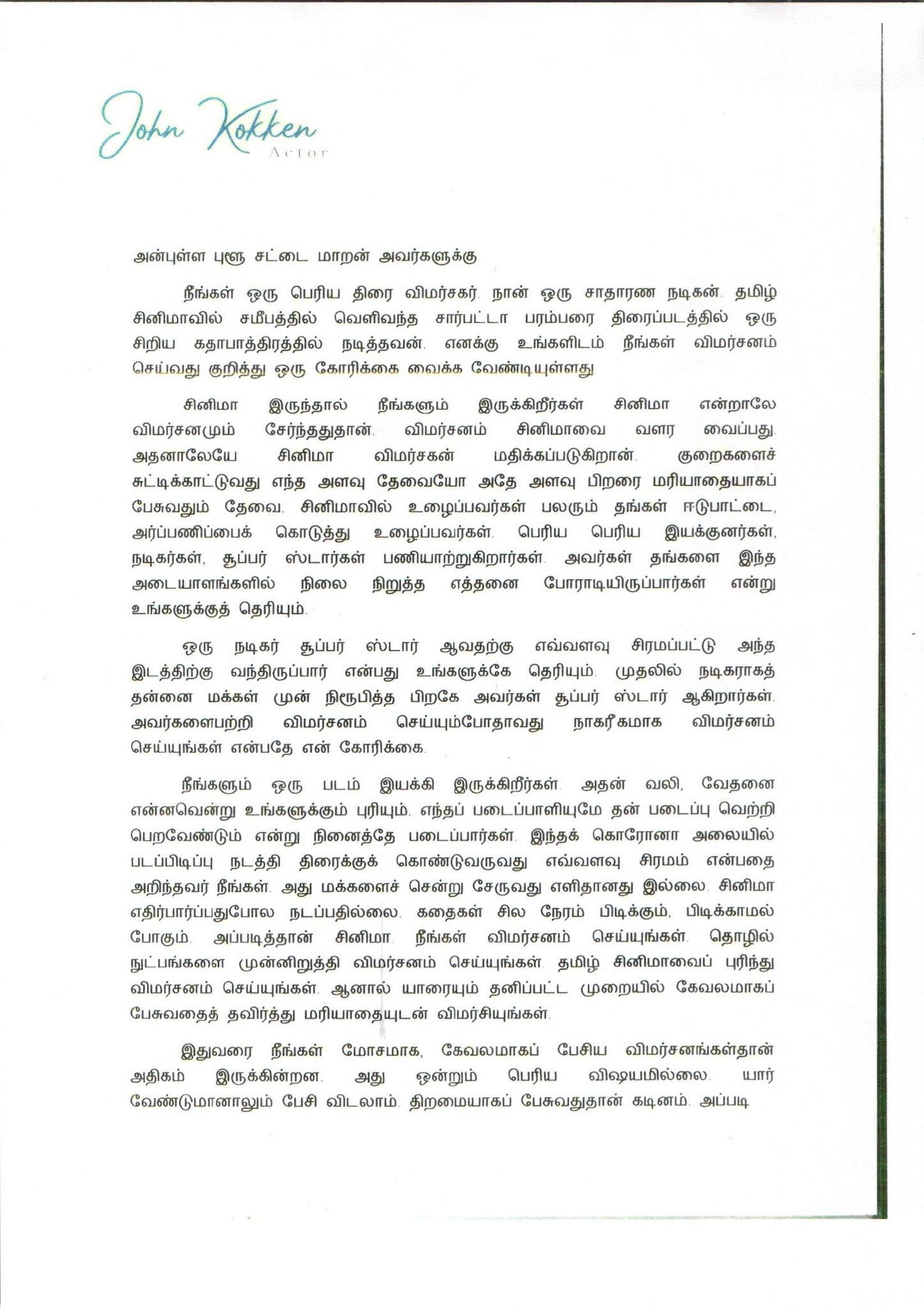 "You can point out the technical flaws and point out the mistakes after understanding about Tamil cinema but don't degrade someone personally while reviewing films. The number of reviews in which you have used abusive language are more comparing to the normal ones. Anyone can talk that way but doing talking meaningful is hard. Don't review to grab attention but do it to make everyone win" he requested.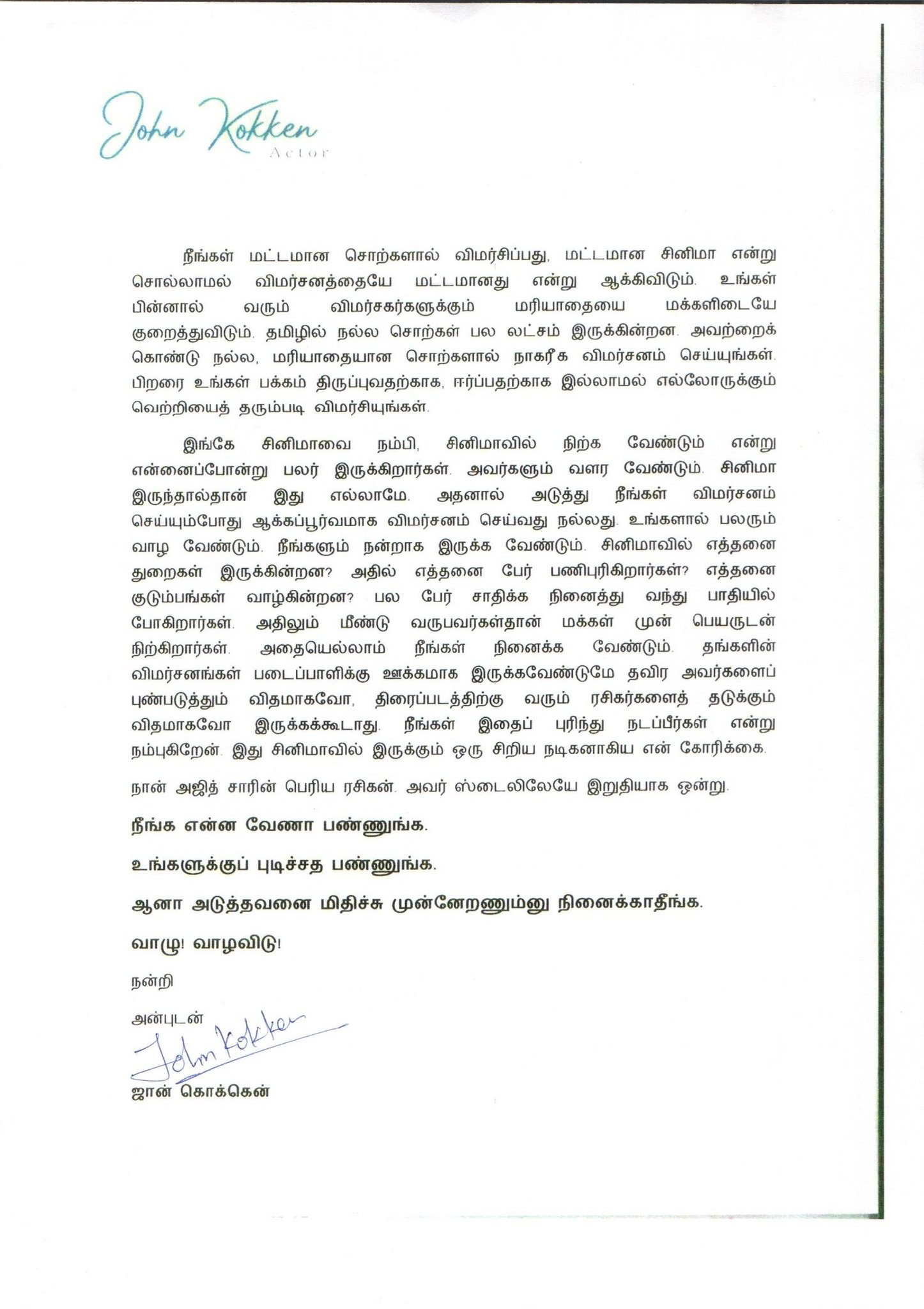 John who insisted Maaran to do constructive criticism throughout his post, ended his note with a words uttered by Ajith kumar himself. "You can do whatever you want. You can do whatever you like. But don't think of growing in life by stepping on the growth of others. Live and let live" the actor concluded.
Check out his post below :
நீங்க என்ன வென பண்ணுங்க , உங்களுக்கு புடிச்சது பண்ணுங்க , ஆனா அடுத்தவனை மிதிச்சு முன்னேறனும்னு நெனைக்காதிங்க.
வாழு, வாழ விடு
– Ajith Kumar.

A small heartfelt note that I felt I should put across.

Manager @mkannan_1974#cinemalover #cinema #bluesettaimaran #liveandletlive pic.twitter.com/tAoVj1Phs2

— Highonkokken (@johnkokken1) March 1, 2022